Original URL: http://www.theregister.co.uk/2006/11/07/review_motorola_p790_vs_recharge4/
Chargers on the go - Motorola P790 vs. Exspect ReCharge4
Mobile battery backup for your... er... mobile's battery
Posted in Personal Tech, 7th November 2006 12:50 GMT
Review Are you one of those people who live and die by your mobile phone? Or your PDA? Or your PSP? Does the world collapse around you when it runs out of power? Fret not, as from now on this is only a distant memory. Both Motorola and Exspect are now shipping mobile battery chargers, but are they all they're cracked up to be...
Exspect ReCharge4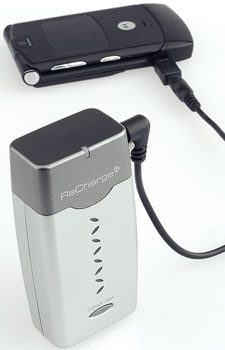 First up we have the ReCharge4 from Exspect, which is the more advanced of the two portable chargers. The two devices on test are little more than a rechargeable battery that allows you to charge the rechargeable batteries in other devices. The ReCharge4 is a two-tone silver-coloured brick-shaped device, with a row of LEDs down the front. It's hardly a cool-looking accessory, but it does the job.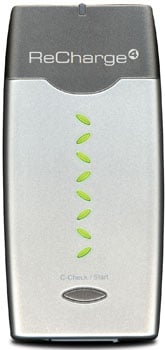 The LEDs indicate the level of charge remaining in the unit and Exspect reckons you should be able to get up to four charges out of it, depending on the device you charge. There's a small button just below the LEDs that to activate the charge check. It also turns the ReCharge4 on and begins charging whatever the unit is plugged in to.
Behind a small rubber flap on the right-hand side is a connector to which you attach the device to be charged over a supplied cable. The cable terminates in a generic connector on which you fit one of seven plugs, depending on what phone you have. Supplied are headers for Sony Ericsson - both the slightly older and the current connectors; Motorola - old style and mini USB style; Nokia - old and new type; and Samsung. The mini USB connector will work with any other phone/device that charges from this type of port.
This brings us to the ReCharge4's downsides. All the little device-connector accessories are easy to loose, although you do get a bag to keep them all in. But my biggest complaint is that the ReCharge4 is supplied with an AC charger that uses a proprietary connector. Lose it or leave it at home while you're away travelling and you're stuffed.
Exspect also offers a model with a standard USB connector for use with MP3 players and another model that targets handheld consoles. Each model retails for around £40, which seems quite expensive for what you get. Connectors for other devices will also be made available, although at the time of this review there was no sign of these, which means you have to buy a whole new charger if you want to use the ReCharge4 with both your phone and your console.
Motorola P790
The most striking part about the Motorola P790 is the design. At first it looks like Motorola's PEBL phone, though it's smaller. The casing is made from the same soft rubbery material and it fits comfortably in your hand. Motorola doesn't supply an AC charger, which might seem strange at first. Instead, it uses a standard mini USB plug.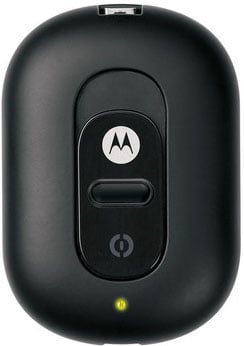 This means that you can use the same charger that came with your Motorola phone, or any with other device that uses a standard mini USB connector for its charger - or a PC's USB 2.0 port. To charge a device, push the slider on the P790's front. This extends a second mini USB connector and powers on the P790.
Motorola claims that the P790 is good enough for up to two full charges, depending on what it is you're charging from it. As an optional accessory you can get a splitter cable that allows you to charge a phone and, say, a Bluetooth headset at the same time.
Each of the P790's USB ports are fully linked, so you can connect it to a PC and to a phone and synchronise them both while charging.
Besides the fewer number of charges you get out of the P790, you can't use it with devices that use any other connector than mini USB, although this isn't really a fault so much as a design choice by Motorola. The P790 will set you back in the region of £26.
Verdict
Here are two different takes on the same portable charger idea. Neither is bad, although the products have different audiences. It really comes down to what type of connectors your devices use.
Saying that, the ReCharge4 could've been a lot better if it had used a standardised charger connector and a slightly less fiddly adaptor set-up. But then it has a flexibility the Motorola P790 lacks.
Neither will replace the trusty wall charger, or even a car charger, but these are items you can keep in a bag until you need them. Well, sort of. You've still got to keep an eye on them lest they too run flat over time, which is the last thing you want to discover when your mobile's about to give up the ghost. ®
Mobile chargers: Motorola P790 vs Exspect ReCharge4
---
| | | |
| --- | --- | --- |
| | Portable power supplies to keep handy in case your mobile's battery runs dry... | |