Original URL: https://www.theregister.co.uk/2006/11/07/panta_server/
Server start-up shocks IBM and HP with database record
Panta's not pants
Posted in The Channel, 7th November 2006 16:36 GMT
You guys don't have the luxury of looking at benchmark sites all day, so you probably missed the big news. A very small start-up - for the first time in a long time - has ripped a major database title away from the likes of IBM and HP.
Panta Systems last month grabbed the clustered TPC-H (1 TB) crown and just about no one noticed. The server vendor's Opteron-based system running Oracle beat out a Xeon-based system running DB2 from IBM and an Opteron-based system running Oracle from HP. Best of all, Panta won out in performance and price/performance, and its clustered results compare well with the leading SMP (non-clustered) scores.
Like you, we don't take benchmark results too seriously. They require a lot of fine-tuning and money to look just right.
For those reasons, it's very rare to see a start-up go up against the big boys where prominent benchmarks are concerned. The start-ups usually don't have the funds, time, people or technology to rival the Tier 1s.
Panta has bucked this trend by finding a friend in Oracle.
The database maker wants nothing than more than to prove the worth of its flagship product running on Linux clusters. As it turns out, Oracle 10g flies on Panta's boxes.
Panta fits into an emerging class of x86 SMP/cluster start-ups. We've profiled a couple of its closest rivals, including Fabric7 and Liquid Computing. (Incidentally, Liquid Computing appears to have given up its stealth marketing campaign and now has a healthy amount of information on its web site. You'll even find a man playing with his dinghy.)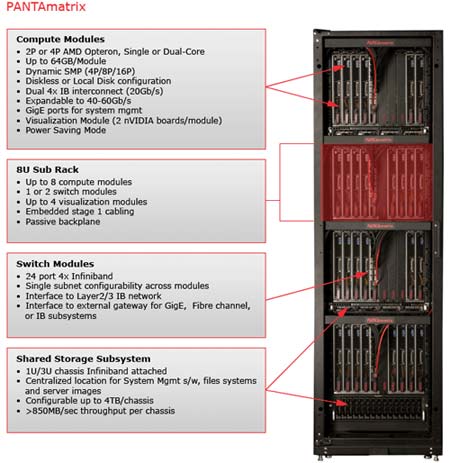 All of these start-ups have focused on improving the I/O performance of Opteron-based clusters, while adding a layer or two of virtualization software to their systems. Liquid Computing has pitched its gear more at the high performance computing crowd, while Fabric 7 and Panta are focused on big businesses. They're betting that customers will begin using x86 boxes for high-end business software instead of using Unix SMPs.
Panta started out with some HPC customers and once had a broader big business play. Its solid Oracle results, however, have convinced it that going after the database market is the strongest short-term play.
"We are still selling to the HPC market, but, as far as our solution focus goes, we are focusing on data warehousing for now," said Scott Rose, VP of product management.
Customers buy the large, rack-sized Pantamatrix system and then outfit it 8U chunks at a time. Each 8U chunk can hold different components such as Infiniband switches, two- or four-socket blade servers, PCI-Express-based Nvidia graphics boards or storage.
Those that choose to outfit an entire 8U chunk with dual-core Opterons can add up to 64GB of memory and can combine two blade servers at a time to create a 16-core SMP. Panta is still on Rev E for the moment, but will be moving to Rev F Opterons next month.
The Pantamatrix system currently supports Linux. Windows Compute Cluster Server 2003 support is coming next, and will be followed by Solaris x86 support.
Along with this base system, Panta has start selling five data warehouse "appliances," but by appliance, the company does not mean a cuddly Cobalt Qube. Instead, you'll find the DM-2100 and DM-4100 lines. The low-end 2100 system starts at around $500,000 and supports four four-socket servers running Oracle RAC (real application clusters), 30TB of user data, 10 storage systems and two Infiniband backplanes. From there, Panta adds more servers, more storage, more networking and faster disks to support larger clusters.
It will start shipping its two highest-end configurations once it can get enough high-end drives.
Rose admits that Panta still has some software licensing kinks to work out with Oracle, which could affect the prices customers will see on these data warehousing boxes. The company, however, remains confident that it can obliterate the offers made by Tier 1s.
"The current products from HP and IBM cannot come close to the products we are showing," Rose said.
Panta has managed to acquire 15 paying customers.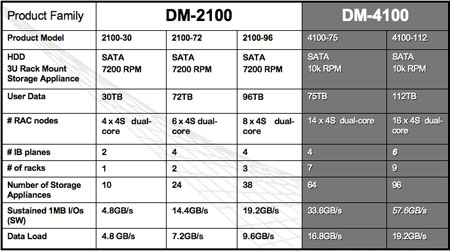 "Yeah, they've had a lot of time to practice," added one of our server sources familiar with the company.
To our source's point, Panta has been around since 2002. It now has about 70 employees and a headquarters in Santa Clara. The top executives come from the likes of Veritas, SGI, Cray, HP and IBM.
As far as we can tell, 15 customers might be about 15 more than Fabric7 and Liquid Computing have combined.
We think Panta's apparent success over competitors stems from its focus and a solid balance between the software and hardware sides of the house. Of all the Opteron-based SMP start-ups, Panta seems the least fluffy. It has shown solid performance with Oracle and so decided to concentrate on mining Oracle customers. That's just the type of targeted approach that might be required to get some traction in this market.
Panta, Fabric7 and Liquid Computing have an almost impossible task before them. They're asking customers to spend huge chunks of cash on untested start-up gear. That's a tough sell when HP, IBM and Sun all have strong Unix and x86 lines. That said, those customers in need of the highest performance will often give these types of companies a shot.
If pressed to rank the vendors right now based on what we're hearing from engineers and industry watchers, Panta would seem ahead of Fabric7 with Liquid Computing well behind. ®