Original URL: https://www.theregister.co.uk/2006/11/07/kohji_micro_laptop/
Japan offered UMPC-like laptop
Same form factor, none of the limitations
Posted in Personal Tech, 7th November 2006 11:02 GMT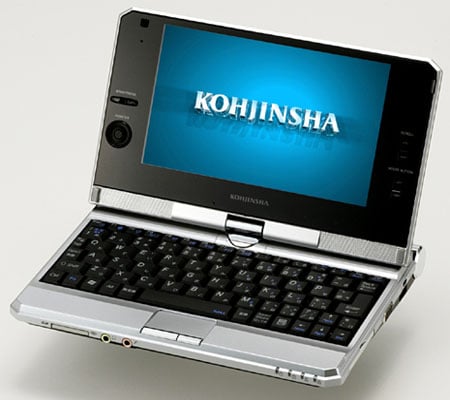 Ladies and gentlemen, will you please welcome one of the world's smallest notebooks: Kohnjinsha's diminutive SA1F00A, an ultra-compact laptop fitted with a 7in, 800 x 480 display, up to 1GB of memory, a 40GB hard drive, 802.11b.g Wi-Fi, Bluetooth 2.0, Ethernet and - unlike all those UMPC handhelds - in integrated, mechanical keyboard. And none of the Windows XP Tablet PC business, either.
Announced today in Japan, the SA1F00A also manages to cram in a pair of USB 2.0 ports, mic and speakers, audio ports, a VGA connector and an SD IO-compatible memory card slot. The machine ships with Windows XP Home Edition. Alas, its CPU is a 500MHz AMD Geode LX800 - x86 compatible, and very low power, but not something that's going to rip through processor-hungry apps.
Like Dialogue's Flybook, the SA1F00A's display opens up as usual but can then be rotated through 180° and folded back down to create a tablet device.
The unit weighs 960g - so not quite as light as Sony's 898g Vaio G series - and measures a mere 21.8 x 16.3 x 2.5cm. The built in battery's good for five hours' run time.
The SA1F00A is due to ship early next month for around ¥109,800 ($928/£489/€730). ®