Original URL: https://www.theregister.co.uk/2006/11/06/rock_pegasus_p665-t76/
Rock Pegasus P665-T76 Core 2 Duo laptop
Rough diamond?
Posted in Personal Tech, 6th November 2006 11:02 GMT
Review Rock may not be up there with the Dells and HPs of this world, but this UK laptop manufacturer has been around for almost 15 years and has a proven track record of producing high-performance notebooks, especially for gamers. The Pegasus P665-T76 isn't a hardcore gaming laptop per se, but with a top-of-the-range Core 2 Duo processor, it's gunning for the performance crown. It's certainly not going to win any beauty awards...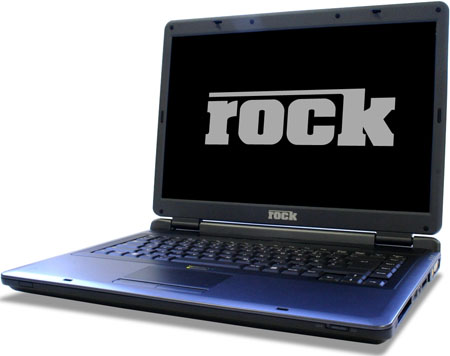 That said, the Pegasus P665-T76 does have a good selection of components and the build quality is generally quite good. Besides the Core 2 Duo T7600 processor, which is clocked at 2.33GHz, you also get 1GB of 667MHz DDR 2 memory and a 120GB 5,400rpm SATA hard drive as standard.
The chipset is the Intel 945PM, which indicates that the Pegasus P665-T76 uses a discrete graphics chip. Rock has gone for an Nvidia GeForce Go 7600 with 256MB of memory, which offers reasonable 3D performance for most games. Our review unit came with a 15.4in widescreen 1,680 x 1,050 display, an optional extra if you order this model online - the base spec is a 1,280 x 800 display, and is £58 cheaper. Both screens feature Rock's X-Glass reflective coating, great for games and watching movies in the dark, but not so good for outdoors usage.
The laptop also incorporates an 8x DVD writer that supports all the common formats, although dual-layer discs are written at only 4x. You also get an Intel PRO/Wireless 3945ABG Wi-Fi adaptor and a Realtek Gigabit Ethernet controller as part of the package. There's no Bluetooth on board, but Rock offers an external dongle as an upgrade at the time of purchase.
The Pegasus P665-T76 supports HD audio, although only via an S/PDIF digital output, as there's only a stereo headphone and microphone socket - the headphone socket doubles up as the S/PDIF port. There's a volume control wheel fitted to the front left-hand side, a feature many laptops lack these days but one that's far better to use than function keys or on-screen controls.
There are a total of three USB 2.0 ports - two on the left and one on the right - a four-pin FireWire port; a card reader that accepts SD, MMC and various Memory Stick formats; an Express Card 54 slot; and DVI and s-video screen ports. All these connectors as well as the Ethernet connector are located on the right-hand side of the chassis, bar two of the USB ports which are on the left. Finally, around the back is the modem connector. At the front is an on/off switch for the wireless antenna.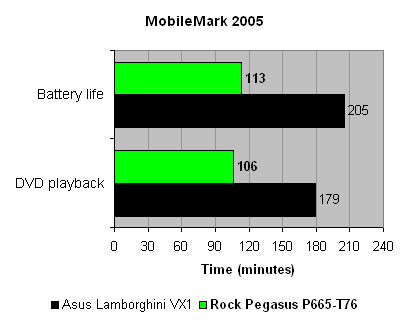 The keyboard is fairly well laid out and the keys are quite comfortable to type on. The touchpad can be disabled via a small switch just below the keyboard. It also has a widescreen layout to match the screen and a scroll area on the right of it.
Size-wise the Pegasus P665-T76 measures 36 x 27 x 3.7cm and weighs 3.1kg - not something you'd want to lug around with you for too long, but not overly heavy for its size.
Our review model was a special edition model with a Cannonball 8000 Porsche lid, as Rock was part of the Cannonball 8000 race this year. It has to be said that the print wasn't too nicely attached and the finish was poor. I'd give it a miss, even though it doesn't cost anything extra to add it.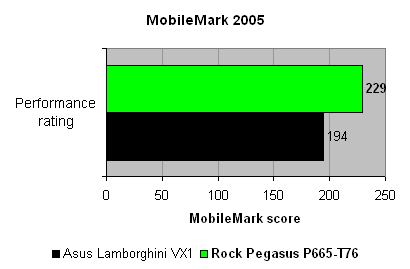 The few rough edges on our review sample included a poorly fitted optical drive and a USB port that seemed to have been attacked by a screwdriver - not what you expect to see. But apart from this there weren't any real issues with the machine.
On the software side of things you get Windows XP Home Edition as standard, although upgrade options are available at extra cost. Rock also supplies a copy of Microsoft Work, a trial of Microsoft Office, Roxio CD/DVD writing software and BullGuard anti-virus. The machine is also imaged and it's very easy to restore it back to its default installation, which takes about ten minutes.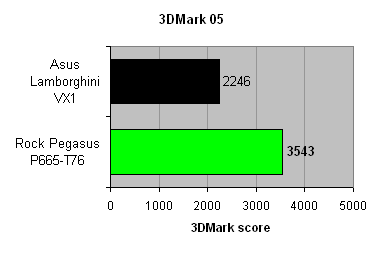 Battery performance is lacklustre, as the Pegasus P665-T76 doesn't even manage two hours' battery life. That's very poor by today's standards. There is a BIOS setting that is meant to improve the battery life, but this wasn't enabled by default. There's also a switch just above the keyboard that puts the machine into low-power mode, but this also reduces the speed of the machine significantly.
Poor battery life meant good performance numbers in MobileMark 2005, but not significantly better than the Asus Lamborghini VX1, which had a slower processor. However, the GeForce Go 7600 is significantly faster than the VX1's 7400 VX, so the Rock wins hands down when it comes to games. Just don't expect to be able to play all games at 1,680 x 1,050, although there should be enough grunt to play most games on the lower resolution display without any problems. It also beats the Asus hands down in PCMark05, but this wasn't unexpected due to the Rock's higher specifications.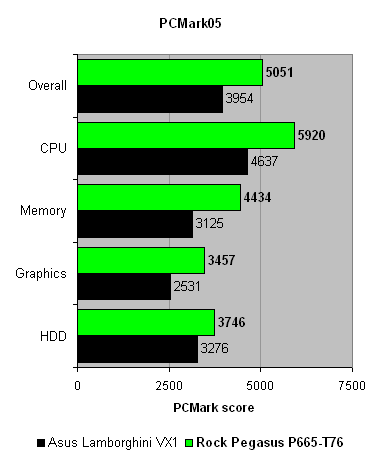 Our review configuration would set you back almost £1,257, which is rather a lot for what you get. Rock has a range of CPU options and if you can live with a slightly slower processor you can save a couple of hundred quid. It's not that the Pegasus P665-T76 is a terrible notebook - it's not, by any means - but you can get something that feels a lot more solid for similar money from better known brands.
Verdict
The Rock Pegasus P665-T76 is a mixed bag, it offers good performance but poor battery life. It's also quite chunky and has a few rough edges that make it feel a little cheap. ®