Original URL: https://www.theregister.co.uk/2006/11/03/shuttle_flights/
NASA confirms next year's Shuttle missions
Readies final flight of 2006
Posted in Science, 3rd November 2006 10:42 GMT
NASA has confirmed plans to launch three Shuttle missions next year as it continues preparations for the final Shuttle launch of 2006.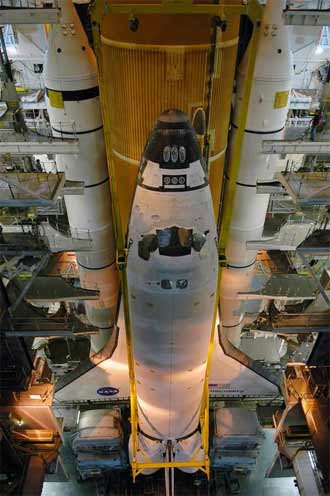 It looks like it is finally back to business as usual at NASA because, for the first time since the tragic loss of the Shuttle Columbia, the agency's launch announcements have not been accompanied by huge debate over the safety of spaceflight.
Next year will see Atlantis take to the skies twice - with provisional launch dates of 16 March and 7 September. Meanwhile, Endeavour is scheduled to take off on 28 June.
Discovery will not fly in 2007, but NASA's preparations to send the craft into space this year are gathering momentum. On Tuesday this week Discovery was rolled out of the Orbiter Processing Facility, where it was checked over and made safe after its previous flight, and into the Vehicle Assembly Building (VAB).
In the VAB, technicians started the process of attaching the fuel tanks and boosters. On Thursday morning, the so-called hard-mate was completed, meaning the external fuel tank is permanently attached to the shuttle.
Next on Discovery's to-do list is the 4.2 mile journey from the VAB to the launch pad. This is scheduled for 7am on 7 November, a month ahead of the earliest possible launch date.
The mission, STS 116, will see NASA's astronauts re-wire the International Space Station on two spacewalks so it can switch from its "temporary" generator to its newly installed solar-array. ®