Original URL: https://www.theregister.co.uk/2006/11/02/review_intel_core_2_extreme_qx6700/
Intel Core 2 Extreme QX6700 quad-core CPU
Two cores bad - four cores good?
Posted in Personal Tech, 2nd November 2006 05:02 GMT
Review So here we are, not quite four months since Intel launched its Core 2 Duo processor and we're already moving up yet another level. Intel will today officially announce 'Kentsfield', aka the four-core Core 2 Extreme QX6700. Some may claim it isn't a true quad-core CPU as Intel has fitted two Core 2 Duo CPUs together in a single package, but it is a first step to what the future holds...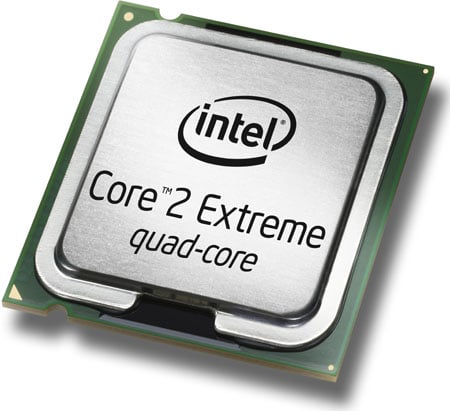 The QX6700 is based on the same 65nm manufacturing process as the other Core 2 processors. It incorporates a total of 8MB of L2 cache, as 4MB per pair of cores. Therein lies a problem: the two caches aren't interconnected. So each pair of cores shares 4MB of cache, and if processor A of core-pair X needs something from the cache of core-pair Y, it has to go out to memory. Juggling cache access to make sure the four cores don't get out of sync with each other is no trivial task.
With the current architecture this will remain an issue, but Intel may solve this when it implements a single-die quad-core chip. But as it stands now, you won't see the full potential of the quad-core processor, as you'll see from some of the benchmark numbers on the following pages. With current and even future operating system support, the advantage of moving from two cores to four doesn't compare to the leap from the NetBurst architecture to Core 2.
This doesn't mean that there isn't a performance increase if you use the right type of multi-threaded applications. If you're into graphics rendering, in particular, you'll see a large performance increase. However, the QX6700's lower clock speed, 2.66GHz, means that in applications that can't take advantage of all the cores, you'll see it fall behind the older Core 2 Extreme X6800, clocked at 2.93GHz.
The rest of the specifications are the same as those of the Core 2 Duo processors and I suggest you have a look at Reg Hardware's Core 2 Extreme review and Core 2 Duo performance preview for more in-depth information about these features.
In addition to our normal set of benchmarks, I decided to take a peek at how well Windows Vista handled the new CPU. Alas, I ran into a couple of problems here. There seems to be quite a few issues with benchmark compatibility under Vista, so the numbers I have are limited. It's best to take them as ballpark performance figures.
The tests were performed using and Intel D975XBX2 motherboard, 2GB of Crucial Ballistix DDR2 memory clocked at 800MHz, a Western Digital Raptor X hard drive and an AMD ATI Radeon X1900 XTX graphics card.
Looking at the numbers below, you'll quickly see where the QX6700 excels and where it doesn't. Any multi-threaded application completes tasks more quickly on the four-core chip than the two-core one. The biggest improvements came from CineBench 9.5, although POV-Ray showed quite big gains as well.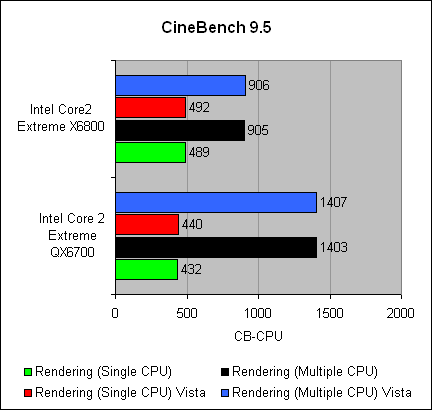 Rather disappointingly SYSMark04 SE didn't seem to take much advantage of the four cores, although the 2D creation test showed a significant improvement. It seems that SYSMark is still very reliant on clock speeds. PCMark 2005 showed a slight increase in the CPU score, and one that was higher under Windows Vista RC1 than Windows XP, but it wasn't a huge leap.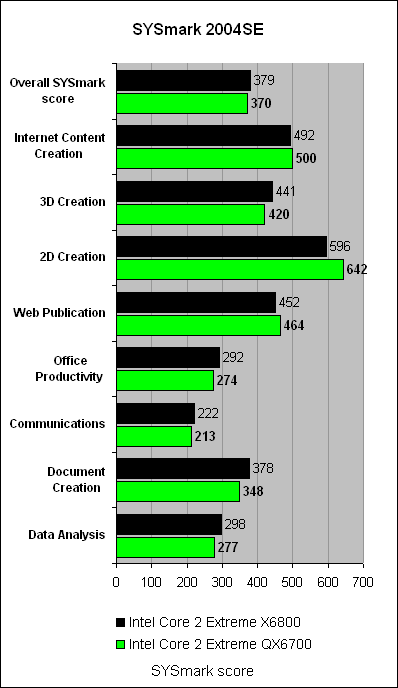 3DMark06 also gained some performance, although this would be due to the fact that two of the tests are doing CPU rendering, at which the quad-core chip should outperform a dual-core CPU. However, in the other 3D benchmarks the X6800 takes the lead, although with higher resolutions and filtering enabled, the gap closes quickly as the extra two cores begin to compensate for the chip's lower clock speed.
Benchmark results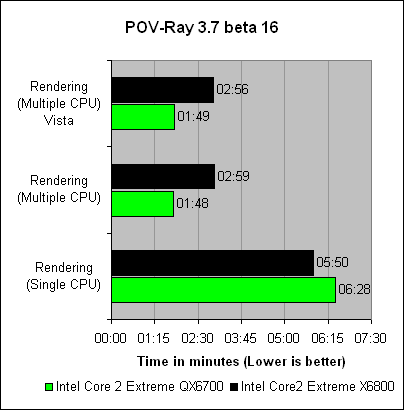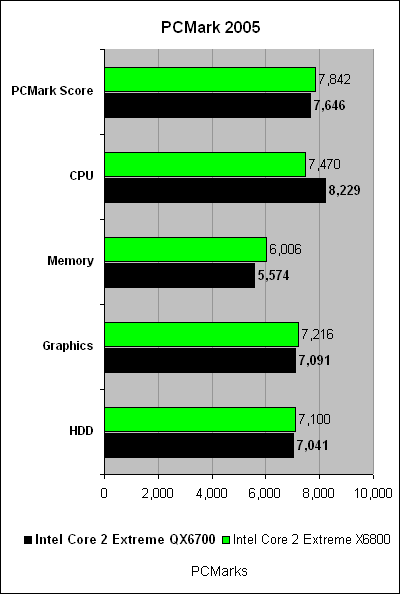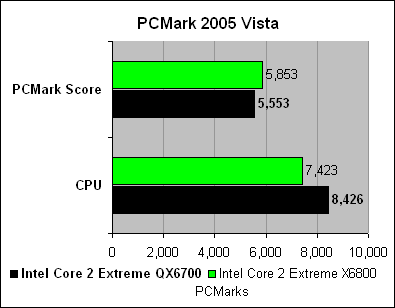 Benchmark results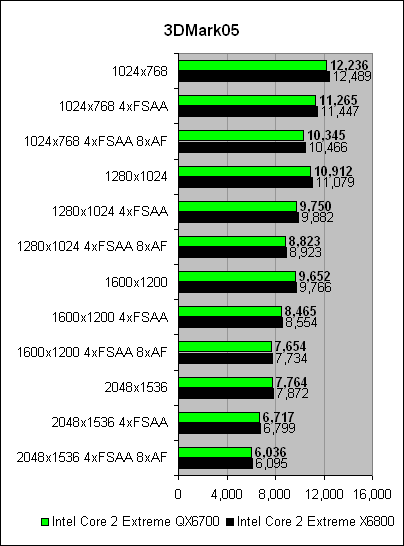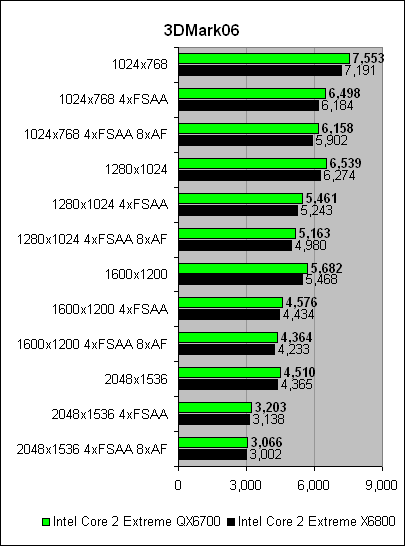 Benchmark results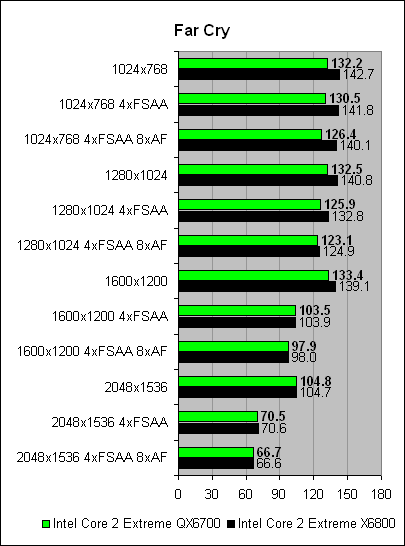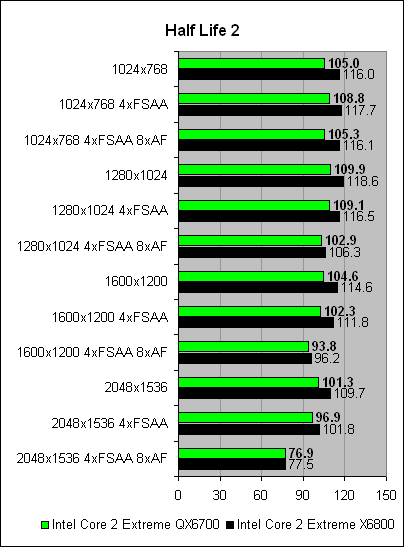 In all honesty, the QX6700 is not a replacement for the X6800 for a gamer - it's just not as fast for games, which tend to be single-threaded and hog one or two cores' CPU cycles. The upshot: Kentsfield's slower clock speed leaves it behind the faster dual-core X6800. This is ironic given the way the Core 2 Extreme brand is pitched almost exclusively at gamers - the one constituency who'll see the least advantage from the extra cores.
However, if you're after a seriously fast processor for rendering 3D models or for video processing, then quad-core is the way to go, providing you can justify the Extreme's $999 price point.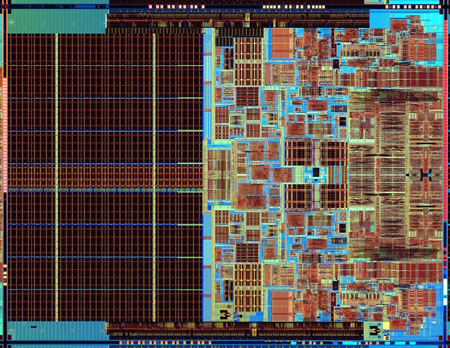 There is a 'but' here and it's called 'Clovertown'. This is Intel's upcoming quad-core Xeon processor, and it might be more appealing to anyone working with heavy-duty 3D content creation code, especially as you can fit two of these CPUs onto a single motherboard. There will also be a range of lower clocked processors that might fit you wallet better than a QX6700, although the top of the range version will set you back more than a QX6700. Alternatively, there is the 'standard' Core 2 Quad, the Q6600, which will be available some time early next year at a little more affordable price point.
There's no doubt that the QX6700 has potential, but it all comes down to operating system and application support. Move away from Windows and you might see some real advantages here. Linux users should see a bigger performance increase because the open source operating system's Unix core is better at handling multiple processors than Windows is. The Unix-based Mac OS X will see a boost too, when Apple migrates its Mac Pro to 'Clovertown'.
Intel's Extreme Edition CPUs always cost $999 in quantities of a 1,000, so expect the UK retail price to end up somewhere in the £650 region once VAT has been added. The Core 2 Quad will come in at $851, although this is 266MHz slower, but the big question here is how much difference that will make in terms of raw performance. Maybe not much, and that could give it a better price:performance rating than the QX6700.
The X6800 is expected to remain at its current price of $999, so if you expected this to come down in price as there's a new Extreme Edition out, then you may be disappointed. Given then the two Core 2 Extremes are the same price, the X6800 will, for a while, prove the better value CPU, delivering better games performance. But the QX6700 will shine in the future, as multi-threaded and/or better behaved games that don't hog the CPU become available. And, for that matter, benchmark apps better able to cope with more than two cores.
Verdict
The Intel Core 2 Extreme QX6700 offers a glimpse of what the future holds, but for now there are few apps crying out for a quad-core processor. Windows Vista may bring better support for multi-threading, ensuring each thread has the same access to CPU resources as the others, rather than allowing one to dominate, but it doesn't look promising. We also need to see better quad-core application support before there will be any major benefits to move to four cores over two. ®