Original URL: https://www.theregister.co.uk/2006/10/30/e-ten_glofiish_phone/
E-Ten touts 'world's thinnest' PocketPC phone
Glofiish: do the 'i's have it?
Posted in Personal Tech, 30th October 2006 10:34 GMT
Taiwan's E-Ten has unwrapped what it claims is the world's thinnest Windows Mobile 5.0 device capable of squeezing in a quad-band GSM/GPRS/EDGE phone, 802.11b Wi-Fi, Bluetooth 2.0 and a SirRFstar III-based GPS receiver.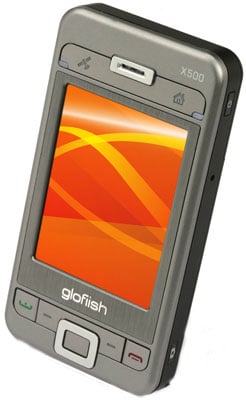 Called the Glofiish X500 - no, we don't know why there are two 'i's in the name either, but there are - the PDA-style gadget is based on a 400MHz CPU from Samsung and contains the usual 65MB of RAM and 128MB of Flash. There's a Micro SD card slot for memory expansion. The screen is the customary Windows Mobile 240 x 320, 65,536-colour job, and the Glofiish also carries a two megapixel camera with 4x digital zoom and flash.
All this in a package that's just 1.6cm thick - not the thinnest PocketPC device we've ever come across, but certainly one the most lithe models to also feature a full array of wireless and GPS technology. The X500 measures 11.3 x 6 x 1.6cm and weighs 146g.
E-Ten said the X500 will ship sometime in November, primarily into Asia Pacific. ®