Original URL: https://www.theregister.co.uk/2006/10/27/review_evesham_mini_pc/
Evesham Mini PC
Tiny desktop powered by Core 2 Duo
Posted in Personal Tech, 27th October 2006 13:12 GMT
Review Ever fancied a black Mac Mini? Well, the Evesham Mini PC isn't quite a Mac mini, nor is it exactly black, but on both points it comes close. Evesham's box is based on the tiny MP945-VXR chassis from AOpen, which has been out to out-Mini the Mac Mini for a couple of years now. The Mini PC measures 17 x 17cm and stands 6.1cm tall. Or perhaps that should be 6.1 cm low?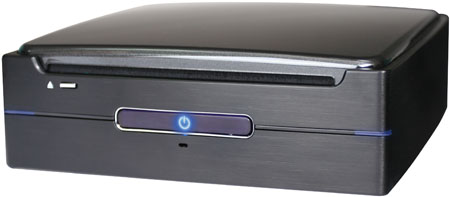 The AOpen product is a barebone system to which Evesham has added a Core 2 Duo T7200 CPU that runs at 2GHz on a 667MHz frontside bus, making this the first tiny desktop to hit the streets with a 'Merom' mobile Core 2 Duo. Apple's Mac Mini has a Core Duo, but we'll come to that in a while. You can pay £125 for an upgrade to a 2.16GHz model or an extra £320 if you feel the need for 2.33GHz chip.
As you'd expect with such a tiny chassis, AOpen has used mobile technology throughout its machine. The chipset is an Intel 945GM with a GMA 950 graphics engine and the ICH7-M South Bridge to handle the I/O. The motherboard supports a single SO-DIMM of memory, so it's limited to a single-channel configuration. Evesham has selected 1GB of PC2-5300 RAM that runs at an effective speed of 667MHz.
The hard drive is a 100GB Fujitsu notebook drive that spins at 5,400rpm. You can have it upgraded to a 7,200rpm model which will cost you an eye-watering £70. No, the real issue is that notebook drives don't have a lot of capacity. If you start recording TV you may end up pressing the Firewire port into service to support an external drive.
There's a Realtek HD Audio controller on the board, which is connected to a tiny speaker in the case and this is just about adequate for "You've got mail!" Windows sounds, but if you intend to enjoy your music or TV then you'll need to plug in some headphones or external speakers. You get the usual mini jacks for speakers and microphone but the line-in jack doubles up as optical output once you plug in an adapter (supplied), so that would be the preferred option if you fancy surround sound.
The case is a stylish matt black aluminium affair with blue and red activity lights and a slot-loading Matsushita UJ-845S DVD writer at the front, that takes after the vicious cash register in Open All Hours. You feed the disc in ever so gingerly and then it suddenly snatches it from your fingers and gobbles it up. There are no ports on either side of the chassis so all of the action takes place at the rear.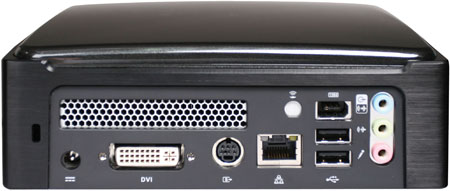 Here, there are two USB 2.0 ports, one Firewire port, Gigabit LAN, s-video output, DVI, a power connector and a connection point for an RF TV aerial. You'll need both USB ports for a mouse and keyboard - unless you choose to use a USB hub - and if you have an analogue display then you'll need to use the bundled branched adaptor which has both VGA and DVI ports on it. The 19V power supply is an external brick that's quite modest compared to many laptop power supplies and as it's rated at 3,420mA, we can calculate it's rated at 65W which is miniscule for a PC. Still, it's outside the case rather than inside so it's yet more clutter for your desk or the space beneath it. There's an adaptor for the TV port so you can plug in a coaxial cable, and another adaptor for the s-video output that branches to s-, composite and component-video connectors. Plug that lot in and the tiny chassis looks as though it has been enveloped by an octopus.
The TV aerial I mentioned connects to a DVB-T digital TV tuner that sits in the mini PCI card slot that might otherwise be occupied by a wireless card. This emphasis on media and entertainment is reinforced by the inclusion of Windows XP Media Center Edition and the Windows MCE remote control, CyberLink PowerDVD 6 and Roxio Easy Media Creator 7, as well as Evesham's usual BigFix maintenance tool.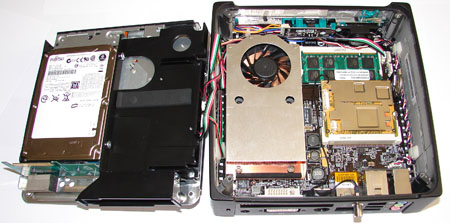 It's not difficult to get inside the chassis as the flimsy plastic top pops off to reveal a metal lid that is secured by four screws. Whip them out and the top half of the chassis lifts off complete with the hard drive to reveal the processor cooler, memory and TV tuner. Putting the chassis back together is rather more fiddly, as the SATA drive uses a riser that plugs into the motherboard. The riser's pins have to be lined up blind. But apart from the CPU and hard drive, the potential here for hardware upgrades is just about non-existent.
Performance is nothing to get excited about but you wouldn't expect to play the latest games on Intel's integrated graphics engine, so that's not much of an issue. The Mini PC will handle media and office duties with aplomb.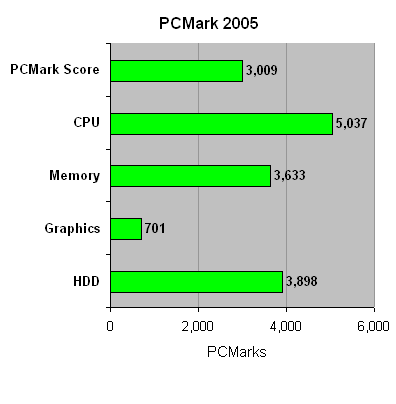 The problems arise when you consider the price and the competition, by which we mean Apple. The Evesham will cost you £799 inc VAT but that doesn't include a mouse, keyboard or monitor, so it's quite expensive. You can but a similar spec Mac Mini for £640 although it has a Core Duo processor, rather than a Core 2 Duo. Frankly, I doubt that you'll see much difference between the two mobile processors in this sort of computer.
The alternative would be a 17in iMac with Core 2 Duo and ATI Radeon X1600 graphics for £799, which matches the Evesham on specifications, but includes a display in the price.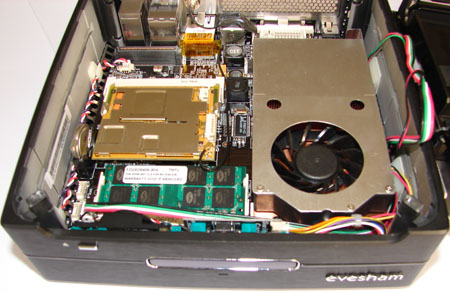 If you're looking for a small, stylish alternative to the PC then your first port of call is surely going to be the Apple store. If you want a small Windows machine that you can lock away securely in a desk drawer then the obvious choice is a laptop for £499, which still gives you the option of using the same keyboard, mouse and monitor that you would use with the Evesham. It's not that the Evesham is bad - it's not, by any means - but it seems to be stuck in an incredibly small niche in the market.
Verdict
Evesham has packed Core 2 Duo power into a tiny, nice-looking chassis. But let's face it, if you want real style you choose an Apple and you'll also save useful amounts of cash if you buy a Mac mini. ®