Original URL: https://www.theregister.co.uk/2006/10/25/review_nokia_n73/
Nokia N73 3G smart phone
Does it have the X-Factor?
Posted in Personal Tech, 25th October 2006 13:05 GMT
Review Nokia is sponsoring X-Factor TV talent show this year, to promote its N series phones in general and the N73 in particular. Nokia's would-be star certainly has the looks to get it in the studio, but can it take it on the chin from the judges or will it be let down by a fickle public who got bored of waiting for it to respond to input..?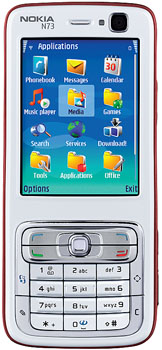 But enough pointless similes: the N73 is a candybar handset with a nice solid feel to it, with the majority of controls limited to a slightly-extended keypad on the bottom third of the front. It's smart enough for the most executive boardroom.
The screen takes up just less than half of the front of the handset and a very nice screen it is too. Bright and easy to read even in sunlight, the backlight apparently adjusts to reflect the ambient light and conserve battery life, not that we particularly noticed - which is as it should be. The resolution is 240 x 320 with 18-bit colour, but more importantly pictures look good and you can read it outside. On the screen is S60 third edition running on Symbian, providing the normal applications and idle screen functions one would expect of a smart phone these days.
The keypad is slightly squeezed, but the keys have nice bevels making them easier to use than they appear. The biggest problem with the keypad is that of thumb-use: if the phone is held in the right hand then reaching down with the thumb to press bottom-line keys is a stretch, especially the clear key in the bottom right corner, which encourages you not to make too many mistakes. Anyone with large hands will find entering text messages easier with two hands, one to hold the handset and another to peck at the keys, but at that point a Bluetooth keyboard might be a more sensible alternative.
On the right side there is a rocker for volume up and down, which doubles as a zoom control with taking or viewing pictures. The other two buttons on the side are the shutter control and gallery button, the former only active when the camera has been revealed.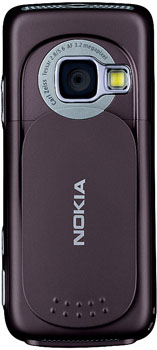 Nokia makes much of the musical abilities of the N73. The phone sports built-in stereo speakers - both behind attractive-looking grilles - but this handset won't replace a hi-fi any time soon. Frequent travellers will be glad to know that you can hear the music from the shower, but there's no risk of disturbing anyone in neighbouring rooms, no matter how cheap the hotel. The addition of stereo, with speakers at the top and bottom of the handset to maximise distance and thus effect, seems to serve no useful purpose at all. You can hear in stereo, which is nice, but only if you have the phone balanced on its side across your nose - not an easy position to maintain at the best of times, and certainly not when trying to dance. Luckily, the sound quality using the supplied headphones is a great deal better.
The camera is a nice 3.2-megapixel one, with a Carl Zeiss lens. No optical zoom here, but a 20x digital one which wouldn't be worth including if Nokia didn't bundle so many other image-enhancing capabilities with the device. The affect of a digital zoom is identical to zooming in on a shot using a PC graphics package, so the normal argument is that you might as well do the work once the pictures are transferred off the camera. However, Nokia wants to look towards a world without PCs, so you will need to do everything on your phone. To that end you can change the brightness, contrast and sharpness as well as cropping, resizing, adding clip-art, applying effects like frames and text boxes, or perform red-eye reduction - all without the graphic leaving the phone and just by using the four-way control stick and two soft-menu keys.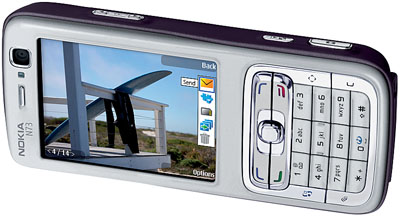 Editing graphics might seem cumbersome on a phone, and frankly it is. The controls are well laid out and intuitive, and there's context-sensitive help. But given the physical limitations of screen and keypad, the process couldn't be any easier. It's still not very easy though.
This plethora of tools is intended to encourage the user to think of the phone as their sole computing device. To further that end the edited photographs can be uploaded straight to your Flickr account, e-mailed or (of course) sent over MMS, all without touching a PC.
The camera is accessed through a slider on the back of the handset, which reveals the lens and automatically opens the camera application. This application switches the handset into landscape mode: with everything rotated 90°.
While useful for taking photographs, this transition is also applied when viewing images in the Gallery application and can catch the user unawares, which wouldn't be a problem if it didn't take a couple of seconds to complete during which time the handset is unusable.
Observant readers will have noticed that this is not a camera to whip out and catch the moment, unless you get a good three or four seconds' notice of the moment happening. Actually, even if you do have sufficient notice to get the camera application loaded and the screen rotated, it won't matter as the moment at which you press the shutter and the moment at which the photograph is taken will not be the same anyway.
This lag between shutter-press and shutter release seems endemic to high-end Nokia handsets and unless you take a lot of still-life photographs it will drive you mad. It'll be endless shots of where the children were a moment ago, the wave on which the surfer was standing just now and the patch of ground where the family pet was being amusing really recently. It's not impossible to work around, but it is hard and really convinces that this handset isn't the camera it would like to be.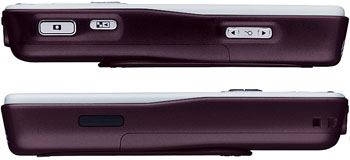 At least with the handset rotated the shutter button is under the index finger and navigating around the gallery is easily done using the control stick and the right thumb. The left-handed will have a harder time of it, but presumably are used to being unable to take digital pictures these days.
Video works well enough: the lack of video stabilisation shows, especially if you're used to a camera with it and don't have the steady hands of a professional. A second front-facing camera is also provided, in case you decide to make a video call.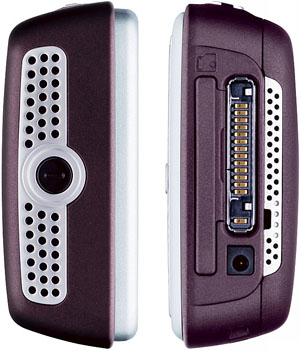 Without memory expansion there is very little point trying to shoot video, or even take more than a few photographs. Nokia doesn't bother to supply a MiniSD card with the handset which is probably for the best as it would only get upgraded and discarded anyway, so a 1GB MiniSD card should certainly be on the shopping list of anyone looking to buy an N73. The card slots in the bottom of the phone, past a fragile-looking plastic cover, but it is unlikely to be changed regularly so that shouldn't matter.
Making and receiving calls is something of a given for a Nokia handset these days. Indeed, making a call isn't even mentioned until more than two thirds of the way through the N73 manual. But the lack of focus is no reflection of a lack of attention. The N73 makes and receives calls perfectly - the speakerphone (mono, using only the top speaker) is typically clear and works well enough in a quiet room. There is also plenty of time to make those calls, as the battery life is astounding. Nokia quotes a standby time of ten days and even with heavy use this isn't a phone you'll need to charge more than every few days. This kind of battery-life is normal in less smart handsets, but to see it in a smart phone is a welcome sign of how things are developing.
All the normal acronyms are supported, including GPRS, WCDMA (3G) and EDGE, but not HSDPA. It also supports the full range of GSM frequencies, including the generally-hard-to-find GSM850. The lack of HSDPA is slightly disappointing for a S60 device, with so many data-centric applications available it's hard to justify that this is primarily a voice device.
There's quite a bundle of applications included on the phone, including 3D Snake but no patience game - though given the quality of the one bundled with the N93 that is no loss. Synchronisation is through Nokia PC Suite, which is great if it works for you, but a pain to configure if anything goes wrong. The usual calendar, messaging and contacts applications, along with viewers for PDF and Microsoft Office files are included and work acceptably well. It would be nice to switch to landscape manually when viewing a document, but no doubt some third-party tool will come along to fix that.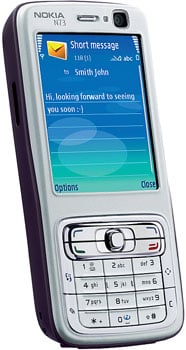 If your network operator supports Wireless Village for instant messaging then you can use the built-in messaging client too. This works well, but it's not easy to find a network which supports it. Nokia has also included a link to F-Secure Mobile Anti-Virus, for the truly paranoid. Given that it's possible to count the instances of Symbian malware on the fingers of one hand, creating a package to identify them can't be very difficult. Protection would be more easily assured by only installing signed applications, or only Java MidLets, rather than spending money on additional protection, but if the threat develops then it might make more sense in future.
Verdict
Nokia's N73 is a good looking and practical phone and one which can also take pretty pictures, wobbly video and play back music. It won't replace a digital camera for most people or a hi-fi system for anyone with hearing, but provides those functions on the move. It would be most at home in a corporate meeting room, or on the table of a good restaurant, but isn't ideal for the large- or left-handed.
It might not win X-Factor, but the publicity gained from coming close would launch a decent enough career anyway. ®