Original URL: http://www.theregister.co.uk/2006/10/23/review_sony_vgc-la1/
Sony Vaio VGC-LA1 all-on-one PC
Stylish slimline desktop wonder?
Posted in Personal Tech, 23rd October 2006 13:58 GMT
Review Let's suppose you're a City high-flyer and you want a computer for your Docklands loft. Or perhaps you're a hip and happening teenager who wants to watch TV and use the internet in the privacy of your bedroom. Maybe you're a student who has moved away from home and you don't have the space to house a TV and a PC. Whichever category you fall into, a beige tower PC simply isn't acceptable and a laptop may not have a big enough screen to watch TV on, so you need something else. What you need is the Sony VGC-LA1, and we have to admit that the logic is compelling...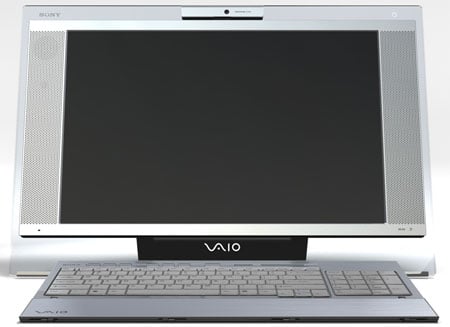 Take a 19in TFT with a widescreen 1,680 x 1,050 aspect ratio and build a load of laptop technology into the casing. Add wireless controllers so you can control the Media Center PC as you lounge in your La-Z-Boy chair - that's the Docklands options - or slump on your bed - teenagers, naturally. Sprinkle the package with some Sony styling and you're good to go.
The processor is a 'Merom' Socket 479 Intel Core 2 Duo T5600 - usually found in notebooks - that runs at 1.83GHz on a 667MHz frontside bus. This has been teamed up with 1GB of PC2-4300 RAM in two SO-DIMMs to give dual-channel mode. The Sony motherboard uses an Intel 945PM chipset with ICH7 South Bridge and an Nvidia GeForce Go 7400 graphics chip with 256MB of memory power the display. If you're looking for extreme performance you won't be impressed by that list, but the performance is perfectly acceptable provided you don't want to play games. We found that the sound of the cooling fan was barely perceptible even when we stood next to the Sony, which is definitely a bonus for a living-room PC.
Working our way round the LA1, on the right hand side there's a slot-loading Matsushita dual-layer DVD writer and on the left there's a PC card slot, one USB 2.0 port, a four-pin FireWire (i.Link) connector, and microphone and headphone sockets, as well as S/PDIF input jacks. There are two card reader slots which support SD, MMC and every type of Memory Stick but not Compact Flash or xD. On the back you'll find an RF aerial input which connects to the AverMedia Hybrid TV card, s-video and composite-video inputs, stereo audio RCA inputs, 10/100Mbps Ethernet, modem, three USB 2.0 ports and a flick switch for the 802.11a/b/g wireless. In addition, there's a connection point for the hefty external power brick which doubtless helps to keep the LA1 cool by keeping this source of heat outside the casing. To round off the hardware there's SigmaTel HD audio and a 300GB 7,200rpm Western Digital hard drive.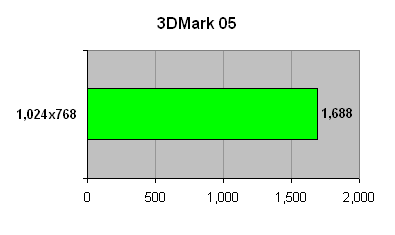 If we judged the LA1 by the standards of a laptop or desktop PC then it wouldn't be too impressive, but that misses the point as this isn't a PC in the usual sense, but is instead a way of watching TV, watching DVDs, listening to music and keeping in touch with the world and it certainly has the power to handle those tasks. But that's only part of the story. A piece of home entertainment equipment also has to look the part and should be easy to use. Well, the LA1 certainly looks good. The clear bezel houses stereo speakers on either side of the screen and it doubles up as a stand such that the TFT screen appears to float above the table. On the top right corner of the bezel the green power symbol appears as if by magic, but actually thanks to a light guide channel, and when you switch to stand-by the symbol turns red.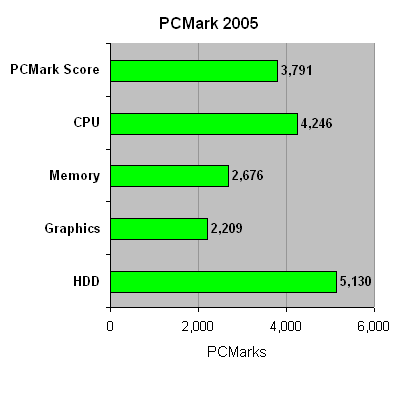 At the bottom right Sony uses the same trick to display activity lights for the WLAN and HDD. In the centre of the top bezel Sony has installed its VGP-VCC1 VGA webcam which can be used for conference calls or instant messaging. Provided you tuck the myriad of cables away neatly and hide the power adapter we're sure that you'll be bowled over by its looks and styling.
Usability is a slightly different matter as the screen is rather on the small side for TV duties unless you're sat quite close. Sony has installed Windows XP Media Center Edition 2002 SP2 which is entirely appropriate in this application, but there's no avoiding the fact that the MCE remote control is intended for use with Microsoft's 10ft interface. We found it necessary to be considerably closer to get the full benefit of the picture. Plonk the LA1 on your coffee table and you'll find that it looks great but then we come to another annoyance: the optical mouse and keyboard, both wireless. These both look the part but we found the mouse was horribly erratic on anything but the smoothest surface. And we've no idea how you'd use it as you lounge in your armchair. The LA1 is crying out for a wireless keyboard with a trackball or touchpad, rather than a separate mouse.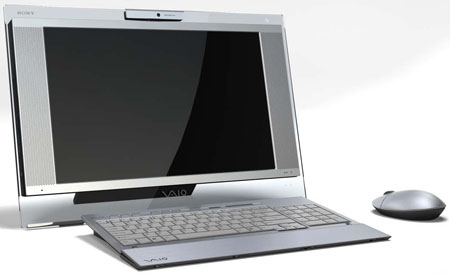 Sony has loaded the LA1 with a stack of software including InterVideo WinDVD 5, Microsoft Works 8, Roxio, Photoshop Elements 4.0, Premiere Elements 2.0 and SonicStage Backup which are all quite usable. You also get Norton Internet Security 2006 which wouldn't be our first choice of security software, or even our second. Or, thinking about it, our third.
On the Start menu there's an item called Internet Service Providers for VAIO which consists of AOL, BT and Orange, and on the desktop there's an icon to run a set-up to install AOL 9 yet the Norton Security software warns that "Norton Antispam doesn't support AOL Mail", which indicates a lack of joined-up thinking.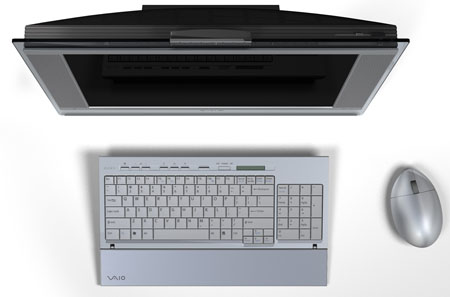 Sony also includes a 60-day trial of Microsoft Office 2003 which is a free download from Microsoft and presumably costs Sony nothing whereas we would hope that a £1,499 SRP PC that sells for £1,399 on the street would ship with a full version of Office.
In another bit of cross-marketing the screensaver triggers a trailer for the new Bond movie Casino Royale. It's fun the first time or two but when all is said and done this is an advert for a Sony movie on your brand new home entertainment system, and that's a diabolical liberty.
Verdict
Sony has engineered a superbly attractive piece of kit in the LA1 but at this price point we expect something that is far more serious and ideally has a larger screen. As things stand the price would need to come down significantly to make the LA1 really appealing to anyone who values performance and functionality over looks. ®