Original URL: https://www.theregister.co.uk/2006/10/19/review_mobiboo_utstarcom_f3000/
Mobiboo UTstarcom F3000 Wi-Fi VoIP phone
It flips, it SIPs
Posted in Personal Tech, 19th October 2006 19:46 GMT
Review Most Wi-Fi VoIP phones on the market today are designed to work with Skype, and almost all of them a candybar handsets. Not so the UTstarcom F3000, which UK VoIP company Mobiboo is pitching as the Mobiboo 3000. It not only works with the standard SIP VoIP protocol but it's also a clamshell handset...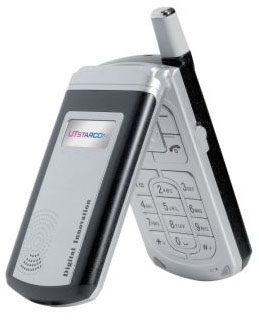 If you haven't heard of Mobiboo, don't despair, as neither had we until they contacted us. Mobiboo offers VoIP services and has a roaming agreement with the European Wi-Fi hotspot network The Cloud. So if you purchase a Wi-Fi VoIP phone from Mobiboo you can use any of The Cloud's access points around the UK, Germany, Sweden and Norway to make calls for free. The really neat thing is that Mobiboo also gives you your own 07911 number.
This means that if you're abroad and have access to a Wi-Fi connection, people can call you - at a rate of around 45p a minute - which may still cost less than calling a roaming mobile phone. Calls between Mobiboo users are free, so you could also use Mobiboo's Dashboard desktop software to call someone with a Mobiboo Wi-Fi phone for nothing.
There are of course plenty of limitations on where you can use a Wi-Fi service such as this, especially without having to pay some kind of a charge for the WLAN usage. The UTstarcom F3000 handset supports both 802.11b and g networks, so you should be able to use it with most Wi-Fi access points, and it supports all common security standards. Entering WEP or WPA keys can be a chore using a phone keypad, especially if it's a complicated or very long key.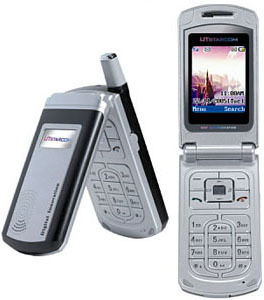 As a phone, the F3000 looks very much like most clamshells did a couple of years ago. It's fairly small - it measures 8.5 x 4.3 x 2.2cm and weighs 90g - and has a stubby antenna. It doesn't have any screen on the outside, just a small speaker, and the internal screen is rather small and based on old passive matrix technology. It has a fairly poor resolution of 128 x 160 pixels, but it can at least display 65,536 colours.
The keypad isn't the best I've used. Sometimes it seems slow to respond to key presses, but it does the job. The F3000 has a rather comprehensive set of features, comparable to any budget mobile phone. There are a couple of games, a calculator, alarm clock, world time, calendar and a 200-contact phone book. All rather rudimentary features on mobile phones these days, but it's the first VoIP phone we've come across with such an extensive list of features.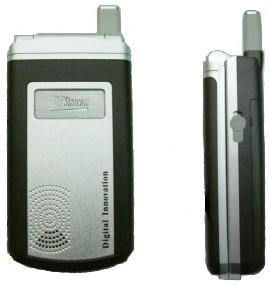 There's a 2.5mm socket that accepts standard mobile phone handsfree units. A mini-USB connector in the bottom of the handset is used to charge it, so you can top up the battery with a PC and a standard mini-USB cable when you're on the move. Mobibloo bundles a charger in any case. The battery is good for 60-70 hours in standby made and up to about three hours' talk time, according to Mobiboo. Not that impressive, but good enough for most.
In use, the F3000 felt like using any other clamshell mobile phone, although the sound quality could drop at times. This is very dependent on the Wi-Fi connection as well as the bandwidth of the internet link that you're connected to. It's unlikely to be a lot worse than any other VoIP handset out there.
Mobiboo offers competitive call charges both within the UK and abroad. Sadly Mobiboo doesn't offer free VoIP calls to other VoIP providers at the moment, which somewhat limits the appeal of their service as it's a UK-only company. Another downside is the cost of the F3000, for which Mobiboo wants £179 inc VAT, although this inlcudes £10 of call credit.
Verdict
Mobiboo has an interesting take on VoIP and, in the UTstarcom F3000, one of the better looking VoIP handsets on the market. It's just a shame that its service is only available in the UK, and that the handset is comparably expensive to similar devices that aren't as pocket friendly. ®