Original URL: https://www.theregister.co.uk/2006/10/19/carly_fiorina_hp_book/
Fiorina plays ingenue in media show trial
Je ne regrette rien... well, maybe just one thing
Posted in The Channel, 19th October 2006 23:16 GMT
Carly Fiorina has pleaded naïvety in handling fame as Hewlett-Packard Co's boss, but justified her actions saying she was revitalizing HP's flagging brand - not promoting herself.
Fiorina, named Fortune Magazine's most powerful woman in business for six successive years, claimed Thursday she'd been unprepared for the media spotlight when she was named chief executive in 1999, and that negative media coverage was her undoing. HP's board fired Fiorina in February 2005 without explanation.
HP's former CEO, who has yet to land a full-time role other than spending her $21m HP severance package, aired her views while promoting her book, Tough Choices, at a Churchill Club breakfast in Mountain View's Computer History Museum. Fiorina signed copies for admirers and well-wishers afterwards (see below).
During a breakfast Q&A (right) Fiorina blamed a dysfunctional HP board for succumbing to combined short-term pressures of quarterly losses, falling stock price and adverse publicity, and for not giving her time to execute her turn-around plan. She criticized board members for playing politics rather than engaging in debate, and claimed every board-level vote before being dumped expressed unanimous support for her actions - including a 2005 business plan enacted by new CEO Mark Hurd.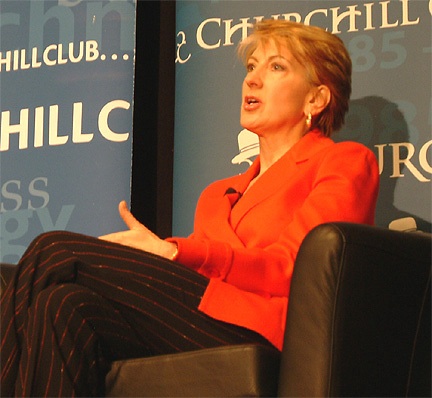 "For me, being straightforward, candid and authentic is important," she told a packed audience of media and Silicon Valley types. "I worked very hard to create an environment where we could talk openly about tough issues... I am truly disappointed when people can't put a disagreement up on the table and talk about it in a candid way. When you can't do that, bad things happen." (Like getting fired.)
She described HP in 1999 as a dislocated bureaucracy where pay was out of touch with performance and necessitated some "very tough choices". Change created resistance, particularly on the board, she said, noting her decision to meddle with performance metrics sowed the seeds of her bitter reign. "When you change how people are paid and measured, it's personal," she said.
Fiorina claimed her part in HP's current performance under successor Hurd. "A transformation of a major institution is not a 90-day process... people said: 'You can't compete against Dell or IBM,' but guess what? HP is doing all those things, and that didn't happen in the last 12 months," she said.
In a moment of contrition, Fiorina admitted mistakes were made - namely, her appearance in a TV ad featuring HP's venerated garage, which she said had been "misinterpreted." "The garage is an incredibly potent symbol, and employees said: 'We want to know you treasure this symbol.' I shouldn't have done it," she said.
Back on the defense, Fiorina justified her place in the spotlight, culminating in a January 2005 appearance on the Consumer Electronics Show (CES) stage with punky pop diva Gewen Stefani, to promote a new HP digital camera, and film producer Jeffrey Katzenburg and actor Matt Damon, who separately praised HP servers, PCs and printers. It was just the kind of ritzy event that didn't jive well with an old-school board, coming while HP was struggling, and it helped grease the skids for her exit a month later.
"When I came to HP in 1999 I was not prepared for the degree of attention that would accompany my arrival. I was focused on the job. The spotlight was intense. So what happens? I could hide under my desk, but you can't lead hiding under a desk and you can't lead a transformation unless you are out front telling people where to go. You use what you can to send the message.
"My decision was to try and deflect it [personal publicity] as much as I could to the benefit of the business. The CES show in Vegas - that was in HP's best interests - it's a hugely important trade show. One objective at HP was to take a brand that had become, although still trusted, known as a stodgy, incredibly irrelevant and a middle-aged, white male brand that was not competing. We needed to create a brand that was hip and forward looking, relevant, and appeal to a more diverse range of customers."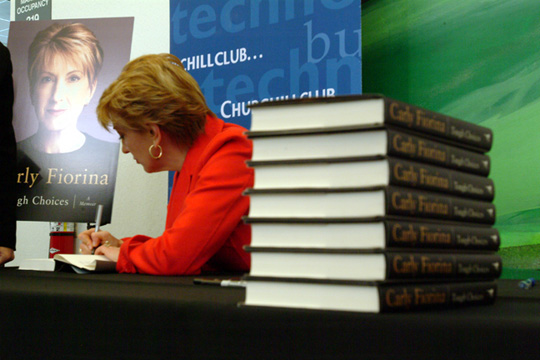 Fiorina claimed she'd actually rejected coverage that focused on her and wouldn't have helped promote HP. This included turning down potential appearances on US housewives' favourite, Oprah and in the pages of celebrity trash mag, People.®