Original URL: http://www.theregister.co.uk/2006/10/17/review_powercolor_x1950_pro/
PowerColor ATI Radeon X1950 Pro
Way better price:performance than its predecessor?
Posted in Personal Tech, 17th October 2006 06:02 GMT
Review ATI's Radeon X1950 XTX proved to be an excellent performer, but the price tag was high, which put it out of reach for most of us. Today, ATI launches the X1950 Pro, a cut down version of the X1950 XTX. It comes in at an amazing price point and it's also got a couple of new features, in particular internal CrossFire connectors. But can it match its predecessor's performance? We tested PowerColor's X1950 Pro board to find out...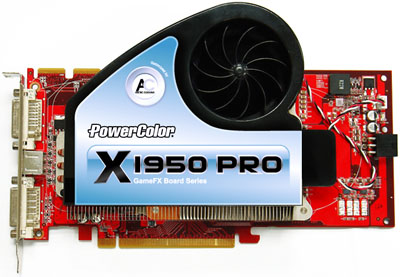 PowerColor's card is a little different from the reference cards you'll find reviewed elsewhere. The main difference is the cooler, and although ATI will supply a single-slot system with the X1950 Pro, PowerColor has gone for a dual-slot solution from Arctic Cooling, the Accelero X2. This means the card produces next to no noise at all. Ignoring passively cooled cards for the moment, I can say without a doubt that this is the quietest graphics card I've tested in a very long time.
But let's start with a closer look at what the X1950 Pro GPU - aka the 'RV570' - has on offer and how it compares to its older brother. The X1950 Pro has 32 pixel shaders and 12 texture units, down from 48 and 16, respectively, for the X1950 XTX. The core clock speed of the PowerColor card was 595MHz, which is only 55MHz slower than the X1950 XTX. The memory was clocked at 695MHz and this translates to 1,390MHz in DDR mode. This is quite a way off the 2GHz memory clock of the X1950 XTX.
We understand ATI is quoting clocks speeds of 575MHz for the core - which the PowerColor card beats by 20MHz - and 1,380MHz for the memory. Not much of an overclock maybe, but it's always nice to get a bit of extra performance for nothing. The card uses GDDR 3 memory and as this is more of a mid-range to high-end card rather than a top-of-the-range model it comes with 256MB of memory rather than 512MB.
One of the most interesting features of the X1950 Pro are the internal CrossFire bridge connectors. Nvidia has been using an internal connector for its SLI technology for ages, but ATI didn't want to play copy cat, hence the external dongle previously used to enable its multi-GPU technology. However, this was far from an elegant solution, and it was awkward to attach the cable to the special connector on the master cards. Then there was the matter of paying more money for the master cards, which really made CrossFire something of a mess.
Not any more, thanks to the internal CrossFire bridge connectors. The change eliminates the annoying dongle as well as the need for a master card. The compositing engine has now been built into the GPU itself, and the driver will automatically allocate one card as master and one as slave. This cuts costs for ATI and its board partners, resulting in lower prices for the consumer.
The connectors on top of the PCB will use similar bridges as the soft connectors that some manufacturers used with SLI, which compensates for different slot-to-slot distances on the motherboards.
At the time we tested the X1950 Pro, ATI hadn't revealed why there is a need for two connectors, although one can presume that this has been done to provide a wide bus between the two cards. However, with current hardware there's unlikely to be a bandwidth issue, but this might just be a future-proof solution. Each connector is supposedly operating at up to 350MHz and provides a 24-bit bus.
The other interesting aspect of this card is the rear part of the board. This is where the power regulation circuitry is located and normally it's cluttered with various components. Recent cards from both ATI and Nvidia have featured rather large heatsinks here. However, the PowerColor X1950 Pro is distinctly different as the rear of the card is almost bare of components.
This is because ATI has gone with a digital PWM design, which is also starting to appear on some high-end motherboards these days. This reduces the amount of components needed to complete the card's power regulation circuitry. There are still a couple of heatsinks, but they're tiny in comparisons to those used on previous ATI cards. Oddly enough, the power connector at the rear of the card has also been moved, so it's now at the middle of the card rather than the upper half. This shouldn't really matter too much, but it might make it easier to fit the card into certain cases.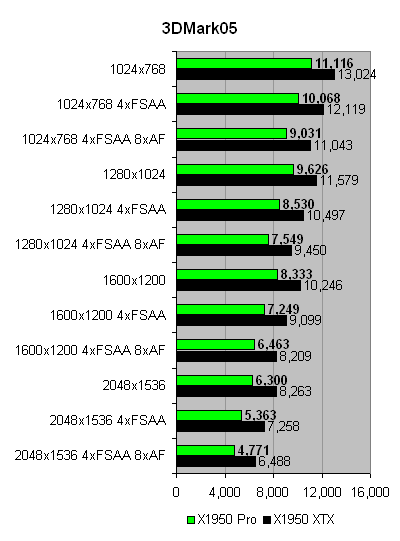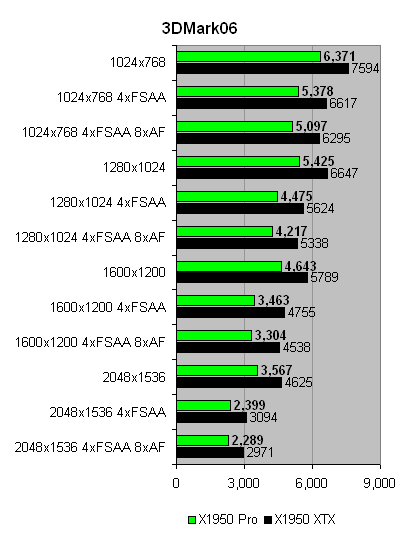 The X1950 Pro will also support dual-link DVI and HDCP for copy-protected high-definition video content. Component video output is also part of the spec, although this isn't a new feature. Some ATI board partners might also include ViVo functionality.
Benchmark results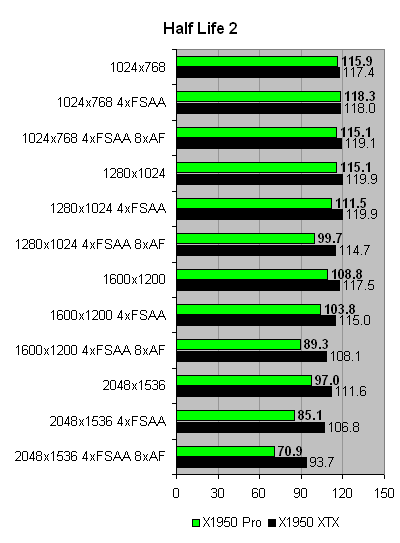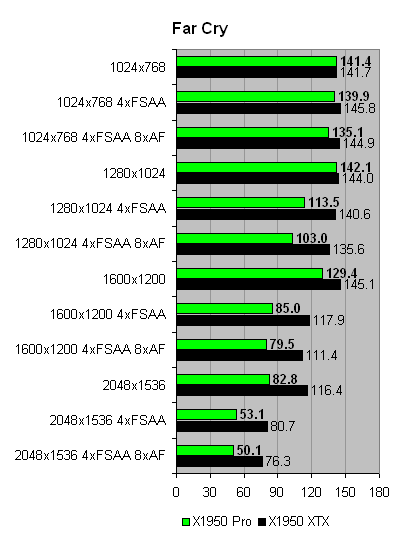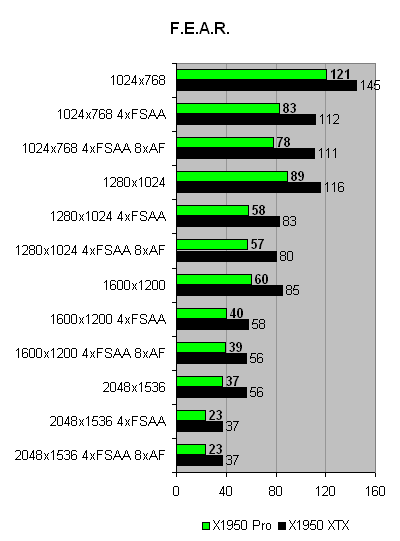 So what about performance? Well, the X1950 Pro is apparently and perhaps oddly meant to target Nvidia's GeForce 7900 GS. However, looking at the benchmark numbers it seems like it can give quite a few of Nvidia's cards a run for their money.
Considering that ATI is quoting a typical retail price of £119-129 inc VAT here and $199 in the US, the X1950 Pro is going to be an extremely well-priced card. At this price point, it is indeed comparable to the 7900 GS. However, the PowerColour card on review here should retail for around £139-149 ($229-249), though the Arctic Cooling cooler does add to some of the cost here.
Indeed, our industry sources suggest that ATI's price level won't be met, at least not initially, by other board makers either. We'll see how pricing pans out when ATI's favoured launch partners reveal their own pricing plans.
We didn't have a 7900 GS on hand to compare the X1950 Pro, but then we didn't expect ATI to line its new part up against Nvidia's product. The X1950 Pro doesn't compare too badly against the X1950 XTX considering that it's retailing for less than half the price.
Looking at the benchmark numbers this really is an outstanding card unless you're a performance junkie that needs every last FPS you can squeeze out of your games. Up to 1,280 x 1,024 you won't notice much difference between X1950 XTX and Pro, and even in higher resolutions, the X1950 Pro offers very good performance indeed. It can't match the XTX once you start turning on the eye candy and run at above 1,600 x 1,200, but this is unlikely to be a problem for most of the new card's potential buyers.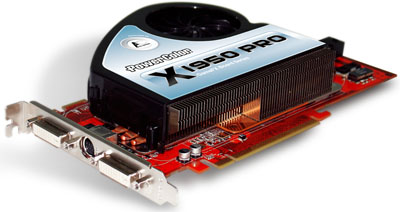 The numbers speaks for themselves, and there's no doubt that ATI will be shipping a lot of X1950 Pro graphics chips to its board partners at the price point we're looking at here. It's going to be a tough Christmas for Nvidia in the sub-£150 graphics card market, although the yet un-announced 'G80' DirectX 10 part is likely to draw the attention away from ATI at the very high-end.
Verdict
PowerColor's ATI X1950 Pro-based card is an excellent add-in all around, with plenty to offer considering its very competitive price point. PowerColor has made a good choice in fitting the Accelero X2 cooler on the card as it keeps the noise down to a minimum and makes for a better-value product. ®