Original URL: https://www.theregister.co.uk/2006/10/13/review_netgear_sph101/
Netgear SPH101 Wi-Fi Skype phone
VoIP without a PC
Posted in Personal Tech, 13th October 2006 16:59 GMT
Review To date you've been very much PC-bound if you wanted to use Skype for making VoIP calls, something that has limited its appeal to a degree. Not so any more, as the first set of Wi-Fi phones for Skype has hit the market and Netgear was the first to submit one to Reg Hardware for review...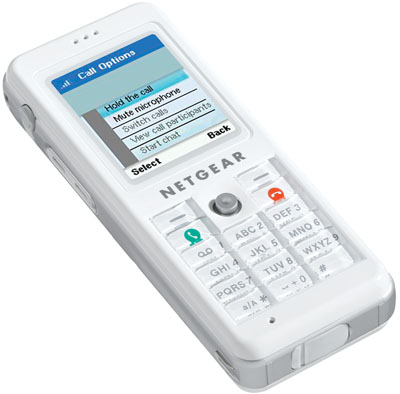 The not so imaginatively named SPH101 is one of the first Skype Wi-Fi VoIP phones to hit these shores, although Netgear isn't the only company with such a product and you can expect a review of SMC's rival handset here shortly. But back to the SPH101, which actually looks something like an overgrown Sony Ericsson T630, although it comes in iPod white with a silver strip around its middle.
It's actually rather refreshing to see such cleanly designed lines. It's a phone and it looks like a phone. It measures 11 x 4.6 x 2.1cm and weighs 110g, which makes it slightly smaller than most DECT phones.
The screen measures 1.8in in the diagonal and is comparable in terms of quality to those on budget mobile phones. It's most likely a 65,536-colour unit, but Netgear hasn't stated any screen specifications.
The keypad is quite stiff but not unreasonably so, and the four-way joystick makes navigation easy. To make selections you can either press the joystick inwards or use one of the two soft-menu keys that are located just below the screen. There are also call and end call buttons to complete the keypad.
On the left side is a volume key and a 2.5mm socket for a headset. On the right is a speakerphone button, although this didn't seem to do much on the review unit. At the bottom is a standard mini-USB connector, which means you can charge the SPH101 from either your PC or via the supplied charger. Finally, at the top is the power button, which will also open a menu if pressed quickly in which you can change the profile and your Skype status among many options.
The menu system is very easy to navigate and reminds me of the old Nokia menu system with the options laid out in a top-to-bottom style. The menu options are contacts, history, add contact, search, services and settings. Pretty basic compared to a mobile phone, but then again, the SPH101 is an easy-to-use device.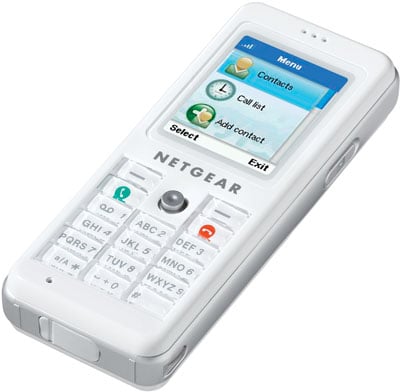 Once you power it on, the SPH101 will automatically look for wireless networks in range and try to connect. You can connect to WEP- and WPA-enabled Wi-Fi access points, although entering long awkward keys can be a pain on the numerical keypad. Once connected, the SPH101 downloads your contacts from Skype and you're set to go. One downside is that you can't use the handset with public networks that require you to log in via a website, as it doesn't have a built in web browser. At leats this is clearly stated on the box.
You can of course add new contacts from the handset itself and you can even search for people with Skype accounts. What you can't do is add SkypeOut credit or new features from the phone, which is a shame. This means that you would need access to a PC from time to time if you want to top up your credit for SkypeOut calls. A neat touch is the fact that the standby screen will show you any credit you have for Skype out calls, so you always know what your balance is.
What you can do is set up your voice mail message from the SPH101 as well as set up call forwarding as well as changing your Skype profile.
One disappointment is the limited choice of ringtones - these days even entry-level mobile phones sport a huge selection of annoying sounds. The SPH101 only has three and all of them sound pretty bad, even at the lowest volume setting. Pump up the volume and all three sound really distorted and are likely to annoy anyone that hears it ring. Luckily, the SPH101 also has a vibrating alert for those times when you don't want to be embarrassed by the silly ring tones.
The SPH101 will even automatically download new software updates as and when they become available, if you choose to enable this option.
In use, the call quality of the SPH101 is very good, even on a 2Mbps broadband connection. The quality will depend on how much incoming and outgoing bandwidt is available as well as on how good the wireless connection is. Call quality was equally good to other Skype users as it was to landlines and mobile phones.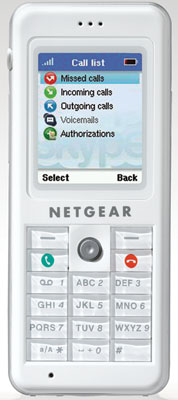 Netgear claims the SPH101's battery delivers two hours' talk time and up to 20 hours of standby. I have to say that these are fairly close to what I experienced and the battery goes down quite quickly when in use.
The only odd thing I noticed over the days I used the SPH101 was that it sometimes would randomly reboot for no apparent reason. Slightly inconvenient, but it never happened during a call.
At seven pence over £156 the SPH101 is not a cheap device, but it beats every other VoIP phone I've used hands down in terms of both call quality and ease of use.
Verdict
The SPH101 is an excellent device. You're limited to using Skype and Skype only as your VoIP service, but as long as you're happy with this and can afford the cost, then this is a top-notch VoIP phone, despite its limitations. ®