Original URL: https://www.theregister.co.uk/2006/10/12/review_audioengine_a5/
Audioengine A5 amplified iPod speakers
Too good for MP3?
Posted in Personal Tech, 12th October 2006 14:10 GMT
Review Loudspeakers designed for digital music players are ten a penny these days but their ambitions rarely extend to the audiophile. Most are intended to replace portable CD or tape units rather than living room systems, let alone pro-level kit. Apple's iPod Hi-Fi has helped show the player can drive room-filling kit, but US-based Audioengine reckons its Audioengine 5 (A5) set brings studio quality into the home...
The A5s are seriously hefty speakers - the left- and right-hand units weigh in at 6.4kg and 4kg, respectively. No great surprise this since they're an active - there's a built-in 45W RMS amplifier that's tuned, the company claims, to MP3, AAC and WMA compressed-audio sound. The perfect mix of audiophile quality and digital music simplicity?
Both units contain front-facing treble and mid-range cones both coloured black to contrast with the shiny white casing. Round the back, each has a rear-facing bass reflex port, so you're not going to want to put them too near a wall - at least 12cm from the surface, say. The cases have an 18 x 20cm footprint and are 25cm tall, so they're all set for mounting on good, solid shelves. They don't have feet, but Audioengine bundles a pair of foam pads on which to sit them.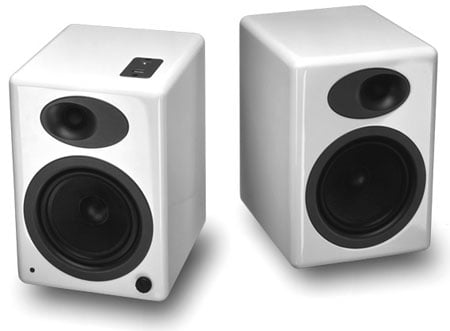 The amp is fitted into the left-hand speaker unit, which has a pair of spring-loaded clips in which to connect the cable out to the right-hand box. There's a voltage selector for non-US buyers with 230-240v mains supplies, and a power outlet to connect - Audioengine suggests you hook up Apple's AirPort Express box, to network the A5s.
On top of the left-hand speaker you'll find a standard USB port and a 3.5mm socket to connect the player's audio port to. Audioengine bundles short (20cm) and long (2m) 3.5mm-to-3.5mm cables - there's a second 3.5mm socket on the back of the speaker unit - along with a 3.5mm-to-RCA (female) adaptor cord, the 3.75m speaker-to-speaker lead (16 gauge) and a 1m USB extension cable.
I tried the A5s out first with a first-generation iPod Shuffle, and with player plugged into speaker, the choice of a top-mounded USB port seemed inspired. But then I tried the speaker set with a Nano, and it's less impressive. USB is non-partisan, but then it only delivers power, in this context at least. Even with a Shuffle, you still need to connect the player's earphone port to the 3.5mm input, and with a Nano, other iPod or another brand of digital music player entiurely, you not only do that but connect up a USB-to-dock cable too.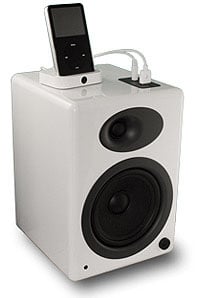 If you're going to have to wire up your player this way, it'll be tidier if the ports are all round the back of the speaker, leaving the top clear for a docking cradle or simply just clear of anything. Only by connecting your music player to the 3.5mm socket on the back of the A5s and connecting an AC adaptor into the auxilliary power port can you hope to keep the all the wires out of the way. These are nice-looking speakers - they don't deserve to be seen draped in cables.
Personally, I'd like the USB port at the back too, ready to plug in a remote-controllable dock on top of the speaker, with the two connected by a discreetly-placed couple of cables. An integrated iPod dock connector would have been even better, though less attractive to owners of SanDisk, Creative or iRiver players, for example.
Spaghetti aside, the A5s make for an attractive pair of speakers. The white styling won't match everyone's room decor, of course, and Audioengine also offers a version of the speaker set in black, though the company's fortunately resisted the temptation to colour the speaker cones. Even the white ones have a stylish, pro-audio look about them.
I didn't place my sample A5s thus, but Audioengine assures me they're magnetically shielded and so can safely be placed alongside monitors and TVs.
Given the A5s are aimed at the digital music player owner, I tried them this way first. There's no doubt, these are serious, room-filling speakers. The sound's big and beefy without, and distortion free even when both the iPod and the A5s themselves - there's a volume control on the front of the left speaker - are turned up to max.
The A5s' strength is the bass which not only has all the thump you'd expect from a powerfully amplified set-up but also an isotropic quality so you feel they're pointed at you wherever you are in the room. There's also good detail there.
What the A5s lacked - at least at first - were the higher frequencies. Some recordings and music genres were worse than others, of course, but even so the sound lacks sparkle and clarity.
What we're seeing here is the limit of the medium, and the danger of stressing how handy your speaker products are for MP3 player usage. The A5s aren't deficient at the higher frequencies, as hooking them up to MacBook Pro and tweaking iTunes' EQ setting revealed. Playing CDs through the A5s showed just how clear they can be while still pumping out a solid, warm bass.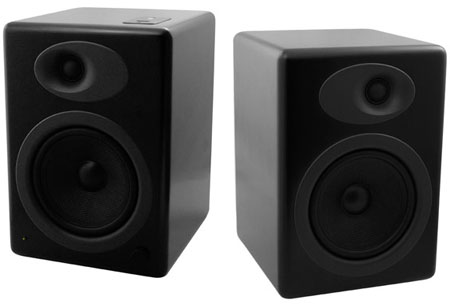 Listening environment and personal taste are important factors too, so it's a good that Audioengine offers new buyers a 30-day audition period. If you don't like the A5s, you can send them back for a refund - minus shipping costs, of course.
The price for this fine set of speakerage? Just $349 (£186/€275) a pair, so hardly a bank-breaking asking price, though overseas buyers may face significant delivery charges given the A5s' combined weight.
Verdict
Audioengine's A5 speakers look good and sound even better. Hook them up to a CD or DVD player and you're in for a real treat. The company's claim that MP3 and other lossy audio formats sound great too is entirely true, but only because of the volume. These technologies sell the A5s short - the speakers deserve much better sound sources. Frankly, they're too good for MP3s. ®