Original URL: https://www.theregister.co.uk/2006/10/11/spam_cube_uk_bound/
Spam Cube to take anti-spam gadget worldwide
Hardware hammers unwanted emails
Posted in Personal Tech, 11th October 2006 12:17 GMT
Security gadget maker Spam Cube is to bring its anti-malware hardware to a worldwide audience, courtesy of a tie-in with distributor eSys. The email-scanning device is currently only available to buyers in the US.
The 11.5 x 11.5cm unit connects between your broadband modem and scans incoming email messages for attempts to flog viagra, male member enhancement products, schemes to steal personal information and so on. It works with POP3 email accounts and can cover up to four networked computers, be they Windows PCs, Macs and/or Linux boxes.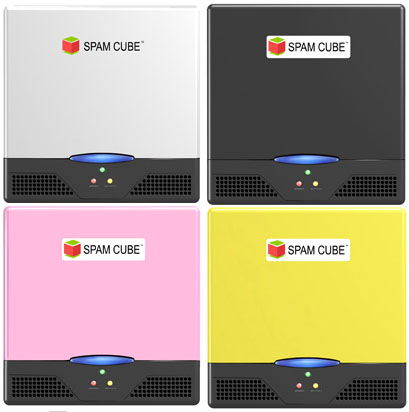 Spam Cube sells the box for $150, and keeps the unit automatically updated. There are no subscription charges for the standard service, but it also offered a $52-a-year Security OnDemand service that adds anti-virus and anti-phishing technology. Whichever approach you take, Spam Cube claims you'll find the system is a doddle to set up.
The company didn't say when the device will make it to these shores, or how much it's likely to retail for when it arrives. ®