Original URL: https://www.theregister.co.uk/2006/10/11/review_ricoh_caplio_r5/
Ricoh Caplio R5 7.2Mp compact digital camera
7.1x optical zoom in a compact format
Posted in Personal Tech, 11th October 2006 11:02 GMT
Review Unlike some of the digital camera brands gracing shop shelves, Ricoh can claim a long and surprisingly prestigious photographic heritage, including development of the world's first mass-produced twin-lens reflex, the RicohFlex III, which launched back in 1950 with a class-leading price and a good quality lens spoilt by soft corners...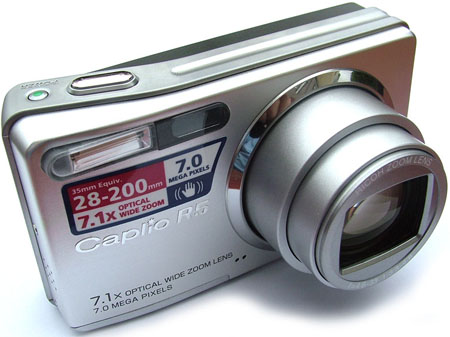 Despite some well built and dependable cameras with genuinely decent optics, Ricoh's low prices and, later, its willingness to replace traditional dials and switches with push-button electronics kept it from gaining the respect it perhaps deserved.
The Caplio R5 is a compact, mid-range point-and shoot model with a sizeable 7.1x optical zoom lens, equivalent to a 28-200mm lens in 35mm terms, and a 7.2 megapixel CCD image sensor. With only a fully auto setting or a selection of scene-based shooting modes it's aimed unashamedly at the novice or those who simply don't want to have to think too hard about their pictures.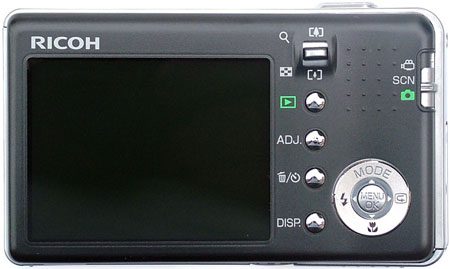 Measuring in at 9.6 x 5.5 x 2.6cm, the R5 is unexpectedly compact yet still manages to swallow the entire bulk of the lens, which when the camera is powered off retracts into the body in its entirety.
The body feels solid in the hand thanks to its all-metal construction. Build quality looks to be very good with only the flimsy battery compartment door with its visible overspray and fragile feel diluting the impression. As well as playing host to the ample 1,150mAh battery, which it's claimed should have enough stamina for around 380 shots per charge, the battery compartment is also where you'll find the memory card slot, unpopulated in this case, but ready to accept cheap and easily sourced standard SD cards. With a full resolution, full quality image weighing in at around 2.5MB and just 26MB of in-camera memory available you'll likely be shopping for a memory card sooner than you might anticipate. The battery is charged out of the camera using the supplied charger.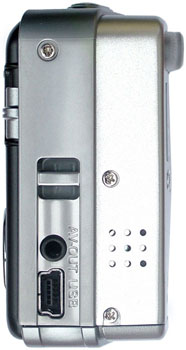 While we're lingering around the bottom of the camera let me just mention the tripod socket. Not only is it offset in relation to the lens' axis, which will upset those who like to create multi-shot panoramas, it's also made of plastic. I'm a bit old-fashioned when it comes to tripod sockets but I see no valid reason, financial or otherwise, for not using a steel one, even if the target user is unlikely to ever own a tripod let alone use one.
The front of the R5 is dominated by the lens which takes up almost 50 per cent of its width. A six-segment plastic shutter closes to protect the face of the lens when retracted and this opens as the three-section barrel extends for use. The lens isn't terribly bright, with a maximum aperture of f/3.3 to f/4.8 depending on the focal length but given the range of the zoom this is somewhat forgivable. The zoom mechanism itself is slightly clunky and rather noisy. This felt exaggerated during testing thanks to the unresponsive nature of the vertically orientated zoom rocker switch which sometimes worked and sometimes didn't. It certainly needed more pressure than I was comfortable with to get it to operate every time.

Also on the front is the tiny flash unit which is perfectly placed to be obstructed by a wayward finger. In its favour, its coverage was acceptable even at the widest lens setting which is no mean feat. The only other thing you'll find around the front of the R5, not counting the recessed autofocus sensors beside the flash, is the microphone which is located centrally near the bottom edge.
The top of the R5 is home to the push-and-hold power switch and the two-stage shutter release button. On the right-hand edge is a standard type mini USB connector, an AV output jack, a micro-speaker and lanyard loop. The standard bundle includes an AV cable with dual phono connectors that carry video and mono audio signals.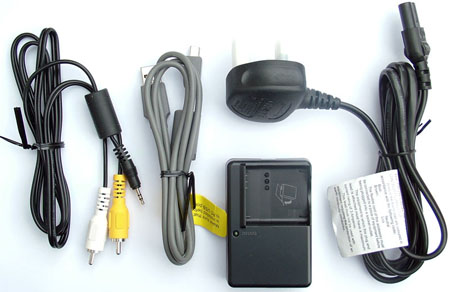 Ricoh has updated the 2.5in LCD they used on the R4 increasing its resolution by about 50 per cent from 150,000 pixels to 230,000 pixels. The result is a cleaner image with better gradations though the improvement isn't as momentous as you'd perhaps imagine it to be. I found manual focusing to be marginally easier on the newer screen but still too difficult to be used reliably. That said it's still a feature I'd sooner have than not. The screen seemed very sensitive to the internal electronics and would often flicker and distort as the camera worked. Despite the lack of any anti-reflective coating a tactically placed hand made for acceptable use even in bright sunlight.
The main control buttons lie in a column of four below the zoom lever. Top button of the four is the image and video playback button. Below that is the quick adjust button allowing one-touch access to exposure compensation at plus or minus two stops, white balance with its five presets plus auto and manual and finally sensitivity which can be set to ISO 64, 100, 200, 400, 800 and 1600 plus auto. Only the white balance settings are available when in video mode.
Next down is the self timer button which conjures up the customary two or ten second delay. This button serves double duty working as a delete button when used in playback mode.
The bottom button of the four is the display button which toggles the display information through four states, regular shooting mode, 'rule of thirds' grid overlay, standard shooting mode screen plus live histogram display. The final option is display off, great for when the battery is low, but a little hit-and-miss when you factor in the total absence of an optical viewfinder to use in its place.
A rather small four way direction pad lets you alter the flash mode, activate the macro mode, review the last picture taken and set the scene shooting mode. A central OK button also opens the settings menu from where a variety of things can be tweaked including focus mode - multi-point, spot, manual, snap or infinity - metering mode - multi-point matrix, centre-weighted or spot - image resolution with various resolutions in either fine or normal quality mode, continuous shooting mode, sharpness setting, interval timer and more. Auto-exposure bracketing is also available for those tricky exposures.
One of the headline features for the R5 is its CCD shift vibration correction. It can't perform miracles but it does extend your ability to hand-hold shots in low light or at high zoom levels. Though quite effective there seemed to be a glitch whereby activating the function in the menu had no apparent effect until the camera was powered off then on again. Once active I found I could reliably hand-hold shots down to 1/3 of a second with the zoom at its widest focal length which is not too shabby. The general rule of thumb for hand holding is 1/focal length, so for a 28mm equivalent lens that would be a maximum 1/28 second depending how steady you are.
The R5 also features integral skew correction which lets you take an off-axis picture of, for example, a whiteboard or monitor then, using an automatic trapezium detection algorithm, find its edges and correct its shape so it appeared as if the photo had been taken head-on. Edge detection wasn't always successful either failing completely or highlighting them incorrectly but when it did work it worked well. This is also useful for correcting the problem of converging verticals often found when photographing tall buildings. I should point out, however, that this is nothing you can't do equally well yourself in most half-decent photo-editing software.
In use the R5 was real mixed bag. Power-up times were very good and shutter lag was minimal. As mentioned the zoom function felt clumsy and awkward to use which very much spoilt the feel of the camera for me.
Focus speed was excellent in normal lighting conditions, but quickly deteriorated as the light faded. With no focus assist lamp I found I was constantly frustrated by the R5s inability to get a lock once the sun went down, negating the advantages of the ISO1600 sensitivity setting and low light shooting mode. Because there's no focus-assist LED the R5 uses low powered bursts of its flash to count down the self-timer, hardly the most elegant solution and one certain to capture the occasional squint.
Image quality was very good in optical terms with good sharpness and only very minimal darkening at the corners. However, despite Ricoh's boasts about their new Smooth Image Engine II noise reduction system image noise levels were worse than many similarly priced cameras once you got above about ISO 200. Below ISO 200 noise was still evident but no more than you'd expect find in other small-sensor cameras. Chromatic aberrations were fairly well controlled for a lens with such a broad zoom range as was distortion and neither should be an issue for most users.
Exposure using the multi-point matrix metering was on the money most of the time but every now and again it seemed to serve up a completely rogue image which was usually over-exposed by some margin. It also tended to over-compensate for brightly backlit subjects leading to unpleasantly burnt out mages. Switching to centre-weighted or spot metering certainly helped though accurate spot metering involves some understanding of how cameras meter light and I'm not sure why it's so regularly offered up on point-and-shoot models.
Along with its good quality lens and flexible zoom the highlight of the R5 must be its macro capability. With the ability to focus down to 1cm you can capture some really stunning close-ups, though getting this close without the lens casting a shadow on your subject can be tricky. This is where a circular, lens-mounted ring light comes in handy but as the R5 has no filter thread on the lens it's not really an option. Flash is disabled in macro mode and this, combined with the R5's poor low-light focusing may mean you do most of your macro photography outdoors in daylight.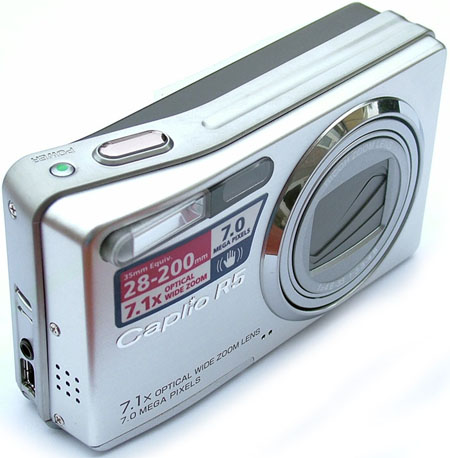 Verdict
The long zoom, 7.24 megapixel CCD, stunning macro, compact size and image stabilization all help the R5 to justify £250 asking price, but as a package there's just not enough it excels at to make it easy to recommend without reservations. Good but not great. ®