Original URL: http://www.theregister.co.uk/2006/10/05/hp_hunsaker/
HP's 'ethics' chief emerges as spy scandal star
We did it my way
Posted in The Channel, 5th October 2006 18:12 GMT
On September 6 - Carly Fiorina's birthday - investigators involved in the HP spy scandal could hear the butcher's footsteps. Quite a few people would be sacrificed because of the public relations mess, and those closest to the probe would likely be cut across the neck first.
"We are being hung out to dry, the politics, smokes, mirror are high," wrote Tony Gentilucci, HP's manager of global investigations, in an email. "I have lost a lot of respect for a lot of people, amazing really. If I am still here next week, we can discuss over a beer in a week or two."
Gentilucci returned to the beverage theme in an email the next day to Kevin Huska, a member of HP Global Security.
"This thing is taking on a life of its own, articles are in the tabloid stage, not sure I will survive after the steam roller runs me over, but totally out of my control now, can't say much more, but if I am around, maybe we can discuss over a cup of coffee or something stronger!!"
These disclosures, however, prove rather innocuous when compared to the emails penned mid-scandal by then HP counsel and ethics director, Kevin Hunsaker.
In fairness, an old friend of Hunsaker's tells us he's a nice guy who would never do anything suspect. Unfortunately, Hunsaker seemed to let the cloak and dagger excitement of HP's spy probe embiggen his spirit to the point of inanity. It's Hunsaker's emails that stand out above all else in the hundreds of pages of HP documents that were released to reporters this week.
Hunsaker, who took the fifth last week before Congress, was charged yesterday by the California Attorney General's office on numerous felony counts tied to HP's spy effort. As you'll see below in our collection of Kevin Hunsaker's Greatest Hits, the HP executive did indeed play a central role in the second part of HP's dubious spy probe.
Our journey begins on February 2, 2006. Hunsaker fired off an email titled "Great Job!" to internal and external HP investigators, thanking them for a job well done in investigating a CNET story. He notes that both Chairman Patricia Dunn and top lawyer Ann Baskins - both of whom have since resigned - were briefed on the work and thought HP's spooks were doing an "excellent job."
Then we get:

The operative sentence there is "It is truly all of your hard work that has made us look so good," but we're sure you got that already.
Some more emails followed the next day, including one from HP internal investigator Fred Adler with him warning that "Any action we take should be viewed from a risk vs. reward perspective, as there is inherent risk in action." At this point, HP had started to debate sending a fake email with spyware to a reporter in the hopes that the reporter would send the email to her source for confirmation. Adler cautioned that someone might be able to trace this action back to HP, if the company wasn't careful.
Hunsaker, however, had more personal concerns.

To Hunsaker's credit, he had identified the leaker by February 5, 2006. In the email below, he notes that either Keyworth or HP outside counsel Larry Sonsini was the likely mole. Despite such confidence, Hunsaker and HP would continue to dig a deeper hole for themselves.

But before they moved on with the laughable spyware operation, HP's investigators were handed another warning. Adler's partner in ethics Vince Nye, also an internal HP investigator, urged HP to think about what it was doing in a February 7 email.
"I have serious reservations about what we are doing," Nye wrote. "As I understand Ron's methodology in obtaining this phone record information it leaves me with the opinion that it is very unethical at the least and probably illegal. If (it) is not totally illegal, then it is leaving HP in a position of (sic) that could damage our reputation or worse. I am requesting that we cease this phone number gathering method immediately and discount any of its information.
"I think we need to re-focus our strategy and proceed on the high ground course."
As you all know, HP completely ignored this advice. There are no public records of anyone at HP addressing Nye's email in a substantive manner. In fact, the only e-mail that really deals with possible illegality surrounding HP's investigation methods appears on March 24. Gentilucci received an email from an unnamed source stating that a "clerk" found one legal case defending the practice.
It took us 5 seconds on Google to find this.
But we've teased you long enough. Now it's time to "Strap on your helmets, fellas. We're goin' in!!!" as HP's investigative team would say.
Close watchers of this scandal know that HP has emphasized how boardroom leaks can undermine the company. To take HP seriously, you have to ignore the fact that the CNET story which started the Kona II mess did little more than disclose that the directors work hard, that HP hoped to sell more Opteron servers and that HP was eyeing software acquisitions. The first "leak" paints HP's directors in a positive light, while the latter two were pretty obvious since HP had a vast Opteron server line by January of 2006 and has been stating for years that it hoped to acquire software companies and has, in fact, bought lots of software companies.
HP executives also allege that more serious leaks about a potential deal with CSC affected the company's share price. Dunn emphasized this point during her Congressional testimony last week, saying the leak may have put HP in violation of US securities laws.
This context makes Hunsaker's decision to press the CSC angle in a ruse e-mail to a reporter all the more curious. Here's a draft of an e-mail that Hunsaker - calling himself Jacob - penned on January 28 and planned to send to CNET reporter Dawn Kawamoto.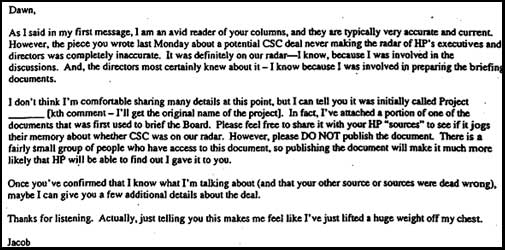 HP's investigators worked hard, trying to refine the language of the email and to set an elaborate trap. Hunsaker - the ethics chief - commented, "Heck, we could leave Kawamoto a voicemail after hours from an HP conference room in Palo Alto Wednesday or Thursday, then she'd know it was coming from an HP person. Of course, I'm not sure we want this directly traceable back to HP . . .
"In any event, I think it will make for a healthy discussion on Monday."
Healthy indeed.
The next day - January 29 - Hunsaker takes a second crack at the email. This time he "inserted a little blurb" about a Wall Street Journal reporter to "feed any competitive fire in Kawamoto".
"I also inserted the original name of the project. And, I've created the document we can use - it's an actual slide from the Acquisitions Committee presentation, but it only contains publicly available information about CSC (except that I include the name of the project)."
There's no shortage of irony in this whole HP mess. In an effort to stop a couple leaks, the company ended up having its dirty, dirty laundry hung up in front of the whole world. But to have the company's ethics officer dishing out the kind of information HP was most concerned about while trying to trick a reporter is really tops.
Eventually, HP dribbled Kawamoto some less innocuous information about a handheld program, hoping to convince her that Jacob was real. It then decided to send the second more suspect spyware laced email that babbled on about HP's data center plans.
While caught up in all this emailing, Hunsaker did take time out to ask Gentilucci how the investigators "get cell pone and home phone records."
"Is it all above board?" Hunsaker wondered.
Gentilucci told Hunsaker that some social engineering was involved where a "ruse" was used to trick the phone company. "In essence the Operator shouldn't give it out, and that person is liable in some sense . . . I think its on the edge, but above board."
"I shouldn't have asked ... ," replied the ethics chief Hunsaker, meaning, of course, that he shouldn't have asked in an email.
Any reservations passed as Hunsaker started "to get excited" about nailing the leaker and sending the spyware email.
By February 9, in fact, it seems like everyone at HP had given up their reservations. The good-natured Nye shot off an email saying, "STRAP ON YOUR HELMETS FELLAS, WE'RE GOIN IN!!!" as HP prepared to send the tracer e-mail.
That afternoon, Hunsaker received an email from SOS's Ron DeLia, saying: "The package has been launched."
Gentilucci responded, "This is like waiting for the Apollo 13 spacecraft to emerge from the dark side of the moon . . . "
It's obvious at this point that all of the investigators had become too enamored with their own work. Rather than heeding the calls to slow down, HP pressed forward with not even at glance at ethics concerns and only a wink and a nod at the legal concerns.
HP's now promoted CEO Mark Hurd approved this whole operation.

That would be the definition of bad decision making. But, hey, Hurd is more of an operations guy, anyway.
So as not to leave you completely horrified, we'll end on one of the more comical Hunsaker-inspired moments.
Hunsaker repeatedly encouraged the surveillance of various people, including HP's own PR man, Michael Moeller. Thanks to HP, we now give you a day in the life of Moeller at a conference.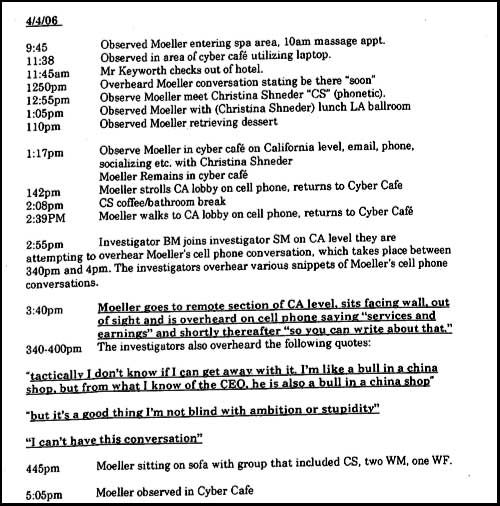 Before resigning and pleading the fifth in front of Congress, Hunsaker did manage to try and defend himself in more HP documents.
"I am confident that all phone information obtained during the course of the investigation was obtained in a lawful manner by using an information gathering technique that has been commonly used by investigators, law firms and law enforcement agencies for many years," Hunsaker wrote to HP's legal team.
"We did not engage in any unlawful conduct at any stage of the investigation."
And Hunsaker will soon have his day in court to prove it. ®