Original URL: http://www.theregister.co.uk/2006/10/04/review_supermicro_pdsba_g965/
Supermicro PDSBA G965-based mobo
Intel's latest integrated chipset arrives
Posted in Personal Tech, 4th October 2006 13:35 GMT
Review Intel's G965 chipset has finally arrived, and the perhaps unlikely mobo maker to have the first product based on it is Supermicro, better known for its server boards. The rather un-fetchingly named PDSBA is also Supermicro's first Core 2 Duo-enabled motherboard. It's also the first mobo we've come across that doesn't support IDE. So unless you've got a SATA optical drive, you might run into some interesting problems...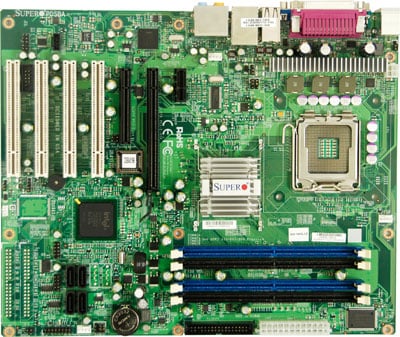 Nonetheless, the really interesting aspect of the PDSBA is the fact that it features Intel's new integrated graphics core, the Graphics Media Accelerator X3000. The X3000 is the performance part, while the Q965 chipset's GMA 3000, which lacks some of the 3D features of the X3000, targets for more mainstream applications. Neither are cutting edge, of course, but the X3000 should prove to be sufficient as long as you're aware of its limitations.
The X3000 is Intel's first chipset to feature pixel shader and vertex shader hardware - in previous GMAs, the geometry work was left to the CPU. The X3000 also features acceleration for WMV9 HD video content, but there's no support for other HD formats. The GPU uses programmable pipelines, something that ATI and Nvidia is working on for their next generation of graphics cards. However, the X3000 only has eight unified pipelines, so it can't process as much data as even a mid-range graphics card with 12 or more fixed-function pipelines.
The X3000 operates at 667MHz and can allocate up to 384MB of system memory for graphics usage. In our tests the BIOS was set to allocate 64MB by default to the graphics and another 64MB dynamically when needed, but more on that later in the review.
Let's take a closer look at the motherboard and what it has one offer. The PDSBA isn't a consumer product - not one of Supermicro's markets - but I would imagine that this board will make its way into a variety of office systems. As I said, there are no IDE connectors whatsoever on this board, and there are only four SATA connectors, as Supermicro has used the standard ICH8 South Bridge chip rather than the six-port RAID version. However, the good old floppy connector is still present.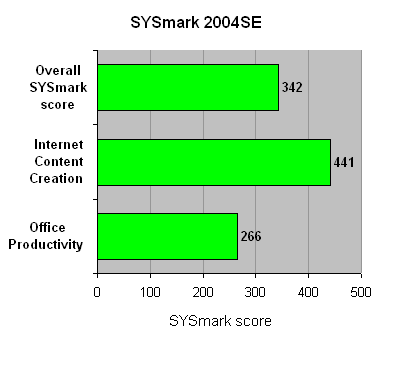 Around the rear is the normal array of connectors, including two PS/2 ports, parallel and serial ports, a VGA port, six USB 2.0 ports, an Ethernet connector - for the on-board Gigabit Ethernet controller - and six 3.5mm audio jacks fed by a 7.1-channel Realtek audio chip. If you want DVI you have install an ADD2 card in the x16 PCI Express slot. The PDSBA also features a physical x8 slot, but it's only connect to four PCI-E lanes. There's a x1 PCI-Express slot too and four PCI slots for further expansion.
A full set of four memory slots, which together accept up to 8GB of system RAM, are available and there are two internal headers for a further four USB ports - these are supplied on a bracket with the motherboard. Rather unusually, all the fan headers - three in all - use the new four-pin design, not just the one for the CPU cooler. Being a business-oriented product, the PDSBA features TPM (Trusted Platform Module) support, although this can easily be disabled via a jumper.
Apart from the USB bracket, the board is also supplied with a full set of four SATA cables and a floppy cable. And that's it as far as accessories go.
During testing, we ran into several issues with the BIOS on this motherboard, but with some help from Boston - Supermicro's distributor in the UK - these were overcome with a BIOS upgrade. Oddly, this updsate isn't, at the time of writing, available on the Supermicro website. The graphics drivers on the CD bundles with the board are out of date too and caused some further problems. Again, an update sorted all the problems out.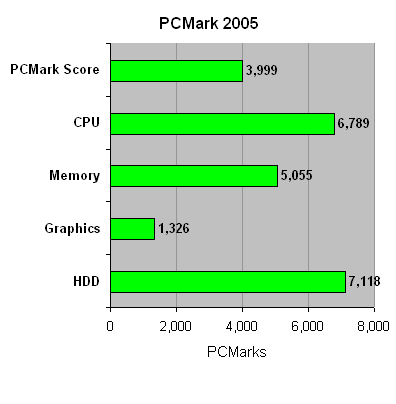 The productivity benchmark numbers are actually quite positive, although not entirely comparable to the P965 boards we've tested in the past, in part becuase we used a faster hard drive for those products. However, the SYSMark 2004SE scores show some good numbers. Moving onto PCMark 2005, the results are more disappointing, at least until you realise that it's the onboard graphics controller that's holding the numbers back.
The 3D benchmark results are truly shocking, with none of our games yielding playable frame rates at 1,024 x 768 resolution. The overall 3DMark 06 score was a mere 659. Half-life 2 produced an even worse result: 3.87fps overall. Completley unplayable, in other words. Far Cry managed slightly better - 14.56 fps - although it's still effectively unplayable. So even with a much-improved graphics core, the G965 is still not good enough for playing 3D games. However, Intel claims that it is Vista Premium certified, so it'll at least run Microsoft's upcoming OS upgrade.
If the PDSBA won't appeal to gamers, it won't find many fans among the budget-conscious either. It's set to retail for around £128 inc. VAT, more even than a basic P965 mobo and a graphics card.
Verdict
In a word, disappointing. The Supermicro PDSBA isn't strong on features and it's expensive. The GMA X3000 works, but it's far from close to beating even entry-level graphics cards when it comes to 3D, no matter how many new features Intel have added. The best you can say is that it's a competent product for running Windows, but not much more than this. ®