Original URL: https://www.theregister.co.uk/2006/10/03/wsj_tam_hp/
HP told WSJ to, 'Go say nice things'
;-), barked reporter
Posted in Business, 3rd October 2006 23:47 GMT
We've always wondered how elite reporters at publications such as the Wall Street Journal handle their communications with public relations drones. Thanks to HP's savvy investigators, we must wonder no more.
An HP spy probe document released by investigators shows a lovely February 2006 chat between HP spokesman Michael Moeller and WSJ reporter Pui-Wing Tam. HP managed to record the instant message discussion between the flack and hack thanks to some spyware it planted on Moeller's computer.
"The new monitoring system that captures AOL Instant Messaging is now up and running and deployed on Moeller's computer. It instantly began to pay results," bragged one HP spy.
In the first snippet, we find the reporter fretting over competition from BusinessWeek star scribe Peter Burrows. Questions from Burrows during a conference call about sales and attach rates make Tam "VERY uncomfortable." Moeller reassures the reporter by saying that BusinessWeek is not a competitor. "Oh, that's what I was thinking," Tam writes.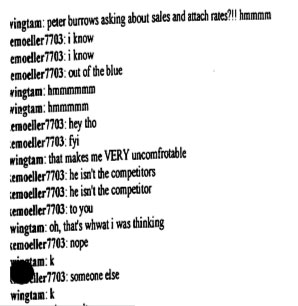 MM: nope.
PWT: k
Phew. Crisis averted.
From there, Tam goes on to cheer HP's quarterly performance, saying "nice results." As any good PR would do, Moeller emphasizes the point by declaring "real nice," "shit" and "nice guidance."
The verbose Tam agrees. "Yup."
Both the flack and the hack express surprise about HP's rise in net income. Tam calls it "crazy," while Moeller chips in with "INCREDIBLE" - an "increase in net income for h-p?????"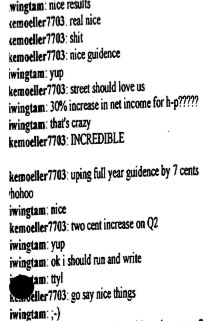 Easy, Mike, stay on the party line.
The pair exchange a couple more pleasantries about HP's stellar results and then Moeller issues a parting command. "Go say nice things."
We've yet to run across a Tier 1 flack willing to dish such a line our way. Usually, it's just third rate PRs that stoop to begging for cheery coverage. Anyway, the request is enough to make any journalist cringe. Well, except for Tam.
;-) - was the reporter's response.
About a month after this chat session, HP's then senior counsel Kevin "I've been sacrificed" Hunsaker ordered more spying on Tam.
"Can you please do some monitoring on incoming and outgoing calls to Pui-Wing Tam, and keep a really close eye on her IM traffic with Moeller," Hunsaker asked one of HP's internal security staff. "There is going to be a special telephonic board meeting next Tuesday to discuss a very important topic, and PWT called Tom Perkins a couple days ago asking about the precise topic the board will be discussing. According to Perkins, he told PWT 'I don't know.'
Anyway, this is yet another major opportunity for a leak to occur."
We'll be bringing you some more of Hunsaker's greatest hits tomorrow. ®