Original URL: https://www.theregister.co.uk/2006/10/03/mandriva_linux_2007_launched/
Mandriva Linux 2007 outed
Big bundle
Posted in The Channel, 3rd October 2006 22:50 GMT
Mandriva has opened its download doors for business the latest version of its desktop Linux operating system.
Mandriva Linux 2007 is bundled with loadsasoftware, including Skype, Kaspersky anti-virus, a desktop DVD player, a music player, some computer games, virtualization software and, in one edition, an in-house developed firewall.
Mandriva, the French company formerly known as Mandrakesoft, says the key new feature of 2007 is the AIGLX and Xgl 3D-accelerated desktop. Users may need to search the support forums for pointers on drivers.
Mandriva Linux comes in three flavors - Discovery, PowerPack and PowerPack+ targeting Linux beginners, advanced computer users and small businesses. There are many charging options, varying from free to €179 for a fully-armed PowerPack.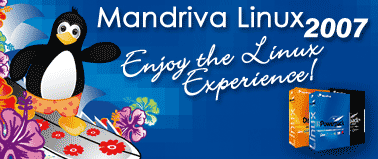 Step this way for the press release and download info. ®