Original URL: https://www.theregister.co.uk/2006/10/02/sony_readies_bd-rom_patch/
Sony to patch Blu-ray burners for BD-ROM playback
One-off opportunity, says cheeky vendor
Posted in Personal Tech, 2nd October 2006 10:02 GMT
Sony's BWU-100A Blu-ray Disc burner will this month gain the ability to play pre-recorded BD discs, the consumer electronics giant has revealed. The fix will come courtesy of an update to the copy of CyberLink PowerDVD bundled with the internal drive.
The free update will be made available from Sony's storage support site here. Downloaders will required the software key included with their current copy of PowerDVD.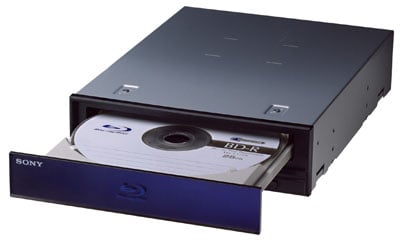 They'll also need an HDCP-compliant graphics card if they want to be sure BD content will be output at the correct resolution, Sony warned. Users will also need a powerful enough PC and a modern graphics card. There's a system checking tool available at the support site link above.
It also said users have just one opportunity to download the software - if the tool doesn't download correctly, or you throw away the downloaded file before applying the patch, you'll need to pay Sony for a copy of the software on disc. The company didn't say how much this money-grabbing exercise will cost consumers, but it claimed the fee will be "nominal". Given how much Sony charges for the drive - $750 - this is a cheeky measure. ®
Related reviews
Pioneer BDR-101A internal Blu-ray disc burner
Samsung SH-B022 Blu-ray Disc writer