Original URL: https://www.theregister.co.uk/2006/10/02/review_blackberry_pearl/
RIM BlackBerry Pearl 8100
Slim, sexy yet still a BlackBerry
Posted in Personal Tech, 2nd October 2006 12:10 GMT
Review Research in Motion's BlackBerry has, with its seamless email and sturdy workhorse ruggedness, captured the business market. But its bulky designs and lack of extras have put off many a consumer. That's all set to change with the introduction of the Pearl, RIM's first handset aimed slap bang at the consumer market...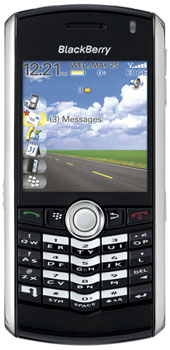 First up, you've got the design. If you've passed on previous models because of their utilitarian looks and lacklustre appeal, then be prepared to look again. This model has style through and through, from its slim 1.3cm depth to its chrome-effect finish. It's light too, weighing in at just 88g.
It's not that the previous models were ugly, it's just that this one is the much, much better looking younger sister.
In addition to the frumpiness, RIM has also ditched the side-mounted thumbwheel found on previous models. While it was fine for the majority, it was a bit of a nightmare for the left-handed user.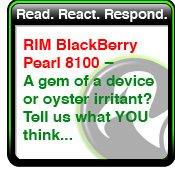 Ousting the basic up-down action sits a roller ball with a full 360° movement. It even glows white when you use it, resembling the device's cool new moniker, Pearl.
Adding an extra degree of movement means you can now whiz about web pages instead of diligently thumbing your way around. It's a bit like being given a mouse, when before that all you had were cursor keys.
Pearl is also the first BlackBerry to incorporate a camera. Wary of twitchy businesses worried about nefarious employees snapping things they shouldn't, RIM has steered clear of bundling one before. In consumer world, however, it's a must-have.
True, RIM has loaded the Pearl with the bare minimum spec these days - the camera's a mere 1.3 megapixels. It's good enough for taking the odd snap on a night out and emailing it the morning after. It's not going to replace a proper camera, but it's there as a spontaneous, for-the-moment backup should the occasion present itself.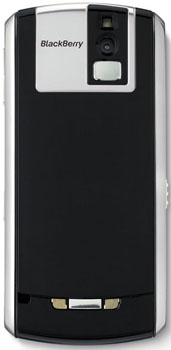 The results are good - like most camera phone pics, the colours are a little saturated as the sensor battles with low-light surrounds, but they're good enough to see who was degrading themselves after one too many pints of Stella.
Find yourself in near-dark surroundings and there's a flash to blind your fellow partygoers. It'll whiteout anyone too close to the frame, but at least you'll be able to find out what they were up to when the hangover haze has passed.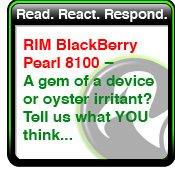 To BlackBerry converts, the keyboard will be second nature, but if you're more accustomed to your T9 or a full QWERTY job then it's going to take a bit of breaking in. Imagine a QWERTY keyboard, but with only half the number of buttons necessary.
With two letters per key, some predictive text-alike software kicks in to make sense of what you're trying to type. With fewer permutations than a standard numeric keypad, it's far more accurate and after a little practice you'll never want to go back.
Don't get lost on the good looks and fun extras, though - this is still a BlackBerry through and through.
Email setup is a cinch. For consumers, there's the BlackBerry Internet Service - just enter the details for your existing email account into the appropriate boxes on a webpage and before you know it, email will start popping up on your handset like text messages.
For the flash executive, there's the BlackBerry Enterprise Server. You'll need to sweet talk your sys admin to get it installed, but once it's in place you'll never be able to use the excuse 'I never got your email' again.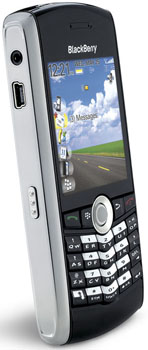 Messaging doesn't stop at email, though. With a few clicks you can install GoogleTalk and Yahoo! Messenger, so you can IM like the best, no matter where you are. If you're on rival AOL or MSN, though, you'll have to lay down some hard-earned cash for a third-party client to keep you in the loop - currently there's no official client for the two largest IM networks.
In fact, free software in general is a little lacking for the BlackBerry platform. There's an app out there for almost every need you could possibly want catered for, but given its business heritage those looking for a free ride will be sorely disappointed.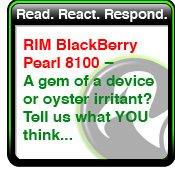 Even for something as obvious as RSS - given you're holding in the palm of your hand a state-of-the-art communication device - unless you're prepared to dig really deep into Google, you're going to have to pony up some cash for an easy-to-use client. Hopefully, with a decent consumer push, the situation will change.
To have a BlackBerry - especially one this good looking - though, is to love it. Once you're converted, you'll wonder how you previously coped. Thankfully, despite its small size, it's got a decent battery packed inside.
For battery life, you'll get a good five days at the very least, although leave Bluetooth turned on and you're looking at about half that. The Pearl supports Bluetooth 2.0 with headset profiles.
For PC hook-ups, RIM has thankfully avoided proprietary connectora and instead chosen a standard mini-USB plug - it'll even charge from the port if your PC can put out enough juice.
There's 64MB of memory as standard, but if you run out of space then you can add extra via the Micro SD slot. Annoyingly, though, it's situated underneath the battery - meaning you need to remove it to switch cards.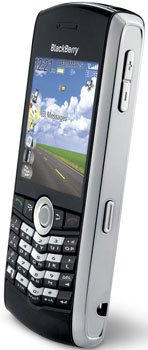 The full colour screen supports 65,000 colours and stretches to 240 x 260 pixels, giving a clear, easily readable display.
There's a built-in media player, although RIM's playing catch-up with other phone makers when it comes to the feature list: it's somewhat basic. MP3 playback is reasonable, but you have to use the bundled handsfree kit as the socket is too small for a normal headphone jack. Sound quality is OK, but push it too loud and it soon starts to distort.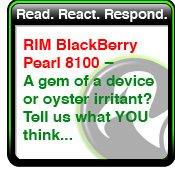 The media player also supports video, although transcoding content into a suitable format is no easy task. There's no supplied software to do the job, and even RIM's support pages on the subject aren't exactly straightforward. Once you've got your video in the right format, however, the results are good - but the screen's too small for watching anything but the shortest of clips.
Think of everything you'd like when you're out and about, then squeeze it all into a super slinky handset and you've got the Pearl.
Forget normal mobiles - with BlackBerry nous under the hood you can forgo fighting with your handset, trying to get it to do what you know is possible and get back to much more worthwhile pursuits, such as embarrassing your buddies by regaling in what they got up to the night before.
Verdict
Pearl is the best BlackBerry yet. Full stop. It does everything RIM is famous for - seamless email and communication - and packs it into the same space as a normal mobile phone. Throw in the easy-to-use roller ball navigation and a built-in camera and it covers all the bases. If you want everything on the go, and want it now then the Pearl is currently the only handset on the market that ticks all the boxes. ®