Original URL: https://www.theregister.co.uk/2006/09/29/review_sling_media_slingbox/
Sling Media SlingBox networkable TV tuner
Posted in Personal Tech, 29th September 2006 11:02 GMT
Review One day, the world's broadcasters will make all their programming available across the internet. But at least it's possible to watch any show transmitted to your home from anywhere else on the planet without having to worry about whether your hotel has the right cable deal. Enter Sling Media's SlingBox, in which a TV tuner is connected directly to an internet video streaming engine. You can even use it for multi-room viewing in your own home...
Having seen piccies of the SlingBox, I'd always imagined a solid, machined-metal unit, so it's somewhat disappointing to find it fabricated from cheap-feeling lightweight plastic. I'm not a fan of the device's styling, but it has a certain high-end AV look about it that's spoiled only, as I say, by the materials it's made from.

The unit's slab-of-chocolate design makes for easy stacking if you decide you need more than one, though doing so will obstruct the top-surface air vents on the lower-stacked boxes. The vents have been cunningly disguised as text telling you some of the device you can hook up to the SlingBox and have beamed "anywhere". Stacking is an issue, as the box gets mighty hot during operation, but more of that later.
The SlingBox's front sports just three lights: one for power, one for network activity and the third, the 'n' of manufacturer Sling Media's logo, which indicates the box's state. The rear is the business end, with the power connector; Ethernet port; s-video and composite-video input and output ports; co-ax aerial input and pass-through; and the connector for the infrared controller, used to simulate the remote controls that come with your other AV devices.
Alas, there's no WLAN support, so you'll need a direct connection to your broadband box or a network link. I used a pair of Devolo MicroLink dLAN powerline Ethernet adaptors to bridge the gap between my router in the spare room and the SlingBox in my living room. The bottom line: if your broadband connection isn't near your TV - and why should it be - you'll need extra cabling or a wireless bridge to connect SlingBox.
Broadband, incidentally, is essential, not only at the SlingBox end, but also wherever the SlingPlayer's host PC is connected. Is 3G mobile phone connectivity up to scratch? I can't say, not having suitable playback software to hand, but this is something Reg Hardware hopes to return to in due course.
With the box connected to the network, the mains and your aerial - passed through to your usual set-top box and/or TV - you're ready to go. Sling Media thoughtfully includes a set of cables to get you started. Install SlingPlayer software on the first PC you'll be viewing stream content on and you're ready to configure the box.

Assuming you've got a network connection, SlingPlayer will locate your SlingBox and take you through the set-up process. The SlingBox has its own Freeview digital tuner so you can skip the more complicated aspects of the set-up process, designed to allow the unit to talk to something like a Sky+ box and get its input signal from there. I stuck with the Freeview receiver and allowed SlingPlayer to scan the airwaves for digital channels.
It gets even more complicated when it comes to the networking side of the story. You're forced to set up two passwords - one for administrators, the other for viewers - which is easy enough, but the network side of things is more tricky. Sling Media does provide for automatic router set-up using Universal Plug and Play. Fine, but most routers that support this feature disable it as default. And then there's the fact that SlingBox, for very good reasons, prefers a static IP address. Again fine, but most routers use dynamic IP address allocation by default to make them easier for folk with little or no networking expertise to use.
I ended up setting the networking up manually, giving the box a static IP address my router's DHCP can work with and configuring port forwarding on the router.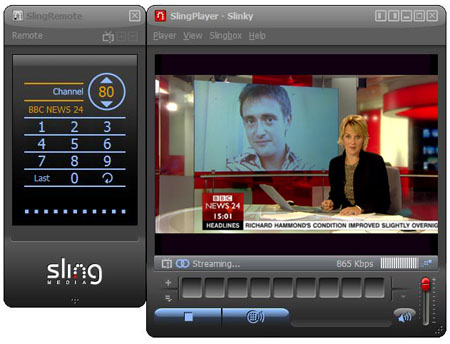 It's at this point you find you need the SlingBox's unique ID number that's printed on the underside of the machine. I wish the manual had mentioned this before I'd connected all the cables and tucked the box away...
SlingPlayer isn't the most attractive apps I've used, but it works and at least there's a choice of three skins, and the latest version - for UK users it's 1.3 - has a neat black-look skin missing from the original release. Also added is the ability to listen to the audio stream only, with no pictures, which can be handy if you want to listen to the news while you're strolling round your hotel room and don't need to watch it.
The software provides ten spaces for favourite-channel buttons, which is handy for we Freeview watchers who want to be able to ignore the shopping channels and so on. But while SlingPlayer provides suitable channel ident icons for these buttons, and allows you to set up multiple button bars, you can still only show ten favourites at a time.
The favourites list in my Humax Freeview-equipped PVR extends to more than two dozen channels, so replicating it in SlingPlayer is effectively impossible. Instead, I have to have three button bars, and to remember which bar contains which channels when I want to watch something else. Worse, setting up a favourite requires you to type in its channel number - the software doesn't default to the one you're currently watching. And you can't move buttons once they're in place, so you need to make sure you get the order right from the start.
In the end, I found it quicker to cycle through all the channels, which defeats the object of having favourites.
That aside, using SlingPlayer is a joy, because being able to watch UK TV on my notebook anywhere in my house is a joy. Or in the Reg Hardware office. Or in a Taipei hotel room. SlingPlayer connected through to my SlingBox without apparent difficulty, picked up the stream and displayed it. The software cleverly adjusts the picture quality according to the bandwidth.
There are limits. Only one person can view the SlingBox's output at any one time, so you may need multiple boxes if you want to feed TV to multiple users simultaneously. In the US, SlingPlayer is also available for Windows Mobile handhelds, but there's no UK-savvy version yet. Both territories have yet to see the anticipated Mac OS X version of the software.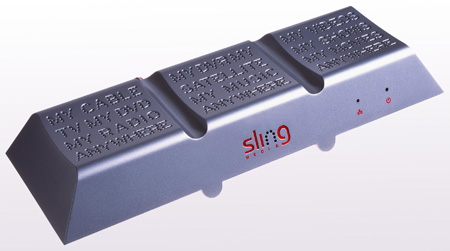 Beyond TV, SlingBox's auxilliary inputs and infrared dongles allow it to be hooked up and to control two other video sources - one on a composite-video connection, the other on s-video. Sling Media suggests a DVD player, for instance, but if you're away on a trip, this will only work if you can take it as read your partner/flatmates won't change the disc once you've set off.
The feature's far more useful for controlling a set-top box for remote viewing of encrypted channels, such as Sky broadcasts, and for setting your DVR to record that show you forget to activate before you left on your trip. I was pleased to find my Humax PVR-9200T included in the list of devices Sling Media has the infra-red remote control data for, so I gave it a go. Set-up's easy, and Sling Player popped up a suitably configured virtual remote control which allowed me not only to change channels, but also to access the programme guide and make sure the box recorded an episode of The Sopranos.
I was also able to call up and watch an episode of The League of Gentlemen recorded a while back and not yet deleted.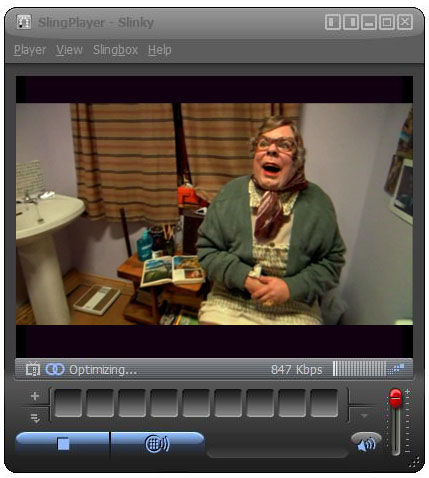 The downside is that controlling another device is laggy, and it feels worse as the available bandwidth narrows. But that shouldn't detract from the sheer joy of being able to control your DVR from somewhere else on the planet and catch up with programmes and movies you haven't had a chance to watch yet. It's almost as good as being able to watch the TV channels you want to view, not the ones your hotel thinks you'd like to enjoy.
And all this for under two hundred quid. Sling Media's shipping in the UK exclusively through Dixons Store Group outlets, which doesn't exactly make for competitive pricing, but £180's not exactly steep for what SlingBox does.
Verdict
SlingBox is inexpensive yet inexhaustibly useful. You don't have to be a frequent flyer since the SlingBox is as happy beaming BBC Four to your bedroom as it is sending the channel - or any other digital broadcast - across the world to a hotel in a foreign city. And not just TV but other media sources and your video recordings. Sure, you're not going to get the same experience as you would watching on a big TV, but it's certainly the next best thing. Genius. ®