Original URL: https://www.theregister.co.uk/2006/09/26/nokia_revamps_n_series_phones/
Nokia to ship 8GB hard drive music phone by year's end
Revamps N series handsets as Music Editions
Posted in Personal Tech, 26th September 2006 14:18 GMT
Updated Nokia today unveiled a version of its N91 mobile phone fitted with an 8GB hard drive. The handset was joined by Music Edition versions of a number of other N series devices, part of Nokia's plan to pitch the phone family as a viable alternative to Apple's iPod.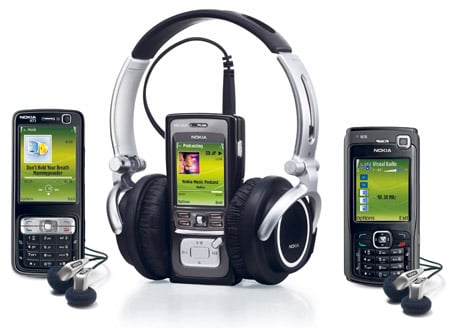 All three Music Edition handsets - the N91, N73, N70 - all sync up with Windows Media Player and support the WMA music format. That's undoubtedly a result of Nokia's acquisition of digital music distributor Loudeye, which has always used Microsoft media technology.
The N91 8GB can also play MP3, AAC, AAC+ and eAAC+ tracks, as can the other handsets in the line-up. Nokia said it was bundling an update version of its PC Suite data synchronisation software with Music Manager rip and transfer code.
The N70 and N73 incorporate 1GB and 2GB of memory, respectively. That's more than the non-Music Edition versions, but Nokia didn't indicate whether the extra comes from bundled Micro SD cards or is on-board storage.
The N70 Music Edition and N73 Music Edition are expected to go on sale nextmonth. The Nokia N91 8GB should ship by the end of the year. They will be priced - unsubsidised at around €350, €450 and €550, respectively (£234-369/$446-701). ®