Original URL: https://www.theregister.co.uk/2006/09/25/man_saves_laptop/
Man saves laptop from battery blaze
Brave or foolhardy? You decide...
Posted in Personal Tech, 25th September 2006 14:27 GMT
An HP notebook was left damaged but not destroyed last week when it became the latest laptop to suffer a battery meltdown - the hasty removal of the power cell prevented a notebook fire like the one that took out a Lenovo ThinkPad two weeks ago. This time the incendiary incident was captured on video.
According to witnesses, the notebook began to emit smoke, at which point the clearly asbestos-fingered owner pulled out the smoking power cell and punted it outside into his firm's parking lot. Just in time: the battery caught fire almost immediately.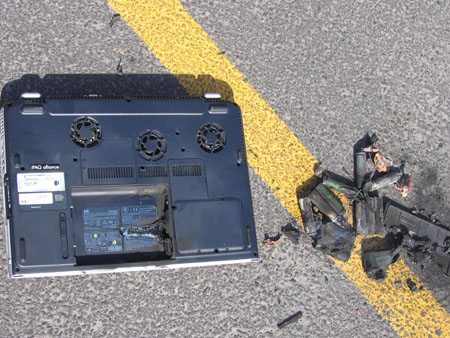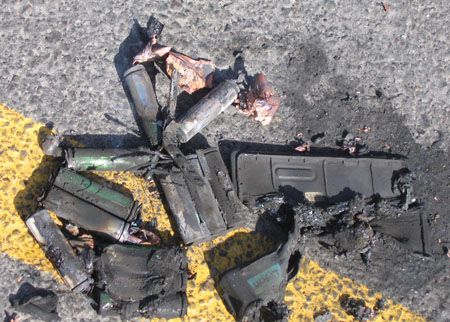 It's clear from the pictures the battery must have reached temperatures high enough to melt and scorch the laptop's battery bay.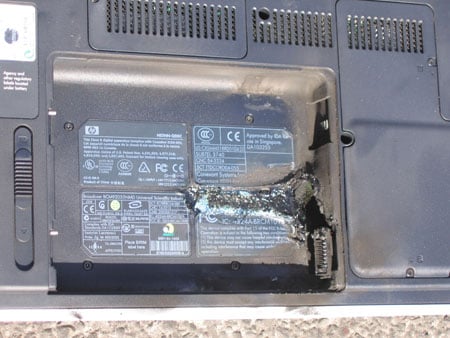 For that reason, we'd never recommend removing an smoking battery. Quite apart from what the heat could do to your hand, here's what happened to the battery after it was removed: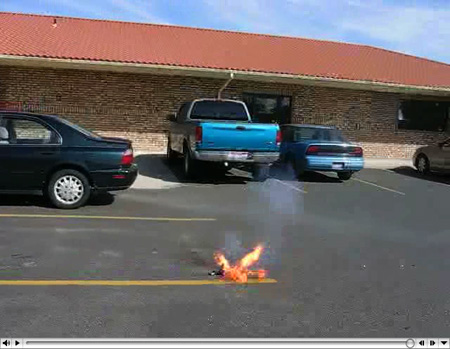 MPEG 4 video file - click to play in new window
You wouldn't want you hands on that...
It's unclear what make of battery was fitted into the HP laptop, and whether it was the original HP-supplied power cell or a third-party add-in. In April this year, HP asked 15,700 customers to return their notebook batteries, which posed a fire risk. ®
Thanks to Reg Hardware reader Rick Fairbourne for the pics