Original URL: https://www.theregister.co.uk/2006/09/25/hubble_galaxies/
Hubble survey yields clues to galaxy formation
Theorists probably right, after all
Posted in Science, 25th September 2006 10:41 GMT
Astronomers have uncovered more than 500 previously unknown young galaxies in images of the early universe taken during the Hubble Space Telescope's ultra deep field survey, completed in 2004, and the Great Observatories Origins Deep Survey (GOODS), made in 2003.
The young galaxies are approximately 13bn light years away, meaning they give us a glimpse of a time when the universe was less than seven per cent of its current age. Once the red-shift associated with expansion of the universe is accounted for, the galaxies appear very blue, indicating that they are teaming with stars being born.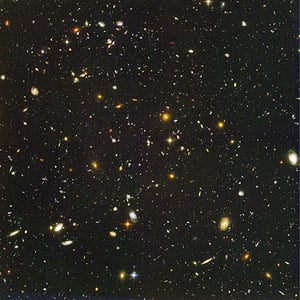 The galaxies are much smaller than those we see in today's universe, and much dimmer. Rychard Bouwens from the university of California says this supports the theory that galaxies grew by merging with one another, building up over time.
So often with Hubble, the images returned confound astronomers, turning conventional wisdom on its head. And while this is fantastic for advancing the state of the science, the theorists must yearn for data like this, which suggests sometimes at least they have got it right.
The findings also provide evidence to support one explanation for the so-called reheating of the universe. This is a period in the universe's history after the Big Bang when the universe had expanded enough for the gas in between the stars to have cooled down. Astronomers had long debated how the gas was reheated.
"Seeing all of these starburst galaxies provides evidence that there were enough galaxies one thousand million years after the Big Bang to finish reheating the Universe," explained team member Garth Illingworth, also of the University of California. "It highlights a period of fundamental change in the Universe, and we are seeing the galaxy population that brought about that change." ®