Original URL: https://www.theregister.co.uk/2006/09/21/netgear_devolo_200mbps_powerline/
Vendors prep 200Mbps powerline network adaptors
Netgear, Devolo step up data-over-mains efforts
Posted in Personal Tech, 21st September 2006 14:55 GMT
Network equipment maker Netgear has extended the speed of its powerline networking system to 200Mbps, bringing the high-speed Ethernet-over-mains system to UK consumers through a new two-box starter kit, the company told Reg Hardware this week.
The pack contains a pair of Netgear HDX101 powerline adaptors. Plug them into regular mains wall sockets and they automatically negotiate an Ethernet connection ready to bridge devices such as games consoles, computers, media streaming gadgets and the like.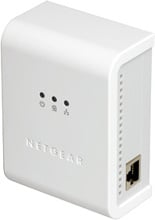 While the devices' theoretical maximum speed is 200Mbps, noise on the power lines, the Ethernet protocol's overhead and other factors bring the real-world data transfer rate down to around 95Mbps, Netgear said - still well above wireless networks and past 14Mbps and 85Mbps powerline products.
However, while the 85Mbps and 14Mbps devices - all based on the HomePlug standard - are compatible, the 200Mbps units will not talk to the older, slower units. Worse, Netgear's UK and European HDX101s are based on the OPERA 200Mbps powerline standard, developed in Europe. It's incompatible with the HomePlug 200Mbps standard, which is in turn also incompatible with older HomePlug devices.
In addition to the higher speed, the HDX101s also incorporate quality of service technology specifically to improve video streaming across the link, Netgear said.
Alongside Netgear, powerline networking specialist Devolo is due to ship its own 200Mbps product, the dLAN 200 AVdesk shortly, though it's not designed to plug straight into the power socket but does so via a cable.
The dLAN 200 AVdesk two-unit starter packs is set to ship for around £180, while the Netgear HDX101 starter pack costs around £140. ®
Related reviews
Devolo MicroLink dLAN powerline Ethernet adaptor
ZyXEL PL-100 Powerline Ethernet adaptor