Original URL: https://www.theregister.co.uk/2006/09/21/nasa_shuttle/
Shuttle lands, plans for next mission underway
Swedes in spaaace
Posted in Science, 21st September 2006 14:01 GMT
The Shuttle has landed safely at the Kennedy Space Centre in Florida, a day late, but in one piece.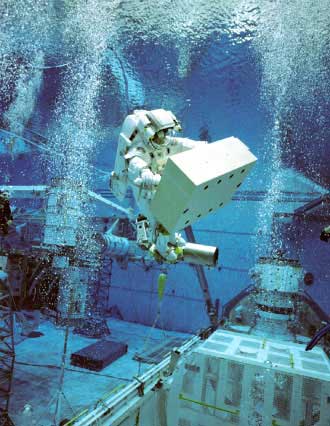 NASA had originally planned to return to Earth on Wednesday, but the astronauts were delayed while NASA checked out some debris outside the Shuttle. Once they'd determined it posed no threat to the safety of the crew, the Shuttle was cleared for landing.
To get back to Earth, the Shuttle pilot must first slow the orbiting craft down by over 300kmh. This so-called de-orbiting allows the Shuttle to slip back into the atmosphere. As the craft goes through the atmosphere, its hull can heat to over 1,650C. The trip home takes about an hour.
The next Shuttle mission is pencilled in for 14 December. The mission will be remarkable for carrying the first ever Swedish astronaut, Christer Fuglesang.
He and his crewmates will hitch a ride in the Shuttle Discovery to the International Space Station. They will continue the construction work on several spacewalks. Fuglesang (pictured in training, above) will go on two of those outside excursions.
The crew of mission STS-116 will deliver a third truss segment, a SPACEHAB module, and other key components, NASA says. ®