Original URL: https://www.theregister.co.uk/2006/09/21/elecom_unveils_4gb_class4_sdhc/
Japan debut for first Class 4 SDHC card
But can anything support its 4MBps speed?
Posted in Personal Tech, 21st September 2006 09:01 GMT
Japanese memory card maker Elecom may have become the first company to announce a mid-speed high-capacity SD card. The company this week unveiled a 4GB SDHC product labelled Class 4, guaranteeing a data transfer rate of at least 4MBps and up to 7MBps, Elecom said.
Elecom's MF-FSDH04G card isn't the first 4GB SDHC by a long chalk, but it's the first we've seen to claim a Class 4 rating. Rival 4GB SDHCs from the likes of Panasonic, Pretec and SanDisk have typically been rated Class 2 - a guarantee of 2MBps data transfers.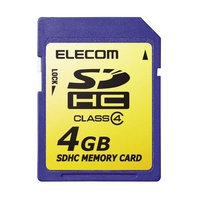 Class 2 is the base level. The SDHC specification - also known as SD Card 2.0 - also has a top speed of 6MBps, or Class 6.
Of course, to get that speed you need a host that's of comparable Class, something Elecom itself admits. As yet, we've seen precious few SDHC-compatible devices - though plenty more are coming - and none explicitly rated Class 4 or above. ®