Original URL: http://www.theregister.co.uk/2006/09/20/review_msi_p965_neo-f/
MSI P965 Neo-F Core 2 Duo mobo
Budget board
Posted in Hardware, 20th September 2006 12:48 GMT
Review Following on from the abundance of features served up by the Asus P5B Deluxe we reviewed t'other week, I've an inkling that MSI's P965 Neo is going to look a little primitive in comparison. It should be remembered, however, that the Neo is MSI's less glamorous offering, with the P965 Platinum edition catering to those with richer tastes...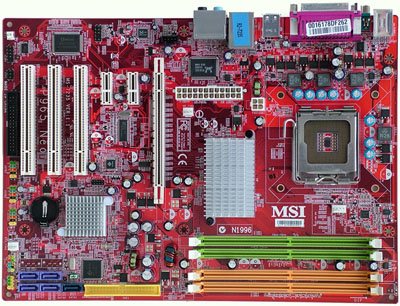 Launched at Computex back in June this year, MSI clearly decided to keep its P965 offerings lean, with just a pair of environmentally friendly RoHS-compliant boards on its books: the Neo, aimed at the cost-conscious buyer and the Platinum positioned a little higher. The latter adds support for MSI's new Dual CoreCell technology and also sports dual PCI Express slots, a x16 and a x4, and a couple of extra SATA connectors.
The feeling of economy you get with the Neo starts as soon as you pick up the box, which feels uncommonly shallow in comparison to the accessory-stuffed Pandora's Boxes that have made it onto the test bench recently. No, the meager size isn't down to clever packing, it's due to minimal contents. All you'll find in the box - aside from the motherboard, of course - is an I/O plate, a single SATA data cable, a four-pin Molex-SATA power adaptor cable and a regular IDE ribbon cable. There's mention of a second SATA cable on the MSI website but either the contents have been amended or I was unlucky enough to get the one box without it. Did I mention you get a driver CD? Well, you do.
The board itself is built on MSI's almost corporate Ferrari-red PCB. As motherboards go the plastic work is pretty bland with a dull green and orange scheme used to pick out the memory slots, purple and deep blue for the SATA connectors, yellow for the solitary IDE connector, black for the awkwardly positioned floppy connector, and everything else in good old fashioned off-white. In a very strange move MSI has decided to use one colour of plastic for DIMMs one and two and another colour for DIMMs three and four. The usual scheme is to use one colour for DIMM one and three, which are on one memory channel, and another for DIMM two and four, which are on the other. Standard chipset support covers up to 8GB of memory running DDR 2 533MHz or 667MHz speeds, or up to 4GB of memory when run at DDR 800, all in the aforementioned dual-channel configuration.
The reason for four purple and one blue SATA connectors are that four of them are driven directly by the Intel ICH8 South Bridge chip, while the blue connector, which MSI has promoted to primary, is run by the integrated JMicron JMB361 host controller. The JMB361 also provides the sole dual-channel ATA133/100/66 IDE connector in the absence of chipset support.
Both the North Bridge and the ICH8 are passively cooled, the former with a fairly substantial heatsink. A header is supplied should you want to implement a fan on the North Bridge, but you'll need to use the conveniently nearby system fan header if you want to do the same with the South Bridge, though I should mention that adding a fan here will block at least one of the three legacy PCI slots. These and the CPU fan header are the only three fan headers you'll find on the board. Staying with the slots you also get a pair of PCI Express x1 slots and a single x16 slot for your graphics card.
Moving to the backplane we find an interesting situation. While most manufacturers seem to be scrambling for unique and inventive ways to cram in all the extra hardwired connectors they want to make available, MSI has not only managed to include an antiquated parallel port, it's still found enough room to leave a gaping hole beneath it. In fact all you get for your money here are a quartet of USB 2.0 ports; the aforementioned parallel port; a serial port; PS/2 keyboard and mouse connectors; six 3.5mm audio jacks; and an RJ-45 Ethernet connector, which is powered off Realtek's RTL8110SC Gigabit Ethernet controller.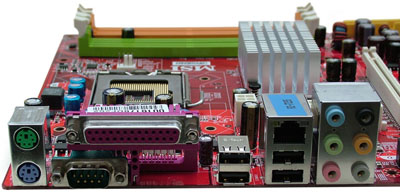 Motherboard headers provide support for a further six USB 2.0 ports but you'll need to implement these through the connectors in your case or by purchasing additional brackets. There's no Firewire functionality proffered by the Neo, so if this is important you'll have to add it by means of an expansion card or shop for a different motherboard. To save you looking, I can tell you that the Platinum version does incorporate Firewire as standard through a single hardwired connector and comes with motherboard support for one more using a supplied bracket.
Realtek is also entrusted with the Neo's audio, which is capably handled by the 7.1+2 channel ALC883 codec chip. The "+2" is because the ALC883 actually supports ten DAC channels thus multiple streaming of two-channel stereo sound is possible through your front panel audio connectors while 7.1 channel audio is piped as normal to the backplane jacks.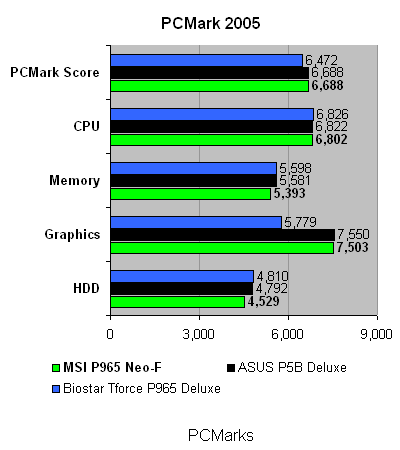 A stroll around the familiar blue pages of the Award BIOS will quickly highlight its lack of advanced tuning options, which will either be a refreshing change or a worrying limitation depending on your viewpoint. There's a selection of military themed dynamic overclocking settings starting at Private then ranging through Sergeant to Captain, Colonel and then General. The four primary memory parameters can all be set manually, as can memory voltage to a worthwhile upper limit of 2.4V but beyond this you're scuppered. You can manually set the memory frequency but only to one of the three default presets of 533MHz, 667MHz or 800MHz. No 1066MHz option if offered. PCI-E voltage can also be tweaked to a maximum 2.2V, and CPU multiplier setting is possible with unlocked CPUs, though raising the voltage isn't.
Having said all that, although we're not looking specifically at overclocking any of our test boards, a quick play did suggest that, like most of the P965-based motherboards, high FSB settings are quite easy to achieve and it didn't take a lot of effort to max out the Neo's available 333MHz FSB clock.

Testing was performed using an Intel Core 2 Duo E6700, 1GB of Kingston DDR2-8500 memory, an ATI Radeon X1900 XTX, a Seagate Barracuda 7200.7 hard drive and a 420W Tagan PSU.
Stability was impeccable during testing, in fact the only issue we ran into was a mechanical one as the IDE connector, which was being used to power our DVD-ROM drive, stopped our admittedly rather long X1900XTX from seating properly, at least not without a little gentle coaxing. This could prove even more of a problem if your graphics card is equipped with an oversized cooler that fits the full length of the card, such as the one on Nvidia'a GeForce 7900 GTX, for example.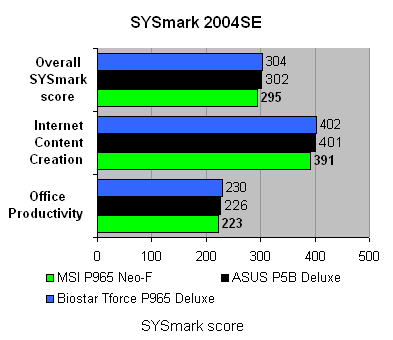 The benchmark numbers aren't as impressive as the previous two boards we've tested, but this might be resolved by a BIOS upgrade, and the P965 Neo isn't targeting the performance market specifically, as this is the job of the Platinum edition. Still, it's disappointing that MSI hasn't tweaked its boards better, as you wouldn't expect a well-known manufacturer like MSI to be beaten by Biostar, even though the P965 Neo is a few quid cheaper than the Biostar TForce P965 Deluxe.
Verdict
The P965 Neo is a simple, no fuss but no frills motherboard with a decent layout - except for the IDE connector - and at around £71 in the wild, it's one of the cheapest entries to the world of Core 2 Duo computing. Performance out of the box is a little on the weak side, with memory performance in particular trailing the pack. It isn't unusual to see some manufacturers exploiting the benefits of a new chipset much more quickly than others and I'd imagine that a little time and a few BIOS updates will bring MSI's P965 boards up to speed in this department. ®