Original URL: https://www.theregister.co.uk/2006/09/19/review_gefen_4x4_hdmi_matrix/
Gefen 4x4 HDMI Matrix audio-visual interconnect
Multiple input, multiple output
Posted in Personal Tech, 19th September 2006 12:27 GMT
Review Gefen has announced an HDMI four-by-four crossover unit. Though it can be used as a straightforward HDMI switch for linking multiple players to a single display, it's actually more advanced than that: any of the four inputs can be switched to any of the four outputs...
That means a signal, say on input one, can be simultaneously output on any or all of the four output ports. This makes the gadget ideal for a multi-room set-ups, allowing the living room HD DVD player's output to be routed to two bedroom TVs, while the downloaded movie being played on the den PC can be displayed on the big plasma TV in the living room.

Each port can support a 1080p resolution and 2K video signal, and up to 1,920 x 1,200 for DVI monitors. The system also supports the HDCP (High-bandwidth Digital Content Protection) copy protection system, ensuring there's correct handshaking between source and matrix, and matrix and display so pre-recorded HD content that requires the anti-piracy system won't degrade the content to standard definition.
The system comes with an infrared remote - there's no way to switch inputs on the unit itself - and it can also be controlled using a computer hooked up to its RS-232 port - remember them? The remote has 16 buttons numbered unimaginatively 1 through 16. Buttons 1-4 are coloured dark blue and correspond to output one; 5-8 are lime green for output two; 9-12 turquoise for output three; and 13-16 dark green for output four. Each of the four buttons corresponds to its respective input.

The unit is pretty easy to use with the supplied remote, which isn't particularly pretty, it has to be said. It would have been nicer - given the Matrix's row and column size - if the buttons were arranged in four groups of four rather than making the remote three buttons across and five down, with an extra button on the bottom corner.
The 19.2Kbps RS-232 uses ASCII codes '1' through '9' and 'a' through 'g' which respectively correspond to buttons 1-16 on the remote. Gefen doesn't supply terminal software to initiate the connection and send over the control codes, so you'll need to download some.
Another clue is that the 4x4 HDMI Matrix is a pro-oriented unit - or at least a prosumer product - is that it comes with attachable 'ears' for rackmounting. But the big tip off is the price - it lists for a whopping $1,999. For that, you get the box, the remote, a 24V power supply and just four HDMI cables - each 1.8m (6ft) long. Fortunately, HDMI-DVI and DVI-HDMI cables are widely available.
The box is made of metal so there's good RF shielding which limits interference.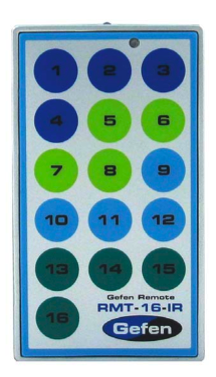 The remote can work on any of four infrared channels. If there's conflict with other IR devices, you can change the channel using two sets of DIP microswitches, one set in the remote, the other in the 4x4 HDMI Matrix itself. The DIP main box's switches also control the delay between switching (none or three seconds) and to feed a generic Extended Display Identification Data (EDID) signal to all four input ports. The DIP switches and also be used to enable +edge pixels.
There can be some flickering when switching as a display re-trains to the input source. And it may be worth setting the system to generate the internal generic HDMI EDID signal if you plan to connect a computer to the Matrix. Otherwise, the computer can assume there's no monitor attached. The EDID signal will all least tell it there's something there, presenting the box to the video card as a generic 720p/1080i device.
Most home users with a single HD display can probably make do with a basic HDMI switch unit, but if you have a more complicated, multi-screen set-up then the Matrix might be just the thing to ensure all your video sources can be made available to all your displays and swapped between the screens at will. The RS-232 interface can help here as it can be linked into a home automation unit such as an X-10 system.
Verdict
The Gefen 4x4 HDMI Matrix isn't going to suit everyone. It's a high-end piece of kit that is suited to a video studio, or to a sophisticated home user who has lots of video sources and displays. A Video DJ would find it invaluable. If you've got some kind of home-automation system it would also fit in well. But however useful you find the device, the asking price is very high. And for a dollar short of $2,000, a decent remote control isn't too much to ask. ®