Original URL: https://www.theregister.co.uk/2006/09/18/review_nvidia_geforce_7950_gt/
Nvidia GeForce 7950 GT graphics chip
Can Nvidia's top-end single-GPU board cut it?
Posted in Personal Tech, 18th September 2006 10:48 GMT
Review Earlier this month, Nvidia announced two new mid-range to high-end GPUs, launching one with immediate availability. The GeForce 7900 GS was well received, doing a passable impression of the more expensive GeForce 7900 GT for less money and at reasonable resolutions. A sweet little product for those with about £130-150 to spend, we reckon. The other product was GeForce 7950 GT, set to replace the 7900 GT that the 7900 GS does a sweet job of impersonating.
As we noted t'other week, the 7950 GT has a core speed of 550MHz core and 512MB of DDR3 memory with a true speed of 700MHz (1.4GHz effective). The only real puzzles left being where it fits in with regards to performance, and what the new reference cooler is like - we didn't get a chance to see it with 7900 GS.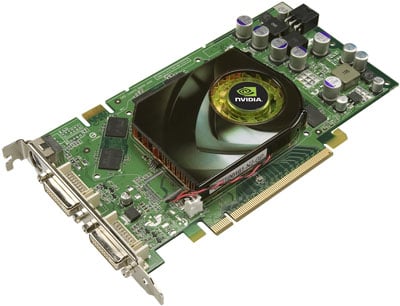 Faintly silly name aside - 7900 GT 512 sits better with us - the 7950 GT looks set to do Good Things at its expected $299-349 price point. We compare it to the 7900 GT for obvious reasons, the 7900 GTX as the next rung up on the Nvidia ladder, and also to ATI's Radeon X1900 XT - the 512MB one - as the main competition in the $299-349 space.
Ready to check out the full G71-sporting, 550/700-clocked, 512MiB-carrying, HDCP-protected, supposedly quiet new NVIDIA assault on the top end of the mid-range? Hold on to your tighty whiteys then, pixel fans, as we do just that.
Nvidia dropped the reference board by this time, letting us check out their new cooler revision in action at the same time as we checked out the board's performance.
It's got Infineon DRAMs. Usual supplier Samsung didn't make the grade this time, with Nvidia choosing the HYB18H512321AF-14 devices instead. With a 512Mb density, each is rated at a 1.4ns refresh cycle, that's around 715MHz or so. Nvidia runs them at 700MHz, of course.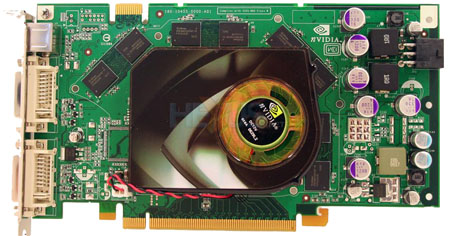 The PCB is nothing we haven't seen before, with Nvidia asking that you connect up an external power connector when you use a 7950 GT, as all 79xx products have before it. Despite just a regular power and ground connection for fan power, Nvidia certainly gets away with calling the cooler revised, the board making much less noise than your author remembers older 7900 GTs making. Indeed, I ran back-to-back tests with 7900 GT and 7950 GT to check.
Both DVI ports are dual-link capable and support HDCP. Board partners can't wiggle out of that either - all 7950 GTs from all partners will support the copy protection standard on both ports. We didn't check on the HDCP support but we did hook up a Dell 3007 WFP to the board's ports - both of 'em - to make sure the dual-link was working, and it was.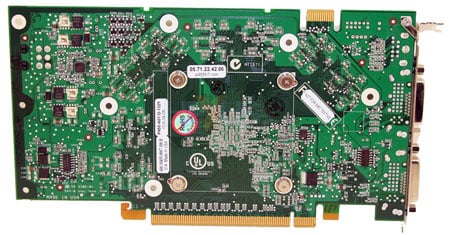 You can SLI a pair of them if you feel frisky and with single-slot coolers you might even get away with doing so in smaller form-factor systems. Power draw we figure to be around 85W or so, depending on load condition, although we can't be 100 per cent conclusive. It's a shame Nvidia didn't provide a pair of samples - we'd have been able to check on that a bit better, but we're sure we're not far off.
Nvidia released a 'new' 91.47 for testing the 7950 GT after the release of the same driver for 7900 GS a week or so ago. However, bar a change to the .inf file and the corresponding catalogue file to include the right device ID and whatnot, everything's identical between the releases for x86 and x86-64.
We ran each benchmark a trio of times, discarding the outer results and reporting the middle one. If any of the three results looked erroneous, we threw all three away until we could collect three within the margin of statistical error. Any major attempts needed to get three reliable results we let you know about, of course. Apart from that, things are as noted on the graphs and in the graph commentary.
Rivatuner confirms clocks and GPU configuration: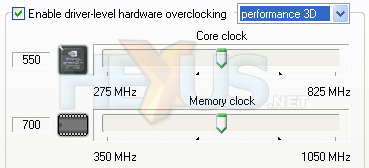 We only tested at high resolution (1600 x 1200 and 1920 x 1200) and with a good level of AA and AF applied at all times.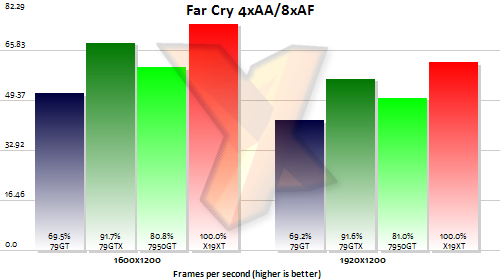 Running Far Cry 7950 GT moves the game on usefully compared to 7900 GT, offering up a 15 per cent or so performance increase. It still lags behind 7900 GTX, but that's expected given its clock configuration. The Radeon X1900 XT tops all the Nvidia hardware on test.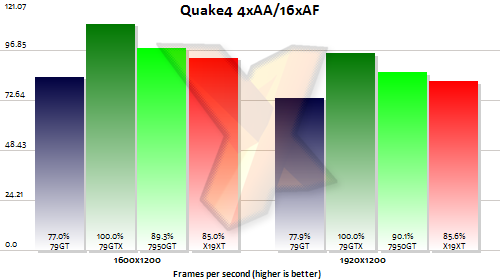 7950 GT puts in a sweet turn of speed in Quake 4, outrunning 7900 GT by a healthy margin and bettering Radeon X1900 XT while it's at it. 7900 GTX sits at the top of the tree as expected.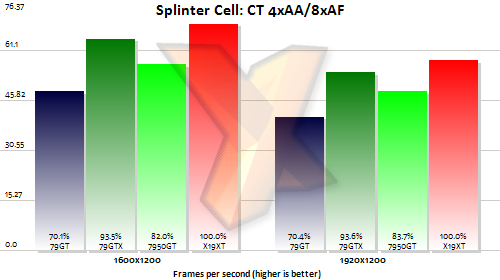 Running Splinter Cell, the 7950 GT again beats 7900 GT with around 17 per cent more performance compared to 7900 GT, getting close to 7900 GTX in the process.
It's easy to be positive about the GeForce 7950 GT, since in reference configuration at 550/700 with 512MB of on-board memory it's able to outrun 7900 GT by around 15 per cent for pretty much the same money. If it comes in at the promised price point, Nvidia will have a nice product on its hands, Given a quick look at UK online retailers' pricing, we see no reason why it won't do just that.
The reference board's form-factor and cooling solution means it's slim and acceptably quiet, and we measured it to be fairly frugal in terms of power consumption too. The Infineon DRAMs didn't want to overclock much on our reference sample, stopping short of 800MHz when we tried, but core clock was able to be raised to just shy of the 7900 GTX's 650MHz. Even if you don't fancy overclocking any 7950 GT you buy, performance will still be good for the outlay.
Verdict
The GeForce 7900 GT replacement impresses as 7900 GS did, Nvidia offering up higher price:performance at the upper end of its mid-range line-up. Depending on where you shop, ATI's 512MB Radeon X1900 XT will likely tempt you for pretty much the same money - at the time of writing - but the 7950 GT makes a good case for itself in areas of power consumption and noise and its display output ability, as well as in traditional frames per second.
The ultimate image quality argument is hopefully well understood by now, saving us from repeating ourselves there, so if Nvidia is the one you want to give your £210/$300 to then 7950 GT is what you should choose.