Original URL: https://www.theregister.co.uk/2006/09/14/blade_switch_fujitsu/
Fujitsu pulls out switch blade for IBM, Dell and HP
All together now
Posted in The Channel, 14th September 2006 18:11 GMT
Fujitsu has kicked off a major effort to see its 10Gbps networking gear make its way into blade servers from the likes of HP, IBM, Dell and Sun Microsystems. More broadly, Fujitsu expects increased standardization in the blade market in the near future.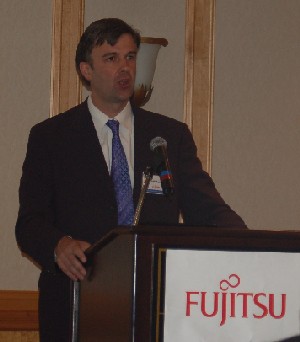 In August, Fujitsu Microelectronics America (FMA) rolled out a 20-port 10Gbps Ethernet switch IC dubbed the MB8AA3020. The product is aimed at ATCA and micro TCA blade servers. Fujitsu hopes the major server vendors will adopt the product at a quick clip, as they embrace 10Gbps gear.
"We will work with partners to sell this product as part of a total solution for companies such as Dell, HP and IBM," said Keith Horn (pictured), FMA's COO, during a meeting this week in Santa Clara. "If you're an IBM or an HP, you don't want to do this in house."
So far, blade server vendors have rejected most of the nudges toward standardization. Each vendor - be it Sun, IBM, HP or even an Egenera - has come up with its own chassis, processor and networking options. IBM has been the lone major vendor to make any real call for blade standards, but it wants everyone to build around its BladeCenter line – not the most attractive proposition for rivals.
Horn expects the blade server market to start converging and hopes to work with a variety of partners to craft a common switch blade that will be broadly adopted.
"There is certainly more of a drive underway toward standardization," he said.
Away from the switching action, FMA announced this week that it's now accepting ASIC designs for customers hoping to tap its 65-nanometer CMOS manufacturing process. Parent Fujitsu has a new $1bn fab coming online in April of 2007 to produce 90nm and 65nm integrated circuits with 300mm wafers. ®