Original URL: http://www.theregister.co.uk/2006/09/04/sony_ericsson_p990i_review/
Sony Ericsson P990i smart phone
How the mighty has fallen...
Posted in Personal Tech, 4th September 2006 13:22 GMT
Review Announced almost a year ago, Sony Ericsson's flagship smart phone, the P990i, is finally making its way into the shops. Over four generations - the first, a larger device codenamed 'Pamela' never made it to market - the P series has become the single most popular smart phone design in the world, largely because Sony Ericsson succeeded in combining a multi-tasking pen tablet PDA with a phone that felt very natural to use one-handed. This popularity is helped, of course, by Sony Ericsson only making one a year rather than throwing dozens of models at the market, like rivals Nokia, Motorola and Samsung...
From the outset the P800 attracted an enthusiastic fan base - Steve Jobs was heard raving over it - and it represented an unusual marriage of the best of Swedish design and engineering with Sony detail. Few phones, for example, come with a screwdriver as standard, allowing you to remove the flip completely and convert the bulky phone into a sleek PDA tablet. The company also showed it was listening to the right kind of advice, fixing many of the usability issues of the P800 in the P900 and P910 models, without cluttering it up with gimmicks. Here was a phone then, that was appealing to corporate users - a solid technical foundation with a screen large enough for serious applications such as GPS - that still didn't frightening consumers. A rare thing indeed.
This year, Sony Ericsson has branched out with three phones based on a much-changed version of the P-series user interface, UIQ 3.0, and the P990i is the second of these we've looked at. It's had a troubled gestation, and as we discovered, a troubled birth too.
First impressions
At first sight, the P990i looks almost identical to the P900 - with the very welcome return, for this reviewer, of the scary-looking thin horizontal bars on the phone keypad. The only major difference is the addition of a five-way D-pad, and a more bulky camera housing on the back, accommodating the two megapixel camera. The reassuring Back and Clear keys that have adorned Ericsson phones for a decade are still there, joined by a number of new buttons. There's a dedicated media button, an additional Back key on the side of the phone, and a new hardware keylock slider. Quite why these are needed soon becomes apparent - this I'll examine in more depth when in the usability section.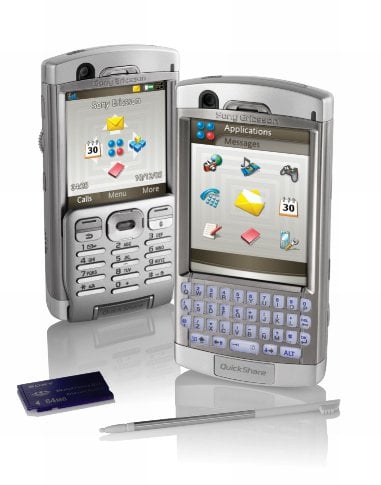 It's only when you open up the flip that you see the major difference: a 35-button keyboard. This phone screams to be turned into a BlackBerry. The resolution remains the same as before, at quarter-VGA (320 x 240), which back in 2002 was considered extravagant. But with so many communicators and satnav PDAs sporting VGA (640 x 480), it's a lost opportunity: navigation, photos and videos, and even messaging all benefit from a larger screen.
Radio wise, the phone supports 3G W-CDMA and WLAN, but not EDGE, or in this model, the 850MHz used by former TDMA networks in the Americas. Wi-Fi can be turned off explicitly - in fact, the manual recommends that you do so after a session - but it can also be activated in flight mode. Bluetooth has been upgraded and infrared retained, and for the first time the P-series includes an FM radio. USB has also been spruced up, to support full-speed USB 2.0. There's 60MB of memory on board, of which around 15-20MB is usable for applications.
The vanilla app bundle, before operator branding, includes the Opera browser and a business card scanner. The P990i continues to support the Memory Stick Pro Duo card format, and can handle cards up to 8GB in size. Its sibling, the M600i, instead supports the smaller M2 Memory Stick Micro.
First impressions are of a very bulky phone, but appearances can be as deceptive as our highly scientific graphs.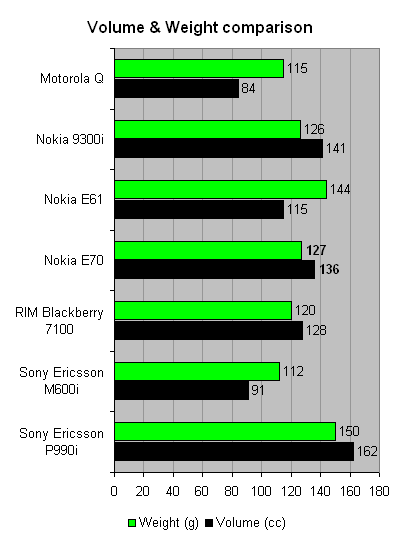 From the chart, you'll see the P990i - out of the box, with its flip attached - weighs in on the fat side and certainly looks it. But this is deceptive. It's actually a millimetre smaller in each dimension than the P910, and once in your hand certainly doesn't feel any heavier than its predecessors. It shouldn't - it's 5g lighter.
Usability
A major change to all three of Sony Ericsson's new UIQ phones is an impaired jog dial. The P990i's dial can only be moved in one plane. This sounds like a trivial issue, but it has an enormous knock-on impact on usability. As mentioned earlier, the P990i now sprouts all kinds of buttons, and UIQ lots of additional specialised software controls to compensate for this, yet the result is that many tasks are harder to use.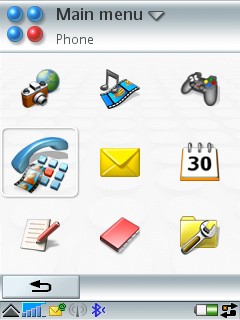 The familiar Applications menu. You can choose to view by list. But you can't sort built-in applications into your own folders
What the five-way jog-dial allowed designers to do was create a mental representation of the menu hierarchy - a trick Nokia pulled off with its original Navikey. This spatial navigation helped put the new user at ease, as they could not only figure out where they were in the menu system much more easily, but were also able to use the same technique to navigate different contexts. Spatial navigation helped make a success of the original Mac desktop, and certainly made one-handed flip-closed use of the P-series rich and fluid. I've met users who never used the full-screen applications, but who were attracted to the design because of this one-handed ease of use. And in flip-open mode, a back push cancelled, and a pull brought up the application menu. No more, alas.
In the P990i, a combination of poor hardware design choices and confused thinking in the evolution of UIQ 3 makes for a frustrating user experience. In both hardware and software design, it's often trying to offer too many choices, while making common tasks more cumbersome. If cars were as hard to drive as the P990i is to use, traffic congestion wouldn't be a problem.
Here are a few examples of unnecessary clutter.
UIQ 3 now features a Task Manager. But, incredibly, it's a dialog box with two tabs - Recent and Open - the actual task list being on the second, obscured tab. The Task Manager presents you with links to the Main menu, an Activity menu, and a list of your most recently used applications. So you need to get out the stylus to... er... operate the task list. The ability to view the current weather conditions in Ulan Bator from the Task Manager only just missed the cut, we understand.
Even if you're an experienced P-series user, you may be surprised by the avalanche of menus and dialogs. In addition to the main applications deck, there's a My Shortcuts list - similar to the quick-and-dirty, configurable shortcuts list on some recent Sony Ericsson's feature phones such as the K800i - and an Outlook-style Today menu, giving you a count of recent calls, unread messages, and tasks and appointments. In flip-closed mode, there's a yet another permanently accessible pop-up menu that manages connections, prompts you to start a new task, or manages alarms and the sound volume.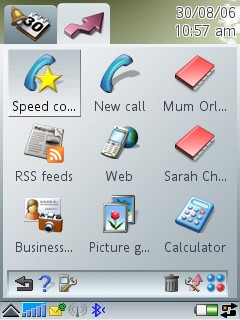 The My Shortcuts screen is one tab of a two-tabbed dialog box. The other tab is Activities. Why? We have no idea
It took some time to get comfortable with this over-abundance of choice, and to discover the endless shortcuts. For example, in flip-closed mode, you can navigate to another two-paned screen - a truncated selection of shortcuts, and the Today menu - with a long press on the D-pad's right selection key.
It's as if UIQ's designers decided to incorporate every feature of every third-party utility into the platform. And Sony Ericsson, unable to decide what was important, simply included every feature.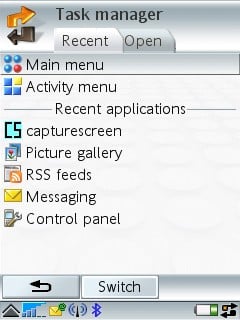 The "Task Manager" is another two paned dialog. But if you want to manage some tasks, you have to get to the other tab. Have a biscuit, UIQ!
In addition, some of the design decisions look petty, if not outright sadistic.
For example, as before there's a menu 'carousel' of five choices on the default screen. And as before, rotating the jog dial cycles through these choices. But for some reason, UIQ's designers don't now label the currently selected icon. So are those yellow blocks the icon for the Today screen and the round balls the icon Applications menu, or the other way around?
You'll just have to guess.
Another incomprehensible decision: with previous models, if you were in mid-call, opening the flip would activate the speakerphone. Now you need to activate the speakerphone from a menu - it's one of eleven options - and, remember, there's no menu key. You can imagine how many road accidents this will cause.
Four thumbs good - two thumbs bad
With a crippled jog-dial, there's an over-reliance on the back key - something we also found to be a retrograde step with the M600i. For some reason, this second Back key is placed right below the jog dial on the side of the phone, necessitated tipping the device forward. This felt unnatural, slowed down simple operations and soon caused an aching joint in my left thumb - which was being bent to a 90° angle with each Back operation. Alas, as things stand, neither the M600i nor the P990i allows you to remap the side Back key to the internet key, on the right side of the phone, which means it's not possible to use the much more natural combination of thumb and index finger.
So, having comprehensibly alienated both right-handed users and left-handed users, what market is Sony Ericsson looking for? Obviously, it's people with two thumbs - or prosthetic hands.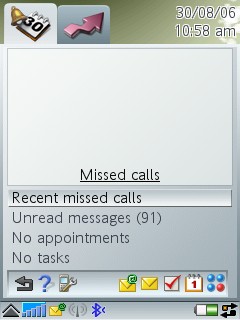 UIQ also tries to emulate the "transitions" as specified by the Sony Ericsson Central Committee of Silly Special Effects. Examples of these transition effects - quoted from the UIQ product description - include "a menu that slides on to the screen, instead of simply appearing on the screen" or "an icon that gradually blends in to the background and then disappears" and "semi transparent windows... which enable UI elements, like menus and dialogs... to let the screen area behind the window shine through."
As you can imagine, the last thing you want is for the screen area behind the window to "shine through", particularly when you can barely read a modern backlit LCD at all in bright sunlight. The default theme doesn't help - the overlaid UI elements are barely distinguishable from each other. These gimmicks took their toll on both usability - with alpha-blended edit controls the worst culprits - and performance. Several times I thought an icon had disappeared after I'd activated it - in fact the P990i was caught in the state where the icon had 'vaporized' - as the Special Effects Committee ordered - but the task or application it represents hadn't yet started. Menus are slowed to a crawl by the need to add 'momentum' as well as transition effects to simple movements. As we'll see in the performance discussion below, these net effect of all these transitions is to give a misleading impression that the P990i is underpowered.
If that isn't enough, UIQ3 now supports TrueType fonts, but in comparison to earlier P-series phones, the P990i's fonts are weakly rendered and look washy. And even at the highest zoom, the smallest font is still too large.
In the future, perhaps, UIQ's transitions will be as slick and speedy as those on Sony Ericsson's feature phones. For now, it looks like a Bob Godfrey cartoon - and users must have the option Windows XP offers, to turn the transitions off.
This is a long list of negatives, and it's a pity because they're self-inflicted wounds. A newcomer to the smart phone business might be forgiven for a few such interface design decisions, but Sony Ericsson already had a successful design, and chose to break it. The next version, UIQ 4 should continue where UIQ 2.1 left off, but this time remember that in good design, as with good engineering, less is more.
All this overshadows one of the P990i's strongest features, which is its predictive text implementation. Guess ahead look-ups are getting to be a fairly standard feature now, but thanks to the rich user interface, and particularly the jog dial, text input zips along. The phone also suggests what word you might want to type next, based on your previous input. Start a message with "This" and it remembers what you've typed "This is a test" before, suggesting "is", "a" and "test".
It's a little spooky at first, and poorly implemented could be very creepy indeed, as it chooses its words for you. Who needs to think at all?
Performance and reliability
Early adopters have already discovered a very telling feature (or bug) with the P990i. If you play the demo video and then pause it, this disables the UIQ transitions. The result is a fast and responsive phone. It makes the UIQ woes all the more apparent, for the underlying system seems well up to the tasks it's asked to handle, such as contacts look-ups, and fetching and rendering web pages. The 208MHz ARM processor processor running Symbian OS 9.1 was much more responsive than devices equipped with a 400MHz Xscale processor, lumbering under the burden of Windows Mobile.
But more immediately troubling is that even after all the delays, and using firmware refreshed only a week ago, the production model was incapable of being relied upon to complete the most basic tasks.
This is the buggiest production device your reviewer has ever encountered. The only similar experience was with the Nokia 7710, where the problem was performance: it took a lot of tuning and two major firmware updates to bring it up to an acceptable level.
In its current state, the P990i hangs when, in flip-closed mode, you choose to add a new contact, task or appointment, then open the flip - which you might want to do to create it with pen input or the keyboard. The phone remains in this state for several minutes, which may as well be considered a system crash. A reboot requires the battery to be removed, as the white screen doesn't allow a graceful shutdown.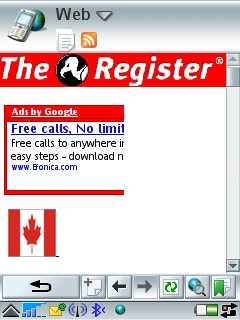 Opera on UIQ 3 doesn't show much text...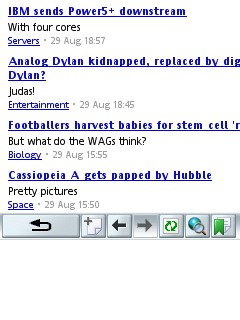 ... while full-screen mode isn't much better
The phone regularly hung when retrieving email, when surfing, or when fetching RSS feeds. WLAN configuration was mercifully simple compared to Nokia recent implementations - but the phone often failed to retain the settings for our closed network between reboots.
When the P990i worked smoothly, which it did for a few minutes at a time, it was possible to see the power of the platform. For example, I have a POP3 mail account with several thousand messages. Fast retrievals are taxing for 3G feature phones and even slow on Nokia's default Symbian messaging client. The P990i simply chomped through the job without breaking sweat. Opera also ripped through websites - although the font rendering, and UIQ's inefficient use of screen space didn't do it any favours.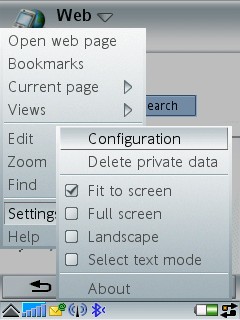 Where's that option again?
The screen shots show how little information can be conveyed within these constraints. Fonts below 100pc don't render well at all.
As with the Palm, UIQ applications generally don't have an exit ot quit option. We didn't encounter the low-memory warnings which plagued our use of the Nokia E70 and N80, and which was widely reported with the very first production batches.
It wasn't possible to give an accurate estimate of the P990i's battery life. The WLAN radio has a power-saving feature - which reportedly causes connections to drop, although we experienced no such problems - but the need to manually disconnect did run the battery down remarkably quickly.
In summary, it's easy to envisage continuing performance tweaks - particularly if Sony Ericsson takes the step of disabling the "transition" gimmicks. Sony Ericsson allows you to perform self-service firmware upgrades from your PC - and in the early days of a phone's life these come thick and fast.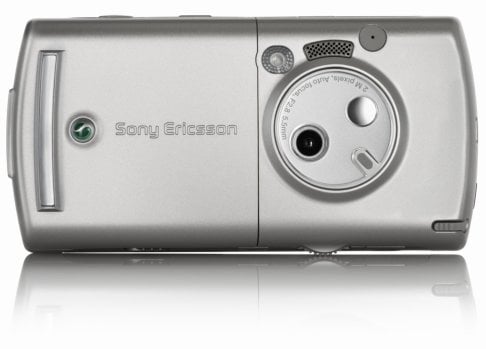 When things work well, the P990i's size ceases to be an issue. You may even get the sense that this is a small and very convenient mobile computer, rather than a large phone. However given the reliability of the phone at this stage, it's hard to recommend unless you're doing a platform evaluation.
Verdict
It's hard to give a numerical rating for a phone which has so much potential, and yet has so many urgent reliability issues. For packing such a lot of functionality into a small and convenient handheld, the P990i really ought to earn a score in the 90s. In terms of practical use today, it shouldn't merit any higher than a score in the 20s.
What complicates scoring further is the certainty that many of these bugs are elementary to fix, and will hopefully disappear in the coming weeks given Sony Ericsson's historical commitment to getting its flagship product right. That's not something that can be said for its new rivals, the anonymous Asian manufacturers who are pumping out generic Windows Mobile devices at a furious clip. Such vendors often appear more concerned with the model that will be appearing over the horizon, rather than fixing one that's just been released - and they don't have a brand to tarnish.
Over on Esato, the buggy and long overdue appearance of the P990i has even prompted discussion of whether the P-series has a future at all - and this on a site historically sympathetic to Sony Ericsson. The argument is rational. A design which once set out to synthesize the best of two worlds has evolved into something that risks pleasing no one - a jack-of-all-trades.
It's the culmination of design by committee: along the way, hard choices have been avoided which would have helped the P990i retain some coherence - the user interface in UIQ 3.0 becoming increasingly 'Japanified'. And there's certainly merit to Sony Ericsson's decision to adopt a new chassis and create slight variants for each target market - as it has with the M600i and W950 Walkman UIQ phones. Each is a variation of essentially the same design, differentiated by the keyboard and amount of on-board memory.
However, this strategy will leave the power user, who for example wants a good camera and music player as well as a powerful messaging device, high and dry. Both Sony Ericsson and Symbian's UIQ division should by now know what it takes to restore the reputation of the P-series. ®