Original URL: https://www.theregister.co.uk/2006/09/01/evesham_unveils_verballs/
Animatronic Skype phones get lippy
Meet the Verballs
Posted in Personal Tech, 1st September 2006 09:20 GMT
Dired of dull-looking USB-connected internet phones? Then UK company Aardvark Innovation thinks you may be interested in the Verballs, its new family of "personality" Skype-friendly VoIP phones.

There are five to choose from but they all wave their arms and light up their horns when you get a Skype call or receive an instant message. Each has a 0.5W speaker and microphone on board, and in the fashion of sound-sensitive Bass fish and rocking daisies, they'll sing along with the music when you play MP3s through them.
Silliness abounds. More fun - apparently - can be had at the Verballs.com website, where there are downloads to enable the critters to talk as you type, not to mention a whole range of free ringtones.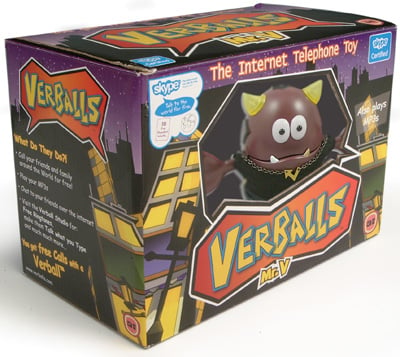 This nonsense costs 35 quid a pop. The five "characters" on offer are Baby, Striker, Mister V USB, Britney and Slick1. They're available now from Aardvark's website. ®