Original URL: http://www.theregister.co.uk/2006/08/31/review_logitech_vx_revolution/
Logitech VX Revolution 'freewheeling' cordless mouse
The laptop mouse for the connoisseur?
Posted in Personal Tech, 31st August 2006 11:58 GMT
Review If you're an avid laptop user, you'll know how clumsy most notebook touchpads and thumbsticks are and that you really can't go wrong with a good mouse. Enter the VX Revolution, Logitech's latest laptop-friendly input device. But this time there's more on off than just a fancy new design: specifically, the mouse maker's new MicroGear high-precision, low-resistance scrollwheel...
So far the biggest improvement anyone's made to a mouse's scrollwheel was to allow it to scroll sideways by rocking it left or right. You can still do this with the MicroGear scrollwheel, but the big thing here is that you can switch it from the normal, "geared" mode - which is the way all other scrollwheels work - to a truly free-wheeling style. With a flick of the finger, the scrollwheel spins freely for up to seven seconds depending on how hard you spin it. The result is much faster page scrolls. To switch modes you have to slide a switch at the bottom of the mouse and this can be a little bit tricky if you don't a suitable prong to hand.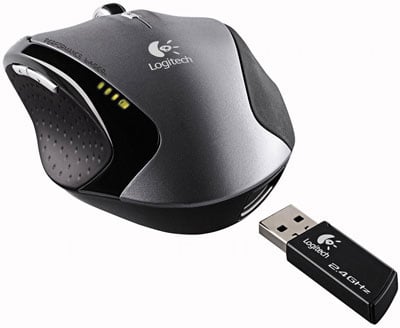 The selling point of all this, according to Logitech, is what it'll do for spreadsheet users. Now, I have to admit I don't spend my days with my nose inches away from zillion-cell Excel worksheets, but I have to say that I did find it very useful in long Word files and websites. Flick the wheel and in seconds you've smoothly shot off to the end of the document. I can see gamers liking it too, if only for jokey 'whizz through the weapons' moments.
The scrollwheel itself is made from metal and has a rubber strip wrapped around its middle for improved grip. The mouse itself has a very ergonomic design and although it's small, it's comfortable to hold in the hand. Both sides are rubberised and the thumb grip has been given a textured surface for extra grip. There's even a small ledge on the other side to rest your fingers on.
There are two thumb-controlled buttons for skipping back and forward between pages in your web browser. On top of the mouse, ready for right-hand index finger control, is a new zoom button that allows you to move in and out of pictures. It works, but I found it uncomfortable to use - it forces you to bend your finger too far to the left. I'd rather use the thumb-facing keys, and thankfully you change all of buttons' default behaviours with Logitech's software. The Windows version is bundled - Mac users have to download their copy.
Finally, there's the search button, located just behind the scrollwheel. This will launch your default online search service or your operating system's search utility, but you can set the functionality to something else if you don't find this useful.
Also hidden towards the rear left-hand side of the VX Revolution is a battery power-level indicator. This doesn't show up every time you move the mouse as it does on, say, Logitech's MX1000 - it only displays the power bars when you switch the mouse on. Handily the Windows SetPoint software tells you how many days battery life you have left, although I'm not quite sure how this is calculated as it didn't seem to relate to the usage. You can also get a percentage measurement which seemed to make more sense.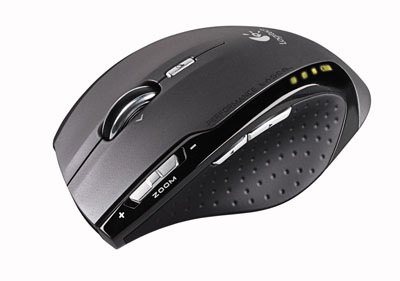 Flip the mouse over and you'll find a few other interesting things. Apart from the MicroGear switch, there's a power button, an eject button for the USB wireless dongle and a battery compartment. The VX Revolution is powered by a single (supplied) AA battery, although this sits in the mouse at a tight angle and is a little awkward to fit. The glide pads are larger than on most mice and there are five of them.
The USB dongle is smaller than on previous laptop-specific mice from Logitech and when you insert it into its slot, it powers off the mouse. A small flap will prevent dust and other unwanted stuff ending up inside the mouse when the dongle is in use. The wireless link uses the 2.4GHz spectrum, so there might be some possible interference from Wi-Fi or Bluetooth equipment, although it is no more likely than any other wireless mouse and I certainly didn't experience any unexpected cursor movements.
Mac users will be happy to know that a downloadable driver is available from Logitech's website, as the Mac drivers aren't supplied in the box and the VX Revolution. Oddly, the mouse doesn't work without the drivers - you can move the cursor, but you can't even click the left-hand button.
At £60 the VX Revolution doesn't come cheap, but it's a very comfortable mouse to use and it has plenty of features on offer. It's not a mouse for everyone, perhaps, but that doesn't detract from the fact it's a darn fine bit of kit.
Verdict
A feature-packed if pricey laptop mouse with some great new features and a comfortable design. Is it fair to say it's the best mobile mouse yet? We say it is. ®