Original URL: https://www.theregister.co.uk/2006/08/30/intel_core2duo_glossary/
Core 2 Duo jargon decoder
Intel's dual-core technical talk translated
Posted in Personal Tech, 30th August 2006 15:12 GMT
Intel's Core 2 Duo may be the world's most advanced desktop microprocessor, but like all those that have come before it - and almost certainly those yet to appear - its arrival is accompanied by a veritable dictionary of jargon and tech-talk. Baffled by 'Digital Media Boost'? Can't get your head around 'Viiv'? Look no further than our plain-English guide...
Advanced Smart Cache (ASC)
Intel says: "Smart Cache provides a higher-performance, more efficient cache sub-system that's optimised for multi-core and dual-core processors."
We say: All processors have their own memory - the cache - to record frequently used data so the information can be grabbed more quickly. Add a second core to the CPU and you need to add more cache. Each core can have its own cache, but ASC allows them to share all the available cache memory in whatever way that makes most sense for each core's workload. That allows the two core to operate more efficiently, which means faster processing for you.
Digital Media Boost
Intel says: "Accelerates a broad range of applications, including video, speech and image, photo processing, encryption, financial, engineering and scientific applications."
We say: Core 2 Duo increases the rate at which SSE, SSE 2 and SSE 3 128-bit SIMD instructions can be processed so that each takes a single clock tick to execute rather than the two or more clock cycles they've taken in the past. Media processing code, security, engineering and scientific applications all stand to benefit, as will games.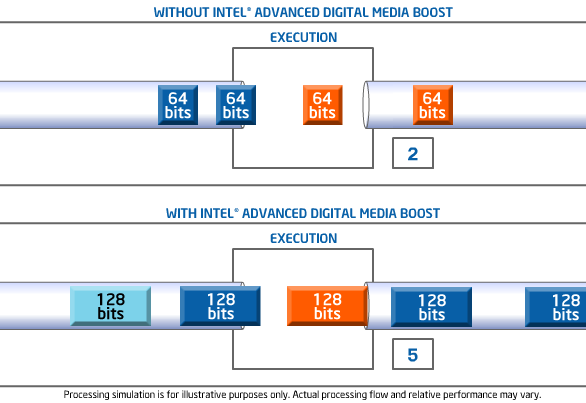 Enhanced SpeedStep (EIST)
Intel says: "Enhanced Intel Speedstep Technology allows the system to dynamically adjust processor voltage and core frequency, which results in decreased power consumption."
We say: EIST allows your processor to slow down to a speed that's appropriate for the task you're performing, and to speed up again when it needs that extra welly. You always get the processing power you need but without using excess electrical power - for which read 'battery life', if you're a notebook user. It also means your machine doesn't run hot, allowing its cooling fans to run more quietly.
Execute Disable Bit
Intel says: "A malicious worm can create a flood of code that overwhelms the processor. Execute Disable Bit allows the processor to classify areas in memory where application code can execute and where it cannot. When a malicious worm attempts to insert code in the buffer, the processor disables code execution, preventing damage and worm propagation."
We say: Execute Disable Bit is a hardware feature within the processor that acts as a safety catch to prevent a virus sneaking in nasty software code. It requires OS support which was added in Windows XP Service Pack 2 and of course you still need anti-virus, firewall, spyware removal and e-mail filtering software to keep all the other nasties at bay.
Extended Memory 64 Technology
Intel says: "Introduced in 2004 for workstations and high-performance computer server platforms, Intel Extended Memory 64 Technology (Intel EM64T) allows server, workstation, and desktop platforms to access larger amounts of memory. This enhancement allows a processor to run newly written 64-bit code and access larger amounts of memory than 32-bit code. With appropriate Intel EM64T-supporting hardware and software, Intel EM64T-based platforms can enable use of both extended virtual and physical memory."
We say: The main benefit of 64-bit software is a move beyond the 4GB RAM limit in your PC. This won't cause many of us sleepless nights for another year, by which time Windows Vista should finally be up and running. The other advantage of 64-bit is that it allows games developers to create truly enormous maps. You thought Far Cry was free-ranging? Think again. With 64-bit you can have an entire planet in a single map.
Intelligent Power Gating
Intel says: "Takes advantage of the Core microarchitecture's ultra-fine grained logic control optimised energy usage delivering more performance per watt."
We say: This technology turns off parts of each core that's aren't being used. That saves energy, so the consumes less electricity and doesn't run hot, making it cheaper to run. Intelligent Power Gating is always ready to turn sleeping components back on the moment they're needed again.
LaGrande Technology
Intel says: "LaGrande Technology (LT) is a highly versatile set of hardware extensions to Intel processors and chipsets that enhance the digital platform with security capabilities such as measured launch and protected execution. LT helps protect against software-based attacks and helps protect the confidentiality and integrity of data stored or created on the client PC. It does this by enabling an environment where applications can run within their own space, protected from all other software on the system. In turn, this can help to protect vital data and processes from being compromised by malicious software running on the platform."
We say: Malicious software can weasel its way into your PC in a number of ways but if it reaches the chipset then you have major problems. An example is a key logger which detects every key stroke that you make and which could even change what the user is typing. Other code can access system memory or graphics memory, so LaGrande employs the Trusted Platform Module to create a hardware protection layer that treats your computer as a series of secure encrypted compartments. The malicious code isn't Trusted and is therefore cut out of the loop.
This technology requires a LaGrande CPU and a motherboard with a LaGrande chipset and TPM chip. Look closely and you'll see that many models of Intel motherboards from the past year include a TPM chip that is just waiting to burst into action.
Micro-ops Fusion
Intel says: "Combines common pairs of instructions into a single instruction during decoding, then executes then as a single instruction."
We say: It's a clever way of processing one instruction instead of two, taking half the time to get the same result. Of course, how often these pairs of instructions will appear in a given program depends on what that program does and how it was written, so the benefits can vary considerably. But the fewer instructions the Core 2 Duo needs to process, the faster it will finish the task at hand."
Smart Memory Access (SMA)
Intel says: "SMA improves system performance by optimising the use of the available data bandwidth."
We say: Core 2 Duo chips are better at getting the right information from the right chunk of memory at the right time. That allows the chip to continue processing your data without having to wait while the wrong information is ditched and the correct stuff retrieved and used in its place. Again, that makes for faster-running apps.
Viiv
Intel says: "Enjoy your favourite movies, music, games, and more - from the comfort of your couch and controllable with a remote. With the optional TV tuner card and built-in DVR functionality, you can rewind live TV and store all your favourite shows. Online service providers offering access to the latest Hollywood blockbusters, music, games, and more. Download your favourite movies, TV shows, music, games and more, add them to your PC's media library, or record them as a DVD, MP3 or CD. Immerse yourself in home theatre quality 5.1 sound with support for up to 7.1 surround sound. Enjoy support for Intel high-definition video for the entertainment you've purchased and downloaded from the Internet."
We say: Viiv requires a Core 2 Duo or Pentium D dual core processor, a 945, 955, 965 or 975X chipset, HD audio, Windows XP Media Center 2005, Intel Viiv Media Server software and Intel Hub Connect Technology - or to put it another way you need a recent PC with a decent specification. Intel's strength is the number of deals that it has struck with Hollywood and the record labels. In short, the media companies trust Intel to distribute their content securely with a reasonable degree of DRM to protect their copyright.
Virtualisation Technology
Intel says: "Intel Virtualisation Technology enables one hardware platform to function as multiple "virtual" platforms. In the home, for instance, Intel Virtualisation Technology could enable one family member to be in a room using a PC for gaming while a family member in another room uses a mobile device to simultaneously use the same platform for photo-editing. For businesses, Intel Virtualisation Technology offers improved manageability, limiting downtime and maintaining worker productivity."
We say: Treating one physical PC as a number of computers is a neat way to handle user accounts so the kids can mess up 'their' PC without trashing your photos and e-mail. We can even use virtualisation to create a virtual computer inside a working PC and in the event that it suffers a virus attack then you simply pull the virtual plug and the malware goes up in a puff of smoke. That's virtual smoke, of course...
Wide Dynamic Execution
Intel says: "Enables delivery of more instructions per clock cycle to improve execution time and energy efficiency."
We say: Core 2 Duo can begin processing more software instructions at tick of the chip's time-keeping clock than Intel's older chips could. The upshot: more work gets done and your applications run faster. ®