Original URL: https://www.theregister.co.uk/2006/08/28/review_nokia_93/
Nokia N93 camcorder phone
First-person shooter
Posted in Personal Tech, 28th August 2006 13:02 GMT
Review Nokia wants us to give up our cameras and embrace the future, as they see it, of integrated devices - those being mainly Nokia devices, obviously. The N series have been squarely aimed at achieving that and with the N93 they have certainly taken a step in the right direction. The N93 is Nokia's new flagship camera phone, so how does it line up against to the competition?
The N93 takes its photographic capabilities seriously, to such an extent that the phone sometimes feels as though it has a small video camera mounted on top - which effectively, it has. The camera might be a little bulky, but that space is needed to house a 3.2 megapixel device with a Carl Zeiss lens and, more importantly, a 3x optical zoom. The addition of a proper lens-cap further reinforces the seriousness, but is going to be difficult to replace when it - inevitably - gets lost.

In addition to the normal charger, a USB cable and a headset, the N93 comes with a cable to connect to a television - a rather unusual accessory for a Nokia phone, but not for other camera-phone makers, like Samsung. Once connected to a TV, the phone screen is automatically displayed, and photographs and video can be played back in glorious widescreen. Just in case any doubt remains in your mind that this is a proper video camera, a copy of Adobe Premiere Elements is included for editing films and burning them to DVD. Gary Oldman might have only managed two minutes of floating inner tube, but that shouldn't reflect on the tools available to budding movie-makers.
Video is shot at 640 x 480 resolution and 30 frames a second, but it's the digital video stabilisation which really improves the video quality over other devices. Even on a TV the quality is extremely good, certainly comparable with a dedicated video camera. Nokia's claim of DVD quality might be open to question, but that will depend on the skills of the operator too. Videos are stored as MPEG 4 files, which will play back in Real Player or VLC media player once copied onto a computer.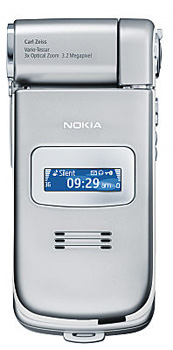 Still pictures are captured at the full 3.2 megapixel resolution and auto-focus ensures that at least the centre of the picture is always sharp. But the N93 does suffer from the picture-lag so endemic in Nokia camera-phones. Images are taken about half a second after the button is pressed. In many circumstances this isn't important, but when trying to catch that fleeting moment of family bliss, half a second can make an awful lot of difference. This lag is the most serious drawback in the N93 as a camera and it's remarkable that Nokia hasn't managed to find a way to make its cameras more responsive. It isn't enough to make the camera unusable, but it irritates every time.
Pictures and video can be displayed on the 240 x 320 screen, which runs to 262,144 colours with impressive clarity. The screen can be placed into one of three modes. Open like a normal clamshell - sorry, folding phone - propped up like a tiny laptop - aka display mode - and twisted to face away from the lens, what Nokia calls camera mode. Switching to display mode rotates the screen with a slight lag but without the instability which has plagued some models, like the E70. Moving to camera mode activates the camera - which shows nothing until the user remembers to remove the lens cap - but moving back to any other mode activates the smaller, user-facing camera for 3G video calling or taking low-quality pictures and video. Switching off the camera might make more sense, but that's not what Nokia have decided users want.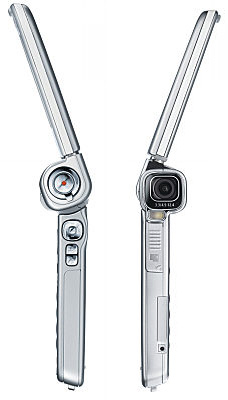 All that twisting and turning puts quite a bit of strain on the hinge, a single point of connection between the screen and the body, but in use it is remarkably robust and feels as though it should last. Rotating the display doesn't always work seamlessly as soft-keys need to be remapped, sometimes it's necessary to shift modes back again to complete a task or close a dialog which popped up in the previous mode. PDA users might also find themselves reaching for a stylus, particularly when using display mode, despite the fact that the N93 has no touch-screen or pen-interaction, it often feels like a PDA in use, which is no accident.
The inclusion of Quick Office and Adobe Acrobat means that opening work files is generally successfully, but until the disappointing lack of support for Bluetooth keyboards is remedied then editing those documents is tricky to say the least. Entering text of any kind when in display mode is, in fact almost impossible as the keypad is not rotated and becomes quite difficult to reach with the screen resting on the right-most keys, but this isn't intended as a laptop replacement.
With so many features it is sometimes difficult to remember that the N93 is actually a phone and that the most common use for it will be to make and receive phone calls. It does so without difficultly and an impressively aggressive vibration alert makes the ring tone almost superfluous, which is a shame as any audio track can be used. Call quality is all one would expect from Nokia, with good clarity and decent signal strength everywhere. 3G needs to be switched on - the handset comes set to GSM only& - but once selected worked seamlessly for data and voice. Using 3G data does seem to hammer the battery a little, more so than the equivalent Wi-Fi connection.
As an audio-playback device the N93 works well enough, with all the normal play list management capabilities and CD-ripping software included. The 128MB MiniSD card bundled with the device is woefully inadequate and anyone wanting to carry more than an album or two of music - or to shoot a lot of video - will want to upgrade. With a 1GB card costing around 25 quid there's little reason not to.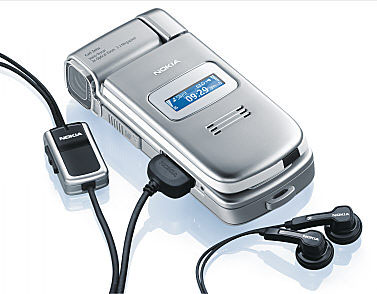 When an application requests a data connection all the available connections are listed, including any configured Wi-Fi networks which are within range and a 'Search for WLAN' option for an ad-hoc connection. Traditional GPRS links are listed too. Connectivity is a joy to use, working just as you would expect it to and automatically disconnecting Wi-Fi when the application which requested it is closed. Leave a Wi=Fi connected and the battery will fail within 12 hours - even if the connection isn't being used - but in realistic use the battery is as impressive as one has come to expect from Nokia. Wi-Fi range and stability is unremarkable, with secure and insecure access points working fine with decent speed and no dropped connections.
One of the most interesting uses of the Wi-Fi connectivity is Universal Plug and Play (UPnP), which allows media content to be rendered on a PC or other devices supporting the UPnP standard. Nokia bundles a UPnP server on the CD which comes with the phone - for Windows only - and once the software is installed it is just a matter of viewing an image, video or sound file on the phone and then selecting 'Show via home net' and a list of UPnP servers is presented, which should be only the one unless you're a very early adopter. Select the server and the content is immediately displayed on the PC screen or played through the PC speakers. No configuration of client or server is needed, everything just works. Well, nearly at least. Still images and audio worked fine in our tests, but we weren't able to get video to play back over UPnP at all and with no configurations to change it was hard to establish what the problem might be.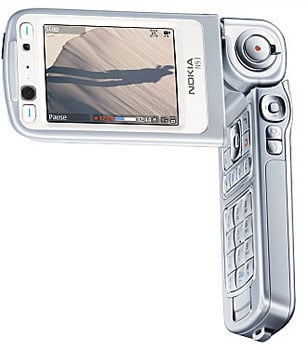 But even without video support UPnP is a welcome dose of simplicity and it seems likely that the technology is going to become more widely supported on set-top boxes and stereo systems. The very concept of screens and speakers around the house being resources available for the phone to use is very attractive and points the way to the future.
Watching video therefore requires the files to be copied onto a PC which is easily done using the bundled connection software or just connecting the handset to a USB port as a mass storage device. Playback will need the latest version of Real Player as the bundled Nokia Media Player application seems incapable of rendering video at any kind of acceptable quality. The failure of the playback software reveals the real disappointment in the N93 bundle, Nokia PC Suite is still an abomination which works, fails and irritates in equal measures. The best thing you can say about it is that given the capabilities of the phone you shouldn't ever need to use it, though if you're planning to regularly synchronise with Outlook you'll need a fair dose of luck and some patience when it all goes wrong.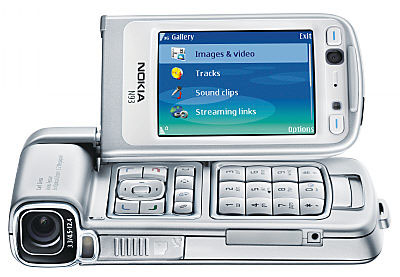 Without any network subsidy, the N93 is around 550 quid, a reasonable price for an entry-level laptop. Sign your life away and you'll get it a lot cheaper, but this is a very expensive bit of kit so make sure you can justify that price tag.
Verdict
The Nokia N93 is a really nice phone which, while trying to be a video camera, manages to straddle the divide with little compromise. Connectivity is all that it should be and battery life is days, not hours. Physically it is bulky and the Nokia PC Suite lets down the rest of the product badly, but the use of image stabilisation and a decent lens make it a true camera replacement as well as a usable phone, even if it is priced as much as a separate phone and camera. ®