Original URL: https://www.theregister.co.uk/2006/08/15/review_fujitsu_siemens_pocket_loox_n100/
Fujitsu Siemens Pocket Loox N100 handheld GPS
A serious contender for the established players?
Posted in Science, 15th August 2006 12:28 GMT
Exclusive Review The GPS gadget market is dominated by brands like Garmin, TomTom, Navman and Magellan, so it's unlikely you'd have the name Fujitsu Siemens topping your shortlist as you head down to the shops. But perhaps you should. With the introduction of the N100, Fujitsu Siemens has a real contender on its hands that will give the established brands a run for their money...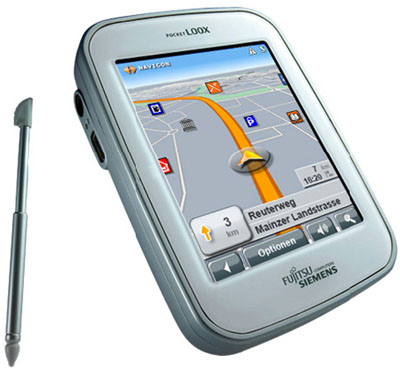 The N100 is being heralded by Fujitsu Siemens as "the smallest and lightest multifunctional PNA on the market", and with good reason. Weighing in at a mere 110g and with its svelte 8.9 x 6.2 x 1.6cm physique, it's smaller than most mobile phones - well, if we disregard the width... The silver and white design is unashamedly minimalist, and while I'll admit that Fujitsu Siemens' stock clean-lines approach doesn't always work for me, the N100 is a peach. It might be the white fascia or the total lack of any controls or flourishes on the front, but there's a certain Apple-esque quality to the N100 that can pique your interest even before you know the specifications. If you're not fond of the fascia, you can swap it for a different colour. You get a black face-plate in the box and others colours are also available.
An open slot on the left of the device takes the supplied memory card, a 1GB MiniSD job, bearing pre-installed maps of the British Isles, France and Nordic nations, and you get a further seven maps on the supplied DVD, all of which can be quickly activated online. This means you have virtually instant access to an incredible 37 European countries right out of the box.
On the bottom of the device is an earphone socket. You'll also find a mini USB port which is used for both data transfer and charging. A pair of LEDs beside the USB port relay charging status and GPS signal strength. Also hiding down here is the microphone aperture.
On the top of the N100 you'll find a two-section extending stylus which has a big enough girth to be comfortable in the hand, as well as the main power button and the hold switch, which deactivates the touch-sensitive screen.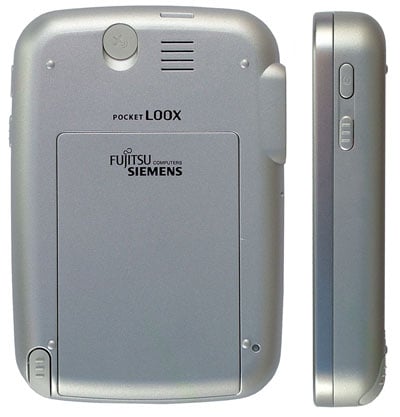 On the subject of the screen, what you get is a 2.8in, 240 x 320 (QVGA) TFT screen, which is a pleasure to use. Performance in bright sunlight was excellent, and squeezing a QVGA resolution into such a relatively small screen meant text was pin-sharp. Both brightness and contrast were extremely good and this more than compensates for its small size. All of the important route-related data is large and clear enough to be seen at a glance, and while it can be awkward to read the smaller bits of information quickly, you should pull over before you access anything other than navigation instructions.
The back of the N100 gives access to the removable 3.7V, 1100mAh battery which charges up in around four hours. Battery stamina will obviously depend on what exactly you're doing: navigating will presumably put more demands on the power pack than, for example, music playback, during which you can switch off the screen backlight should you wish.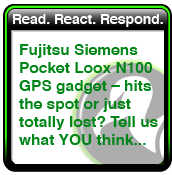 Flanking the battery is a rubber plug which protects the connector for the optional external antenna and alongside this is the worryingly ineffective-looking speaker grill. As it happens, I needn't have worried as spoken directions are as loud as any GPS unit I've tested thus far, including the larger ones. The N100 produced minimal distortion even at full volume, which is significantly loud. The rear of the device is also where you'll find the recessed soft reset button, which I've not as yet needed to resort to.
At the heart of the N100 is a Samsung 300MHz CPU running Windows CE 5.0. A frequency of 300MHz may seem relatively tame in comparison to some of the more expensive sat nav units on the market, but it never felt particularly underpowered. Calculation and recalculation times are all relatively swift and the clever use of animated menus helps disguise any minor lag that may be present. GPS functions are handled by the SiRFStar III chipset, which guarantees improved signal sensitivity and ensures a speedy time-to-first-fix, plus support for WAAS and EGNOS which in turn improve positional accuracy.
Trying the N100 brought me my first opportunity to play with Navigons' newly released MobileNavigator 6. It has produced a very polished product. From the animated slide-out menus to the semi-transparent on-map points of interest with simulated drop-shadows it all looks very slick. Of course, all the stock options are present and correct, including off-line route planning with multiple waypoints; creation and naming of favourite destinations; and user-defined routes. You also get features like 2D and 3D mapping; a manual night colour option with user definable backlight intensity; automatic route recalculation; and avoidance of variable-length stretches of your current road. That said, there's apparently no way to tell the gadget to avoid other roads by name.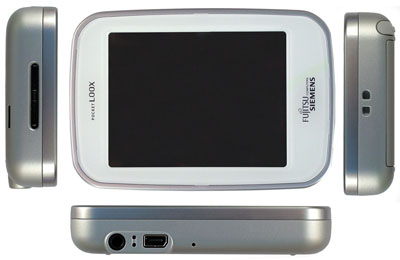 The more innovative additions include lane assistance, which indicates the suggested lane or lanes for your next manoeuvre, a function I've yet to see in action in my particular rural backwater. The N100 also provides TMC traffic warnings, along with voice-activated navigation using the voice tag technique common to mobile phones and first seen on Novogo's V30. There's also quick access to user-defined points of interest from the new destinations menu, allowing you quickly to pinpoint, for example, nearby petrol stations from your current location.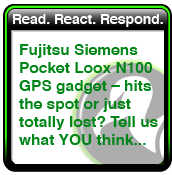 An integral multi-format music player with support for MP3, AAC and WMA formats offers basic play and repeat functionality, either over the internal speaker or, for better quality, through the supplied earphones. There's also a world clock utility with a full-screen display option and alarm, along with a calculator and a couple of classic retro games: Pac Man - here renamed Smart Pixie - and a version of Breakout imaginatively titled Bricks. Frustratingly, although you can have the music player operating while you navigate, it doesn't automatically mute before delivering spoken commands, rendering them just about inaudible.
One notable omission is the ability to import custom points of interest, and of course I'm thinking of speed-camera locations in particular. This is likely to be an increasingly important buying decision when comparing the N100 with units that come with speed camera data already built in.
Verdict
Speed cameras aside, Fujitsu Siemens' Pocket Loox N100 performed like a charm. Route selection has so far proved to be prudent and despite the occasional stutter, the software looks good and feels responsive. Since the N100 will make it to store shelves bearing a price tag of around £250 it should be a phenomenal success even without the speed-camera data. The N100 is small and stylish but doesn't compromise on performance to achieve it. One for tech-heads and hardened travellers alike. ®
Special Offer for Reg Hardware readers - buy the Pocket Loox N100 for £224.99 (10% off) at Nice PC