Original URL: http://www.theregister.co.uk/2006/08/15/otto_che/
Turning Che Guevara into a GIF for therapy
Or how I deal with Bro-Magnon Man
Posted in Bootnotes, 15th August 2006 21:18 GMT
And ninthly How do you follow up an album that was a massive - if unexpected - hit? Since its 2004 debut, Hot Fuss has gone platinum over five times and has been released in nearly every format in every country. On their road-weary follow-up, Sam's Town, the Killers stay focused and maintain their epic sounds; the album's powerful surges of energy and confidence will keep you riveted to your speakers. Incredibly, the band still makes you want to believe that "glamorous indie rock 'n' roll" can change your life - Apple's riveting iTunes review of the Killers' new album.
When life gets me down, I change my cellphone's wallpaper. I remove the shot of my dear, beloved, dead wife Gretchen and replace it with the GIF of Che Guevara that I bought for $1.99.
How great is that?
For less than $2, I can demean one of the hippies' favorite symbols anytime I want. You know that dirty killer is rolling around in his unmarked grave every time a capitalist buys a cartoon version of his image with the click of a button on a cell phone. Cubans may not have enough eggs to eat, but I've got their mascot on my phone to laugh at, and there's a certain romantic justice in that.
(I would not go so far as to call the whole Che wallpaper experience erotic, although Julio Stantore might make such a claim, and I have - in all honesty - been moved by the experience - on occasion.)
Why all the talk about GIF-based self-medication? - you ask.
Even souls as brave as I, must recharge from time to time after technology has proved a letdown. And, dear lord, this has been a banner month for technology ineptitude. At one point last week, it looked like I might have to end it all. Thankfully, I remembered the Che Guevara wallpaper.
You people don't have to deal with such dire situations because you have me looking out for you. So, here's a quick recap of some of the traps to avoid out there.
No worries. It's my pleasure.
Bro-Magnon Man
The first "Che Moment" arrives courtesy of Browster CEO Scott Milener.
Now, most of you probably have no idea what Browster is. You might think it a small device for trimming unwanted browridge hair or possibly a new tool used by the Guantanamo guards when they're trying to prove a point. In reality, Browster is much less fantastic than that. It's a piece of software that lets you see a web page without actually clicking on the link for the page.
Say, for example, you Google "worthless Web 2.0 applications." Well, with Browster, you don't have to deal with clicking on the results such as "FeedAdvisor" or "EarlyStageVC." Instead, you can just hover your mouse over the links and Browster will give you a snapshot of the web page. Milener claims that his company's "technology" results in the average user seeing tons of extra web pages and tons of extra targeted ads provided by Browster via its web site preview screen.
Okay, okay. Stop laughing. We're not making this up. Browster is a real company with real employees and has even secured some venture funding for its software. I'm sure the pitch went something like, "Clicking on links is just too damned hard. What people need is a tool for hovering over links. This is the kind of thing that companies like Google aren't even thinking about right now. This is an ad-driving dynamo, and our patent pending technology guarantees that Google, Microsoft and Yahoo will need to have a chat with Browster when they're ready to mouse on over."
As a well-bred capitalist, I just can't take Browster seriously but Milener can. The Browbeater popped up on some site called Crunch and Bunch and Munch in an effort to convince a few people that Browster is the real deal and not part of some Web 2.0 bubble.
"So, Web 2.0 is not a bubble," Milener said. "Web 1.0 clearly was. I think we have learned from that. I think it is a careful growth as a opposed to a bubble."
"Web 2.0 is I think really the big bang where now we have technologies, user generated content and proven business models. Now, I think we are going to see the true growth that we thought was going to happen endlessly in the Web 1.0 bubble."
So, which one is it? Careful growth or big bang? I'm confused. And didn't Yahoo!, eBay, Google and Amazon.com end up as a decently successful web companies? Oh well, who cares about that.
Googles today let you ogle tomorrow from a hammock in a plane
Holy hell did my RED Alert!!!! ever go off when Google stuck that "Do No Evil" garbage in its regulatory filings.
Google wanted to give off a childlike, hapless image. It must have hoped that the impression of ineptitude would fool competitors into thinking of Google as a non-entity. The strategy is really quite commendable, especially if you're going up against a company such as Coca-Cola, Exxon, Wal-Mart or Dell. Catch them unawares.
But Google is fighting the likes of Microsoft and AT&T - companies which cherish ineptitude as part of their corporate culture. So, the ad broker really has no business trying to pretend to be anything other than a very successful, very corporate one tricky pony.
Thankfully, the "Do No Evil" ruse collapsed once Google started suing old men for revealing how many banana hammocks it wanted hung from the ceiling of the corporate jet.
The ruse crumbled even more this week as Google sent letters to the press, telling us how we can use its name. We're informed that "I ran a Google search to check out that guy from the party" is okay; but "I googled that hottie" is poor form. Well, our googles off to Google for trying to protect its google. You can't have miscreants googling with your googling trademark. For google's sake! That would be a googling outrage!
With the worthless lawsuits and trademark disputes flying out of the Googleplex faster than tools on Segways, it seems safe to assume Google is a real, boring company just like any other. The sooner Larry and Sergey realize this the better. Put on a tie!!!!!
RIAA - Really Inadequate Adolescent Aggregator
I used to think of the RIAA as just about the classiest organization around until this month.
First off, I learned that one of the alleged file-traders the RIAA was pursuing recently passed away. Rather than keeping its guns blazing, the RIAA gave the alleged file-trader's children a 60-day "grieving period" before it deposed them.
I'm sorry but the rest of us tax payers don't have time for grieving. Let's keep these lawsuits churning through the courts, people.
Secondly, I'm hearing that the RIAA is failing to cash in on its wins.
Chicago attorney Charles Lee Mudd - the name speaks for itself - has been fighting the RIAA for years and recently issued a press release saying,
Individuals who have settled with the Recording Industry Association of America (RIAA) beware. The RIAA either has developed a new tactic of harassment or has failed to conduct due diligence in maintaining its records of those individuals with whom it has settled. In short, the RIAA, through its most recent national counsel Holme Roberts & Owen LLP, has begun to issue threatening letters claiming never to have received settlement funds from those who paid the RIAA's former counsel nearly three years ago.

Evidently, from my observations over the past three years, the RIAA does not care about due diligence. It fails to investigate the individuals whom it has sued prior to imposing extortive settlement demands. It does not care about families' mitigating circumstances. It fails to recognize when it has sued the wrong individuals. It seeks what constitute unconstitutional statutory damages. And now, it obviously fails to care whether it has received and deposited settlement payments before sending threatening collection notices to individuals who have previously settled with it.
I'll shed a tear after I'm done running over my dog.
Hey, Mudd. You sound like "I've been pouring kerosene on myself and setting myself on fire" serial whiner Patrick Byrne.
Get your act together, RIAA. Cash those checks!!!
All RaQed up
It's not all negativity this week in the Stern household.
We'd like to congratulate Cisco Systems for putting Tony Blair in his place.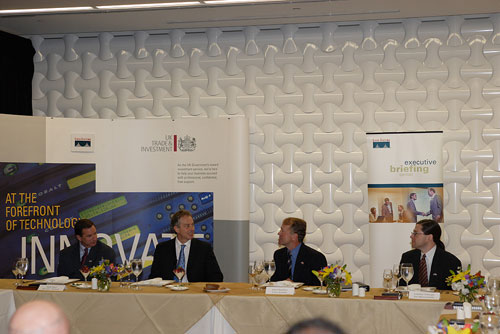 HP's Hurd, Blair, Cisco's Chambers and Sun's Schwartz
Cisco managed to slot its logo just a few hairs above Her Majesty's Seal, during a recent conference. Some would characterize this as a diplomatic blunder of immense proportions. I consider it a wonderfully concise gesture.
Also, please notice the Cobalt RaQs on the sign reading "At the Forefront of Technology." Too bad Sun stopped selling RaQs years ago. The IP address on the system in the poster does, however, still work.
Thanks for listening. I'm off to play with Che. ®
Otto Z. Stern is a director at The Institute of Technological Values - a think tank dedicated to a more moral digital age. He has closely monitored the IT industry's intersection with America's role as a world leader for thirty years. You can find Stern locked and loaded, corralling wounded iLemmings, suppressing Bill Gates U, developing strong Mexican engineers, masticating beta culture, booing our soccer team, following Jimmy Wales, nursing an opal-plated prostate, spanking open source fly boys, Googling Bro-Magnon Man, wearing a smashing suit, watching Dead Man, dropping a SkyCar on the Googleplex, spitting on Frenchmen, and vomiting in fear with a life-sized cutout of Hilary Rosen at his solar-powered compound somewhere in the Great American Southwest.