Original URL: https://www.theregister.co.uk/2006/08/09/vest_best_letters/
Idioms wilt as heatwave humour drought worsens
The Vest is the Best
Posted in Bootnotes, 9th August 2006 19:31 GMT
Letters It must be the heat. As the record-breaking summer of 2006 continues, sense of humour downtime is causing havoc all over the internet.
Most dramatically, it seems, in drought stricken parts of the Mac community - where nothing as much as a lame pun has been sighted in weeks.
And so our attempt at merry making - based on a subtle difference between transatlantic idioms - fell on parched and stony ground, yesterday.
Your reporter noted:
"There's some top secret features we're going to keep a little close to the vest," [Jobs] said...

He meant to say "close to the chest", but perhaps the stock investigation is weighing heavily on his mind.
Very soon, explanations were rolling in from all quarters of the parched Mac kingdom.
"Close to the vest" in a well-known American expression in the US. There are many terms used in US that are variations of English expressions. E.g. The ending of he's a jolly good fellow is very different in the US. ("and nobody can deny.")

Roy Posner
Thanks for putting it so succinctly. Unlike, um...
Hey dufus,
begins a cheerful Chris Buxton, who continues -
the phrase really is "close to the vest". At least here in the US it is. "Close to the chest?" Never heard/seen anyone say/write that before. "Close to the vest" is quite common.
Welcome to Britain, Chris. It's a small island of the coast of Eurasia. You may find this ancient Ziff Davis guide useful, should you ever (heaven forbid) find yourself wanting to speak one of the Eurasian dialects.
Unimportant piece made even less important by the "Chest, not vest" line which is just wrong.
huffs one William Smithey Jr who helpfully includes a dictionary definition.
he continues.
I always wonder when I read a piece like yours.. Why should I care what what you would like to see?
But he cared enough to write - which is sweet.
Reader Doubletime included the following explanation -
In the days of the wild west here in America a majority of Cowboys wore vests at the poker tables. This was especially true of riverboat gamblers who were professional gamblers and or just plain cheats. Because of roaming eyes and the fact that some gamblers had partners who used hand signals. One must hold ones cards close to their vest!

Were there no Cowboys in the U.K.??
Now more than ever, sir - especially in the building trade.
Perhaps they don't have that particular saying in Snideville?
asks Christian Belena, spectacularly missing the point.
Ken Davies adds -
It's like you just missed the whole point.

Why do you even write about such a thing?

Hm-m-m-m!
The latter being the sound of a bluebottle having its legs pulled off, we think.
I have never heard of the saying "close to the chest". I imagine the there are even regional differences in the usage of similar phrases.
ads Patrick Kilduff.
I presume a journalist with your skills could have found another method of injecting your riposte concerning stock options into the story?
writes BC McKinney. Consider us chastened, BC.
New York Sun reader Ephraim Vishniac even sent in a crossword.
Thank you, Ephraim.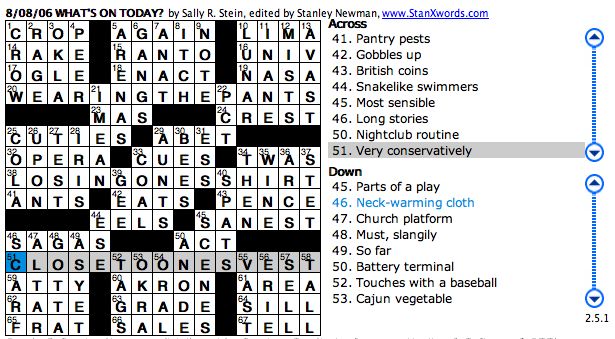 So what has five letters, begins with I, ends with Y, and apparently denotes "speech in which what is said is the opposite to what is meant"?
(Thanks also to John Bowman, Neil Roseman, Karl Wittnebel, Robert Koch for reminding us that Britain and the USA are two countries separated by a common language - and idioms one letter apart).
The case grows, alas, for use of our color-coded angle brackets indicated precisely which kind of humor we are attempting to convey - or even Humor Tags. ®