Original URL: http://www.theregister.co.uk/2006/08/04/review_acer_ferrari_5000/
Acer Ferrari 5000 dual-core AMD laptop
No driving licence needed, but only Tifosi need apply...
Posted in Personal Tech, 4th August 2006 12:17 GMT
Review Acer's Ferrari-branded notebooks have always favoured AMD-made engines, and the very latest model, the 5000, features the latest Turion 64 X2 twin-core processor. This fifth-generation Ferrari laptop brings yet more features, as well as higher performance, but like the titular sportscars, you'll need quite deep pockets to be able to buy one...
But there's no question you get a lot of laptop for your lolly, whether you're a Ferrari fan or not. In the UK, for example, you'll only be able to buy the top-of-the-range model.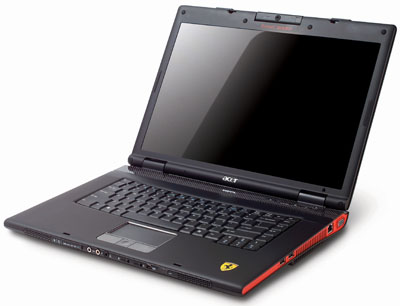 The design is the most striking part of the Ferrari 5000, and people will definitely be glancing at your notebook if you own one of these. The lid is made from carbon fibre, to reduce the weight but still provide protection for the screen. The screen itself measures 15.4in and is a shiny model with a native resolution of 1,680 x 1,050. It looks very good during indoors use, but the coating can get very reflective if you park it in bright sunshine.
The processor is the top-of-the-line 2GHz, 512KB L2 per core Turion X2 TL-60. It also has a thermal profile of 35W which makes it the hottest mobile processor from AMD. The Ferrari 5000 was actually running quite hot, even when it was sitting idle on the Windows desktop. It's well ventilated, but the air coming out of the vent on the right hand side was hotter than I expected. No white smoke when you rev it up, at least. Acer's power management software seems to bypass AMD's Cool'n'Quiet power management system. You can set up your own custom profiles, but by default the Ferrari 5000 will run at full speed when connected to a wall socket, hence all the extra heat produced.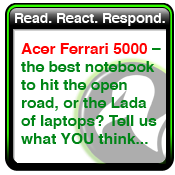 The processor is paired up to 2GB of 667MHz DDR 2 memory configured in dual-channel mode. This is something that previous generation of mobile AMD processors haven't been able to support due to the usage of Socket 754. Not so with the S1 socket used in the Ferrari 5000.
It's worth noting that the HyperTransport bus is still running at 1.6GHz rather than the 2GHz that the CPU's desktop counterparts operate at, which means that the Turion X2 parts aren't quite comparable to a desktop Athlon 64 X2 processor with the same clock speed.
Interestingly, Acer is using the ATI Xpress 1150 chipset in the Ferrari 5000, which features integrated graphics among its features. But fear not, as Acer doesn't use the integrated graphics core but an ATI Mobility Radeon X1600 with 256MB of dedicated graphics memory. A further 256MB of system memory can also be allocated to graphics duty if need be thanks to ATI's HyperMemory technology. The core of this specific Mobility Radeon X1600 is clocked at 500MHz while the memory is operating at an effective frequency of 980MHz.
The 5000 is one of a small group of notebooks to offer HDMI output with HDCP content protection. The HDMI connector replaces the DVI connector on the previous generation of Ferrari notebooks, so if you want to connect the Ferrari 5000 to a DVI display, you'll have to use an HDMI-to-DVI cable - fortunately, Acer bundles one. One of these cables is likely to set you back around £20 otherwise. There's still a VGA connector for connecting to analogue sources as well as s-video output.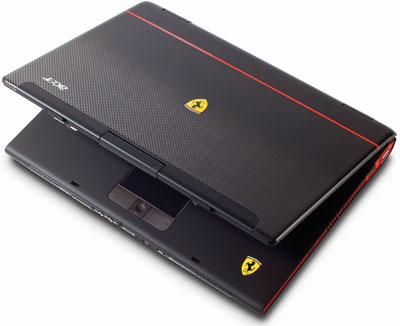 Although the review model only featured a slot-load DVD super-multi dual-layer drive, Acer will be offering an HD DVD-ROM drive in the future. It's unclear from the current information if the HD DVD-ROM drive will support any type of writeable media and Acer hasn't stated a date when they will ship with the Ferrari 5000. So for now you're stuck with a multi-format DVD writer from Pioneer that supports just about every writeable DVD format on the market.
The hard drive is a SATA model from Seagate with no less than 160GB of space. This should be more than plenty to use the Ferrari 5000 as your main computer, just make sure you have some kind of external backup solution handy, as it's not practical to back up 160GB of data onto DVD media. Acer has also fitted a multi-format memory card reader which accepts MMC, SD, xD, MemoryStick and MemoryStick Pro cards.
Acer has fitted a PC Card slot as well as an ExpressCard 34 - that's the slim version - slot to the Ferrari 5000, which means that you can use a 3G data card as well as future ExpressCard devices with it. A total of four USB 2.0 ports are available, two on the left and two on the right hand side. A four-pin FireWire port is located on the front right next to the IrDA window, the Bluetooth and Wi-Fi switches as well as three audio connectors. One slight miss here is that you can't connect a set of analogue 5.1 speakers to the Ferrari 5000, as the audio connectors have fixed functions. The headphone socket doubles up as S/PDIF output which allows you to get HD quality audio output via an amplifier. Finally, there's integrated Gigabit Ethernet and a 56kbps modem.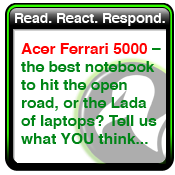 The integrated Wi-Fi card supports 802.11a/b/g, so it's compatible with all common standards. If you're using some kind of proprietary speed-boosting technology, such as pre-n or some kind of turbo setting, you'll have to make sure it's compatible with the Atheros Super G 108Mbps chip in the 5000. Bluetooth 2.0 with EDR is supported, and Acer ships a Ferrari-branded version of its PC Card-style Bluetooth VoIP handset. You also get a Ferrari-branded Bluetooth mouse as part of the package, although I wasn't able to get this to connect properly to the review machine. The mouse comes with rechargeable batteries charged using a special USB cable.
Acer has also fitted a web camera to the Ferrari 5000, which takes 1.3 megapixel still images and can be rotated to face away from the user. However, the camera on the review unit didn't appear to work properly, but it appeared to be software rather than hardware problem, so hopefully this is something that will be fixed on production models.
So too will the slightly small Enter key, I hope. I've always been a big fan of the slightly curved keyboards that Acer have used on some of it's models and the Ferrari 5000 features one of these. The touch pad is "widescreen" to match the display and worked quite well. Acer has fitted a four-way navigation pad in the middle of the two standard buttons that works much in the same way as a scroll wheel on a mouse. I also like the rubberised surface around the keyboard, as it's quite comfortable to hold your wrists on, compared to normal plastic.
The battery life was very good, although this will depend on the power profile you use. The Ferrari 5000 managed 162 minutes in the DVD playback test, not quite enough for a 3h movie, but not bad. It faired much better in the standard battery test where it managed no less than 201 minutes, that's 3h and 21 minutes, which is pretty decent considering the components. The Ferrari 5000 isn't a road warrior's first choice, but it still offers decent enough battery life for a few hours away from a power socket.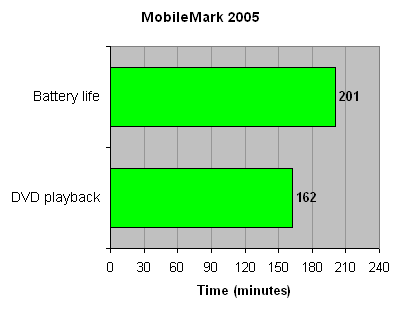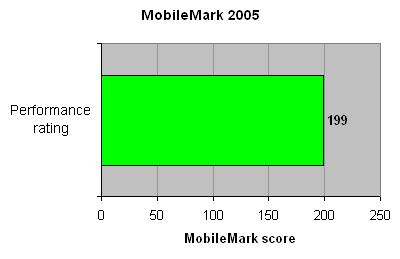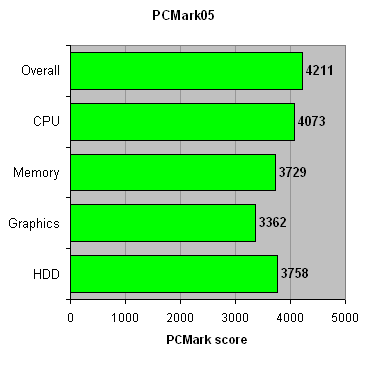 General performance was also very good, although the overall MobileMark 2005 performance score of 199 won't be able to beat the faster Core Duo and Core 2 Duo processors from Intel. Nonetheless, it's a good sign of where AMD is taking its mobile platform and the Ferrari 5000 is by no means slow, no matter if it's running on battery power or plugged into the mains. The PCMark 2005 scores are also more than acceptable, but the hard drive score seemed to be on the low side.
The 3D scores are pretty decent as well, but unless your games support widescreen displays you'll end up with them either being stretched or you won't be able to take advantage of the whole screen.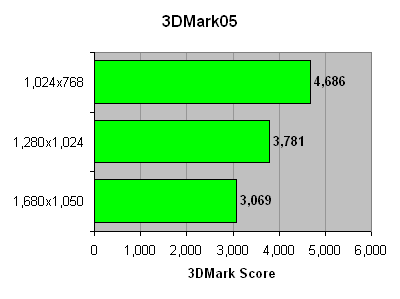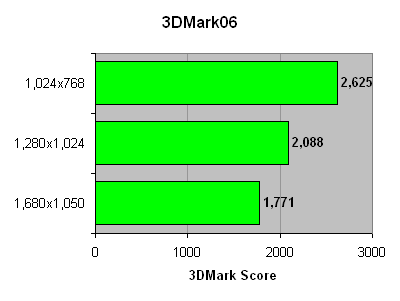 Most games should still be playable at close to full screen resolution as long as you're happy with 30fps. Lower the resolution and you shouldn't have a problem hitting 50-60fps depending on the game you play. This isn't the ultimate gaming notebook, but it will be able to handle most current games.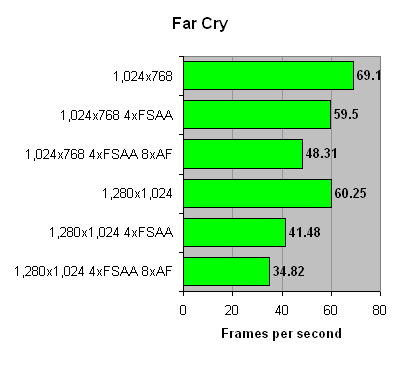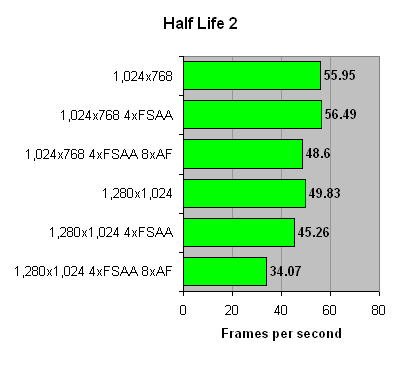 Verdict
The Acer Ferrari 5000 is an impressive machine, but there's that little matter of cost. At around £1,699 this laptop's anything but cheap. It is an exclusive model with top of the range features - and don't forget that sportscar marque - but the price still seems a bit on the high side. But then I'm not a Ferrari fan.
If you are, or you want a laptop that makes you feel like you have something rather exclusive, the Acer Ferrari 5000 is worth taking out for a spin. It's very expensive, but you get a lot of laptop for your money. ®