Original URL: https://www.theregister.co.uk/2006/07/28/netac_mustik_a200_fm_transmitter/
Firm ships MP3 player with integrated 'iTrip'
Time to chuck out that cassette adaptor?
Posted in Personal Tech, 28th July 2006 15:25 GMT
China's Netac has launched a digital music player with a built-in FM radio transmitter, pitching the product at motorists who want an MP3 machine for the car but don't want to pay extra for an iTrip.
The MuStik A200 is a 1GB Flash-based unit with a 1.in "high definition" screen - 1080p, presumably... It weighs a mere 44g and has an FM tuner on board. It plays MP3 and WMA songs and video encoded in the SMV format - no we've not heard of it either, at least not for video, but Netac provides suitable Windows-only conversion software. It'll show JPEGs and display eBooks, too.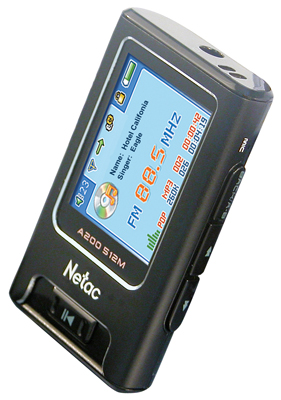 Tracks can be loaded using drag-and-drop, but Netac claimed the A200 will also appear in Windows Media Player and iTunes library lists.
Transmitting on FM frequencies without a licence remains illegal in the UK - hopefully, that will change by the end of the year - so Netac has equipped the A200 with a switch on the side to turn off transmissions should an Ofcom enforcer coming nosing around your vehicle. Just make sure you've got a cassette adaptor handy, just in case they start asking questions...
The A200 is available now, Netac said, for £70 from a number of online and High Street retailers. ®