Original URL: http://www.theregister.co.uk/2006/07/27/core_2_duo_vs_athlon_64_fx-62/
Intel Core 2 Duo vs AMD Athlon 64 FX-62
Ding! Ding! Round One...
Posted in Personal Tech, 27th July 2006 12:11 GMT
Review Although Reg Hardware published benchmarks for the new Intel Core 2 Duo and Extreme chips almost two weeks ago, it has taken that long for Intel to launch the product formally. If you've got the cash, you should be able to pick one up today. But the question many folk - particularly those with a preference for AMD's processors - are still asking is, why? There's no doubt that Intel has produced an impressive successor to the Pentium D, but can it beat AMD's latest offerings?
We should point out that we wanted to include full benchmarks for AMD's Athlon 64 FX-62 in our Core 2 Duo review. AMD, alas, was unable to supply us with one for testing. Too busy buying ATI to make any chips, eh, lads?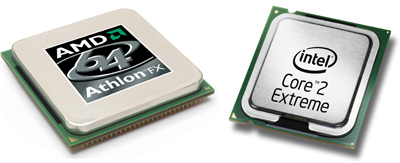 So, to give you an idea of how much faster the Core 2 Duo architecture is, we've compared our benchmarks from the Core 2 review with those we recorded for our FX-62 review. The numbers aren't directly comparable because we used slightly different system configurations. And there's the matter of platform differences. However, the FX-62 system only used 1GB of memory, compared to 2GB for the Core 2 Duo. This is likely to have the biggest impact on the overall performance scores presented here, and judging from past experience this would have an positive impact on the Intel chip's SYSMark 2004SE in the region of around five points.
The hard drive would have an impact on the scores as well, as the Core 2 Duo setup used a Western Digital Raptor X rather than a Caviar SE16, and the extra speed is likely to add a couple of points too. The remaining differences, such as graphics card - an ATI Radeon X1800 XT vs the X1900 XT used in the Intel test – won't have such a big impact on the more general-purpose application benchmarks we've compared.
We reckon the Intel benchmarks have a systematic advantage of around ten SYSMark points. However, even if you add 20 points for good measure to the overall SYSMark 2004SE score, the FX-62 doesn't come close to even the E6700, much less the X6800. This doesn't mean that the new Intel processors will have such a huge lead in every application you run, but I can't see AMD winning many benchmark battles. As you can see from the PCMark 2005 and CineBench 9.5 numbers, AMD isn't quite as far off here, but it's still behind in everything except for the graphics test in PCMark 2005.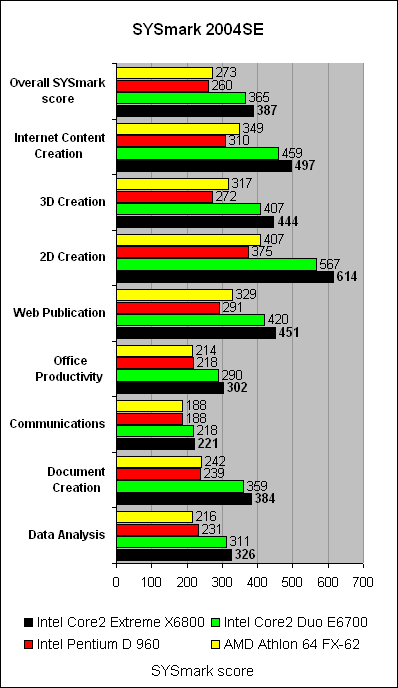 Sadly, we can't run any of the 3D results as the graphics cards would have too much of an impact here. However, we will return to this as soon as AMD has a processor for us to do some additional testing with. Watch this space...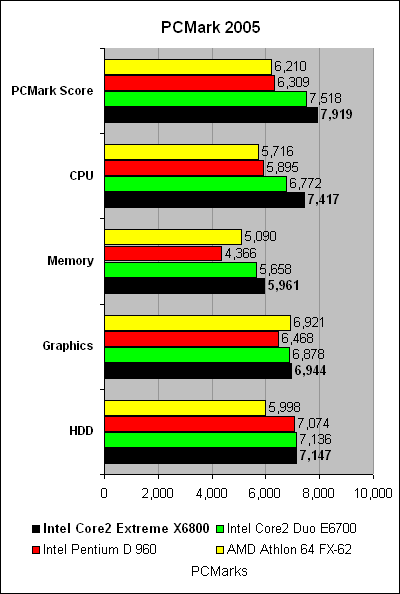 There is one battle AMD will win and that's pricing, particularly since it dropped its prices. You can now pick up some of the new AM2 processors for less than half the price it would have cost you a week ago. Cost is always a factor that you have to take into account and a bargain is still a bargain. I very much doubt anyone would complain about the performance you get from current processors, be it from Intel or AMD. The Core 2 Duo processors won't come cheap right away, so if you're on a budget, a Pentium D or an AMD processor that was out of your price range last week might not be so now.
As a rough bangs-for-buck measure we matched each CPU's published price against its SYSMark and PCMark scores. The $999 Core 2 Extreme delivers more points per dollar (or pound) than the $827 FX-62, but only just: 7.91 PCMark points to 7.51, 0.387 SYSMark points to 0.330 for every dollar spent on the chip. Had AMD not cut the FX-62's price recently, it would have scored just 6.22 and 0.280.
The $550 E6700 was better, scoring 13.66 and 0.664, this way, but the now $316 Pentium D scored 19.97 and 0.823. Ignore the 960's price cut, made today and it would have scored 11.90 and 0.491.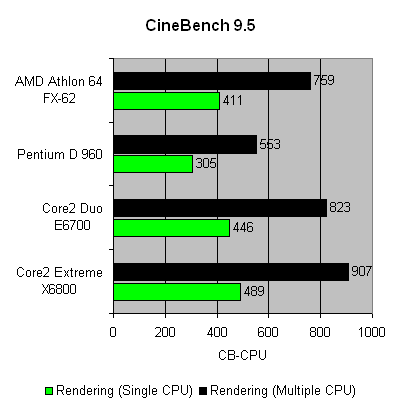 The entry-level Core 2 Duo processor is quite affordable and should still offer plenty performance for your money if you're set on the latest Intel processor. And judging from reports on other websites, the Core 2 Duos are very overclocker-friendly if this is your cup of tea.
Verdict
There's no doubt that Intel is back with a bang. A very big bang. The Core 2 Duo processor is Intel's most important product in a very long time and it proves that Intel is serious about the processor market. For the time being it doesn't look like AMD has anything but pricing to compete with, but the company's on a roll and promising not only quad-core chips but a next-generation architecture of its own. The fight between the arch-rivals is going to get very fierce over the next few years at least.
For now, you, the consumer, are the winner. From today, you can get a much more powerful computer for less money than you had to spend yesterday. ®