Original URL: https://www.theregister.co.uk/2006/07/26/review_geforce_7600gs_asus_evga/
Nvidia GeForce 7600 GS-based fanless cards
Asus and eVGA set out their passively cooled wares
Posted in Personal Tech, 26th July 2006 13:22 GMT
Review They may have been quiet but passively cooled graphics cards have generally been pretty poor performers or needed complex and costly heatpipe designs. But with the arrival of Nvidia's GeForce 7600 GS this has all changed, and you can get decent performance at a decent price without the decibels...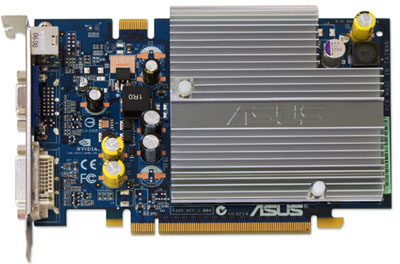 What we have here are that Asus EN7600GS Silent/HTD 256MB and eVGA's e-GeForce 7600GS 256MB w Passive Heatsink. Neither name is what you'd call catchy, but the important thing is that both cards have passive heatsinks to cool the GPUs. The implementation of the coolers on the two cards is different though, with eVGA choosing to use a reference cooler with a heatpipe, whereas Asus has fitted a larger aluminium heatsink which extends to the rear of the card.
eVGA has opted for a reference board design, while Asus has made some minor changes and coloured the board blue rather than green. Both cards offer DVI, VGA and TV-out ports. There are options for composite-video, s-video and component-video output with the help of bundled dongles. Neither card supports video input.
The default clock frequency of the 7600 GS is 400MHz and neither card vendor has changed that. Both cards have 256MB of 400MHz (800MHz effective) DDR 2 memory on a 128-bit bus, which is normal for mid-range graphics cards. Asus also offers a slower 512MB version of their card with the memory clocked at a mere 540MHz effective - sometimes more is less.
Both cards fit into a x16 PCI Express card slot on the motherboard and support SLI with a bridge connector. There's no need for any extra power connectors, as the 7600GS GPU doesn't draw more power than the PCI Express bus can deliver.
Benchmark results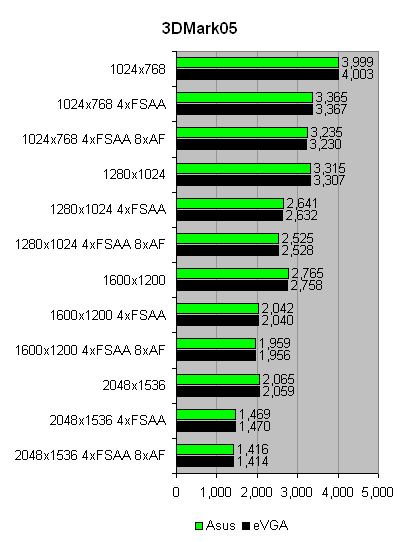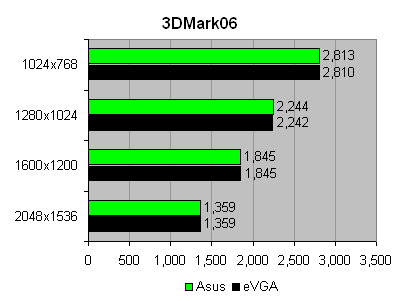 Benchmark results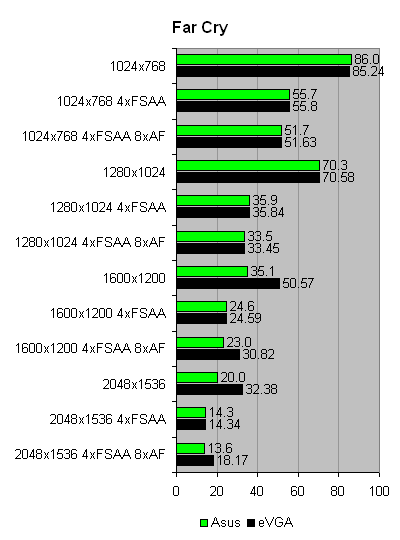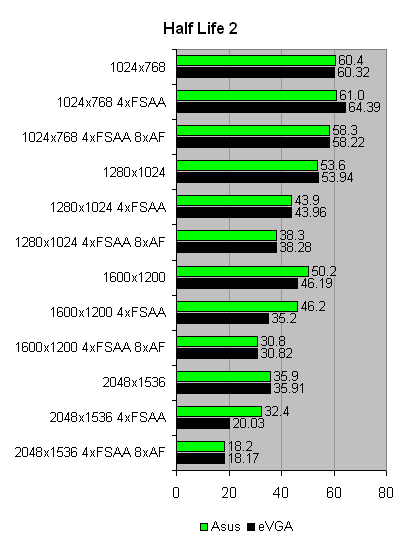 Before you consider getting a passively cooled graphics card, make sure you have a well-ventilated case, as the cards in question got quite hot during testing. The heat has to escape the case one way or another, and you don't want it building up inside the case. Both cooling solutions seemed to be up to the job. However, our test rig may have needed some extra cooling as you'll notice from a couple of odd scores yielded by the Asus card.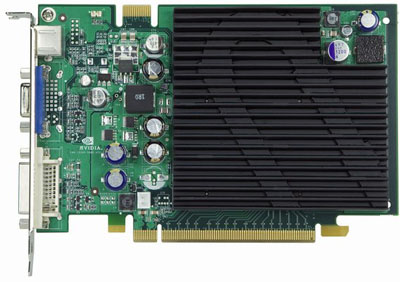 The eVGA card takes up less space, and I personally favour it over Asus' heatsink arranagement. The rear overhang on the Asus heatsink shouldn't cause any problems, although in an SLI setup as a second card it's possible that it could touch other full-height cards in the adjacent slot. It might also not fit certain small form-factor systems.
The 7600GS cards where tested using an AMD FX-60 processor, 1GB of DDR400 Crucial Ballistix memory, an MSI K8N SLI motherboard, a Western Digital Caviar SE16 hard drive and a Tagan 580W power supply.
Looking at the performance numbers, you'll quickly realise that the 7600 GS isn't for the hardcore gamer, but rather for the all-rounder. Playing the latest games on a 17in or 19in TFT shouldn't prove a let-down, but moving up to higher resolutions will require a more powerful graphics card. The same goes if you want to play your games with FSAA and AF enabled, as the 7600 GS doesn't have enough grunt to cope with all the extra rendering work at higher resolutions.
Price-wise the 7600 GS is eminently affordable, as you can pick up the Asus card in the UK for less than £100. I couldn't locate anyone currently stocking the eVGA card in the UK, but it retails for about $120 (£65) in the US. Once again, this shows how unfair the pricing of computer components is in Europe compared to the US.
Verdict
The GeForce 7600 GS is a decent chip for anyone looking to buy an affordable card that allows you to play games and more without any extra fan noise. The two cards are similar enough to make the choice between them more a matter of brand preference than anything else, although the heatsink might be a deciding factor for buyers withh SFF PCs. ®