Original URL: https://www.theregister.co.uk/2006/07/26/motorola_9mm_fone/
Motorola shows 9mm-thick mobile phone
FONE features low-power, E Ink-like display
Posted in Personal Tech, 26th July 2006 09:36 GMT
Motorola's big handset blitz earlier this week wasn't the whole story. The company went on to unveil one of the slimmest phones yet made: a 9mm-thick candybar with a fancy electrophoretic display ready for clear viewing in bright sunlight, the company claimed.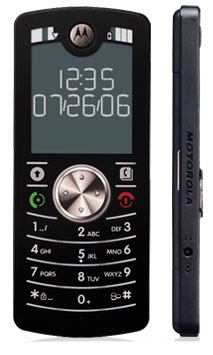 The full specifications of the FONE F3 - and its sibling the F3c, the CDMA version - remain a mystery. Neither are due to ship until Q4, so Motorola has plenty of time to get the details sorted. It will pitch the part at new users in existing and emerging markets, so simplicity is likely to be the name of the game.
Motorola did highlight the FONE's icon-based interface, which also uses voice prompts as a guide and sports big text sizes. The handset will also flash up call costs and account totals for pre-pay users, again suggesting a handset aimed at the lower end of the market.
The details of the FONE's electrophorectic display remain in the dark too, but we expect it's not unlike E Ink's electronic paper system, in which pixels are switched on or off by applying an electric field to different-coloured particles. It's the same kind of display Sony's electronic book, the Reader, uses, and, as Motorola suggested, it helps deliver long battery life. ®