Original URL: https://www.theregister.co.uk/2006/07/21/review_alienware_area_51_m5500/
Alienware Area 51 m5500 notebook
Upgraded before it even shipped...
Posted in Personal Tech, 21st July 2006 15:14 GMT
Review Anyone planning to buy a hardcore gaming laptop will almost certainly have Alienware on their list of possible suppliers. Casual gamers and mainstream users might be put off by the machines' let alone the price, so Alienware's assembled the more mid-range Area 51 m5500. It doesn't look as dull as your average laptop and offers a solid set of gaming-friendly features...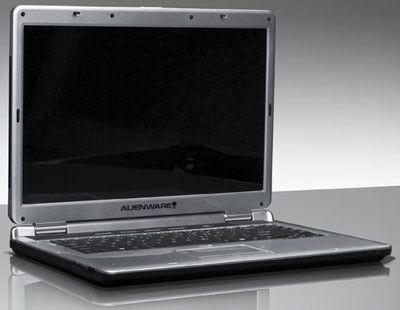 Alienware recently announced an upgrade to the m5500, though the bad news is it won't be shipping it until the end of August. The good news, then, is that buyers will end up getting a better machine for less money.
The machine I tested had a Pentium M 780 processor clocked at 2.26GHz, this has since been nominally replaced by a Core Duo CPU. Will this be replaced too, by a Core 2 Duo, before Alienware ships? The review unit featured 1GB of DDR memory, along with an ATI Mobility Radeon X1600 GPU connected to 256MB of VRAM. The graphics choice on the new model is either a Mobility Radeon X1400 or a GeForce Go 7600, so the 3D scores aren't quite comparable.
The 100GB 5,400rpm IDE hard drive has been traded in in favour for a 7,200rpm SATA drive. The optical drive remains the same: a 24x CD-R/8x DVD-ROM combo drive. The screen comes in at 15.4in and will be available in either 1,280 x 800 or 1,920 x 1,200 as our review model. Although I'm in favour of resolutions above 1,280 x 800 on a widescreen notebook of this size, I have to say that 1,920 x 1,200 makes me have to squint when I read some things.
Having this super-high resolution display means that you won't have enough 3D power to play most games at the native screen resolution, at least not given the current GPU choices. In its defence, you will be able to watch 1080i HD video in full resolution on the screen, which might be appealing.
Benchmark results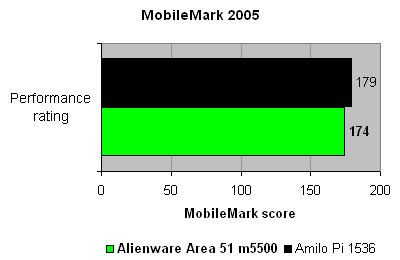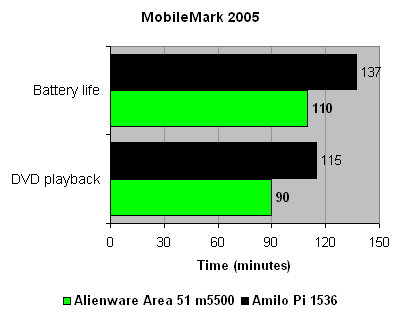 Benchmark results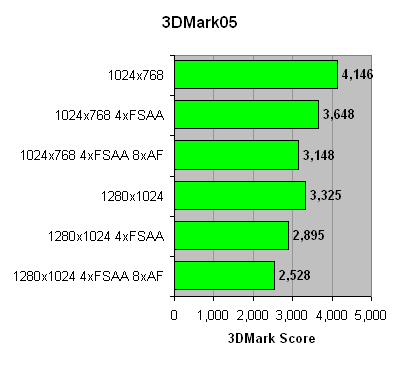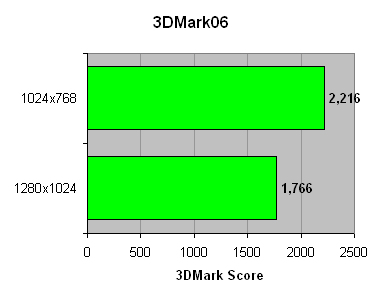 Benchmark results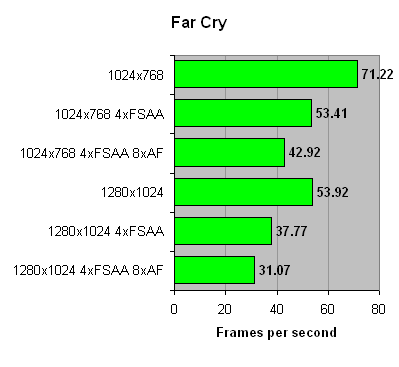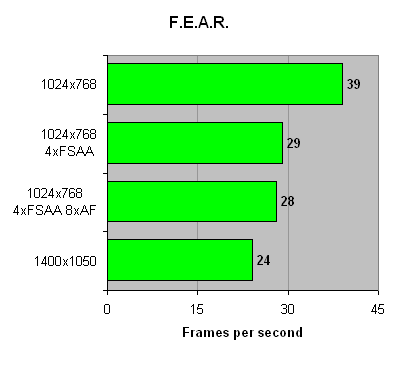 A neat feature is that you can disable the graphics chipset and use the integrated Intel graphics capabilities. It's not the only notebook in the world to offer this feature, but it means you can get slightly better battery life when you don't need the extra graphics performance. However, the review unit wasn't set up correctly, so switching to the integrated graphics mode resulted in no drivers being loaded. This isn't up to Alienware's normally high standard, but I'm sure it was only a minor oversight.
The general build-quality was good, which is something you'd expect from an Alienware product, especially at the price you're paying. Although I'm not that keen on the rubber inlays in the lid - it just adds weight without appearing to have any functionality - some buyers like the look. The unit's battery life was quite disappointing, considering that you won't get more than one and a half hours' worth of DVD watching and not quite two hours' general Windows usage.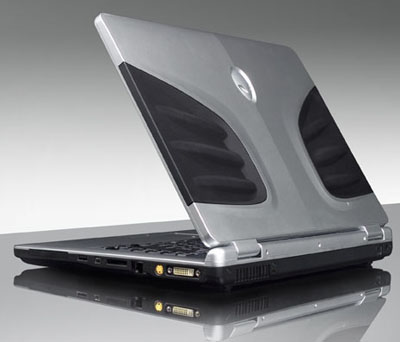 There's a wide range of connectivity options, with built in 802.11b/g Wi-Fi – the updated models also supports 802.11a – three USB 2.0 ports, a four-pin FireWire port, a Memory Stick/SD/MMC card reader, and a PC Card slot – which has been upgraded to an Express Card 54 slot in the newer models. A D-sub is also available for attaching the Area 51 m5500 to a projector or an external display, and there is also S-video out. The on-board sound system offers up to 5.1-channel via S/PDIF or the three analogue outputs, although there are only stereo speakers built in.
They keyboard is quite comfortable to type on and the touchpad is responsive. There's a separate section of the touchpad that works like the scroll wheel on a mouse if you move your finger up and down it.
Overall, the Alienware Area 51 m5500 is a rather strange beast, it has a super-high resolution display, but not enough graphics power to run 3D games at its native resolution. There are plenty of configuration options available to cater for a wide range of wallet sizes, but the question is if Alienware will skip the Core Duo version and go straight for the Core 2 Duo upgrade. Considering how fast Intel has been releasing new products this year, there's no wonder the laptop manufacturers are having a hard time keeping up.
Verdict
Alienware's decision to upgrade the reviewed model with a new processor platform means the new Area 51 m5500 should be even better. An Alienware isn't for everyone, but the m5500 shows that you don't have to be a hardcore gamer to own one. ®