Original URL: https://www.theregister.co.uk/2006/07/20/review_mxi_outbacker_mxp/
MXI Outbacker MXP 40GB biometric hard drive
Serious security
Posted in The Channel, 20th July 2006 11:44 GMT
Review It used to be sufficient just to punch in a password to prove you have a right to read to the information your trying to access, but faster processors and smarter crackers means such methods are falling from favour, especially among those with very hush-hush information to guard. Instead, they're turning to biometrics - factors unique to an individual - to verify users' identities, and products like the Outbacker mobile hard drive are being equipped with fingerprint scanners accordingly...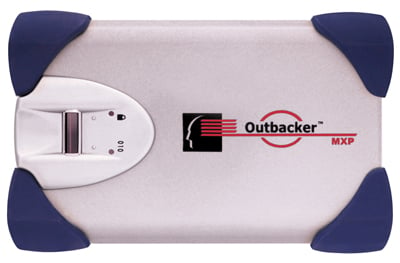 MXI Security's drive also plays to users worried about the physical integrity of the storage products. The 40GB Outbacker MXP is very compact, despite it's 2mm-thick wrap-around steel casing. The drive's resistance to knocks and bumps is further enhanced with four rubbery corner pieces that double-up as feet. Between them, at the back of the drive, sit a mini USB 2.0 port and a power connector for USB 1.1-only hosts. The fingerprint sensor is on top of the box, at the front.
MXI has split the access application into a number of independent utilities. The drive itself has a read-only partition which contains a tool to let any given user unlock and lock the drive. Users accounts are set up using the Access Console tool, which isn't on the drive but is on the bundled CD. The idea is you install Access Console on one, master machine and set up your user accounts. You're then free to connect the drive to any other machine safe in the knowledge that only authorised people can access the data on it but none of them need to install apps on whatever computer they connect the drive to.
Of course, if you want to add further users later, or remove existing ones, you'll need to connect the drive to the original machine, or install Access Console on a second computer.
Unlike LaCie's Safe drive, which works on the assumption registered users will all require access to the same data, the Outbacker MXP assigns individual users their own space on the drive so no user can access another's data, though there is a public partition that's not only open to all but also unsecured.
MXI's approach is the more secure of the two, though it has its drawbacks. Each user's protected space is a partition in its own right, so adding more users means re-partitioning the drive. If you've left room, fine - if not, you'll have to zap whatever data existing users have placed on the drive to make room for the new user.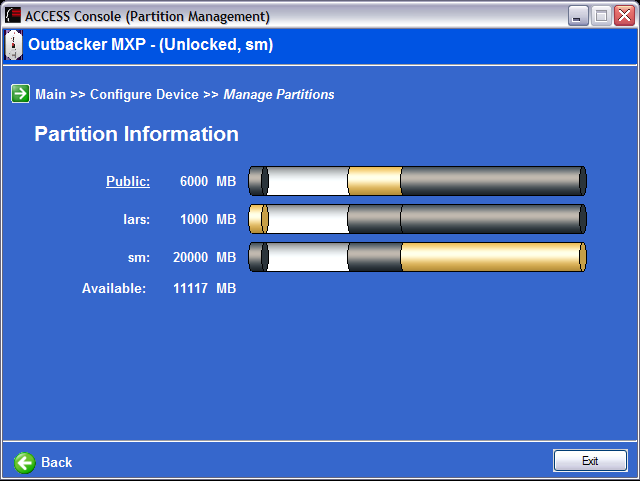 Creating a new users is straightforward: give them a username and get them to enroll a fingerprint. You'll then need to adjust the drive partitions as necessary and, once the user has unlocked his or her space, format it. Like I say, all this 'multiple users, multiple partitions' approach may make for better security, but I prefer LaCie's 'multiple users one drive' system. It's so much easier to manage - surely a mobile drive is only likely to be used by one person in any case? I can imagine more customers wanting a mobile drive that restricts a single data-set to a small number of people, than a drive that assumes each users should only have secure access to his or her own data-set. This latter approach certainly makes sense for a fixed drive that's always connected to a network or a computer, but not a mobile unit.
Connecting the drive to a PC puts three drives in Windows' My Computer list: the public partition, the read-only partition containing the Access software, and third which is where any given user's unlocked space will appear. To unlock the drive on a Windows machine, you have to run Access Unlock - either an installed copy or the one on the drive. Unlike LaCie's software, touching the sensor or attempting to open the locked partition in the usual way doesn't invoke a 'please swipe your fingerprint' request. However, plugging the drive into my MacBook Pro - which is not supported by MXI's software - I found I was able to mount my own partition simply by swiping the sensor with a registered fingerprint.
Re-running Access Unlock simply tells you the drive is already unlocked. To lock it, you have to select the Lock option from the system tray icon's menu. Attempting to unlock a locked drive this way pops up an authentication request. You can either swipe your finger - if it's recognised the drive will automatically open the correct partition - or you can select your username and then swipe to open.
I found the sensor worked reasonably well, but didn't appear as accurate as, or more sensitive than the one on the LaCie Safe - at least, I got more warnings about mis-swiped prints from MXI's software than I did from LaCie's. One other user I added just couldn't get the drive to recognise his registered prints.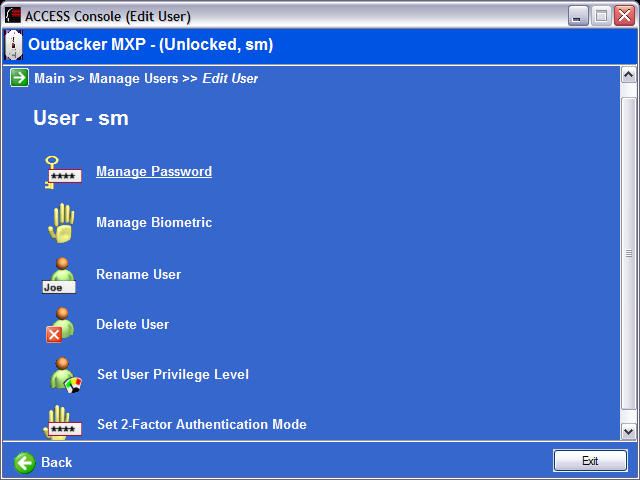 Access Console allows you to assign passwords to users, so should they run into such problems they can still unlock the drive in a traditional way. You can also apply limits to the number of times a finger can be scanned incorrectly before it is rejected as an unknown user. Similarly, you can specify the likelihood that a non-registered user's fingerprint will generate a false positive - essentially a measure of the reader's sensitivity.
I ran Reg Hardware's usual drive performance test: duplicating a folder containing ten 20MB files on the drive. It took, on average, 47.93s. That's more than double the time it tool on the similarly USB 2.0-connected LaCie Safe, but then the Safe is a desktop, AC-powered unit, and the Outbacker is a mobile, bus-powered job. Speaking of mobility, the Outbacker ships with a leatherette beltclip and holster combo for folk on the move.
Unlike the Safe, the Outbaker also incorporates data encryption, to 256-bit AES standard, and the on-the-fly coding and decoding almost certainly has an impact on performance. You also pay for this level of encryption financially: the 120GB mobile version of Safe that incorporates 128-bit Triple DES encryption costs $300, $400 less than an Outbacker of half the storage capacity. The LaCie is fully Mac-compatible - the Outbacker is not. That said, the Outbacker is tougher, but whether it's $400 tougher is open to question.
Verdict
MXI Security's Outbacker MXP mobile hard drive is undoubtedly a highly secure device. Mainstream users looking for a product that will keep their data away from prying eyes will probably find it too fussy, but it's likely to prove a winner with confidentiality obsessed corporates. They'll easily stomach the high price, which is way beyond faster, more capacious competing solutions aimed at a more general userbase. ®