Original URL: https://www.theregister.co.uk/2006/07/20/mark_space_ships_missing_sync_2-5/
Macs get Windows Mobile 5.0 gadget sync support
Mark/Space to the rescue... again
Posted in Personal Tech, 20th July 2006 10:55 GMT
Synchronisation software specialist Mark/Space has brought Windows Mobile 5.0 support to its Mac OS X-based utility The Missing Sync for Windows Mobile. The tool runs natively on both PowerPC- and Intel-based Macs.
The $40 download links the Apple operating system's personal information utilities, plus Microsoft Entourage 2004, into Windows Mobile device databases. The new version of the software, 2.5, adds support for devices like Motorola's Q, Palm Treo 700w, Dell's latest Axim PDAs, HP's iPaq communicators and HTC's array of handsets offered under its own name and by third-parties like i-mate, Dopod, QTek, Orange, T-Mobile and O2.
The Missing Sync for Windows Mobile also supports devices as far back as Windows Mobile 2002.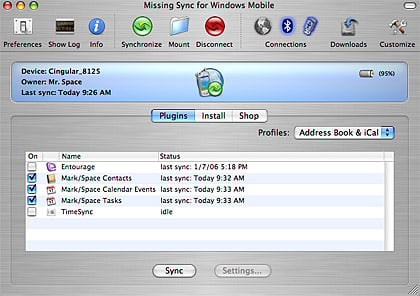 Mark/Space said upgrades from older versions of its software will cost $20, again as a download from the company's website. The new release will be available on CD in two to three weeks for $50. ®